Apple sees global profit decline as China sales lose momentum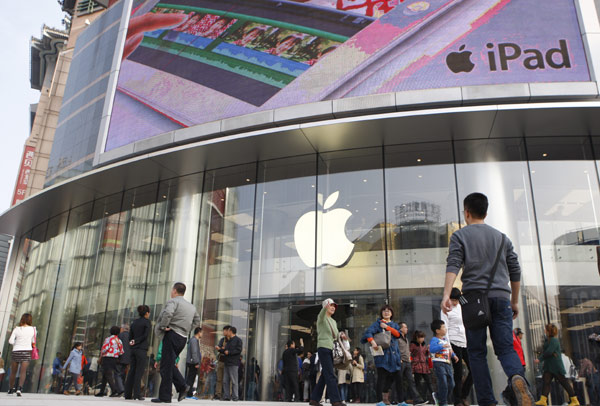 An Apple Inc store in Beijing. The company reported slower sales growth in China during the first quarter of this year. Zhu Xinxing / China Daily
Apple Inc reported slower sales growth in China during its most recently completed quarter, as the gadget maker saw its first profit decline since 2003.
For the company's second fiscal quarter, which ended on March 30, net profit was $9.55 billion, or $10.09 a share, down 18 percent from the $11.6 billion, or $12.30 a share, recorded a year earlier. Revenue increased 11 percent to $43.6 billion.
Sales of Apple's most popular devices remained strong during the recent quarter.
It sold 37.4 million iPhones, compared with 35.1 million in last year's fiscal second quarter. Sales of iPads totaled 19.5 million, up from 11.8 million a year ago.
According to DRAMeXchange, a Taiwan-based company that tracks production of microchips, South Korea's Samsung Electronics Co accounted for 30 percent of the global chip market during this year's first quarter. Apple had a 17.3 percent share, compared with 16.1 percent in the fourth quarter of 2012.
A slower pace of sales in China raised fresh concerns that Apple is feeling the effect of reduced demand in what remains its fastest-growing and second-biggest market.
However, Apple said revenue increased 11 percent to $8.8 billion in the mainland, Hong Kong and Taiwan, which was much slower than in its fiscal first quarter, when the iPhone 5 was introduced in China. In that period, sales sailed at 67 percent, far outpacing growth of 15 percent in the Americas and 11 percent in Europe.
About two-thirds of Apple's revenue came from international sales in the latest quarter.
In China, iPad sales soared 138 percent year-on-year.
CEO Tim Cook said he expects to see the number of Apple stores double in China, to 22, in less than two years, which would add 8,000 points of sale for iPhones, bringing the total to 19,000.
Carolina Milanesi, an analyst with technology research firm Gartner Inc, said its performance in China is crucial to Apple's success.
"We have seen Apple cater to the Chinese market with specific local content," she said.
"Apple is also using China to learn about other emerging markets," Milanesi added, citing Latin America as a region where the company has increased its focus.
The company has had a strained relationship with China in recent months, including claims that iPhone warranties discriminated against Chinese customers. Negative publicity led the company in April to apologize, in a letter signed by Cook, to Chinese consumers and announce changes in some warranty terms.
"Its sales in China should improve as a result, but one should not expect dramatic change from past sales in China," said Kenneth Kraemer, a business professor at the University of California, Irvine.
Greg Linden, a business-innovation researcher at the University of California, Berkeley, said Apple clearly wants to participate in China's economic success and has demonstrated flexibility toward that goal.
"The speed with which it responded to the warranty issues probably headed off major harm to its image," he said. "But Apple's image worldwide is what will drive its long-term level of success in China."
Despite China's importance, "the company's primary need is to continue creating innovative products for major world markets, of which China is just one", Linden said. "Of course, Apple's China-specific measures help to unlock its potential there."
yuwei12@chinadailyusa.com