Chinese-Americans donate to Sichuan earthquake relief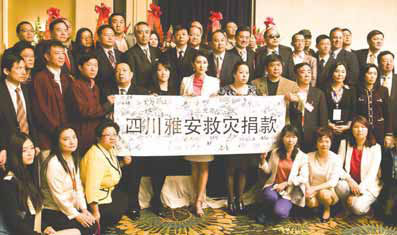 Businesspeople attending the Sino-US Investment Expo in Los Angeles made donations on Saturday to help the victims of the Ya'an earthquake in China. Mao Yourong / China News Service
People in the United States have extended condolences and assistance to those affected by Saturday's magnitude-7.0 earthquake in southwestern China, which killed at least 186 people and injured more than 11,000.
When he heard about the quake, New York businessman Liang Guanjun said, he immediately acted to raise 1 million yuan ($162,000) and delivered the donation to the local government administration in Sichuan province on Sunday. Liang, who is co-chairman of the New York-based East Coast Federation of Chinese Associations and a businessman in Manhattan's Chinatown, had arrived in China on Friday.
In May 2008, when an earthquake rocked Sichuan province and killed almost 70,000 people, Liang donated $31,000 to people and areas affected.
The Chinese-American businessman said he would give an additional $100,000 in hope of encouraging more people to contribute. He also said he would focus on relief efforts in Sichuan once he returns to the US in a few days.
Leaders of the East Coast Federation of Chinese Associations on Sunday set up a Sichuan Ya'an earthquake relief committee.
"About 50 members attended today's meeting and we have raised more than $150,000," said Lin Xuewen, the federation's secretary, adding that people who want to donate to the relief effort can do so through the committee.
Other Chinese-American groups were pitching in as well.
"We have raised more than $20,000 in donations so far from our members," said a staff member of Fukien Benevolent Association of America in New York.
Other organizations - United Fujinese of America and the Changle Association in New York, and the Sichuan and Chongqing associations in Washington - offered sympathy and conducted fund-raisers for families of victims of the Sichuan quake.
In Los Angeles, a delegation of Chinese entrepreneurs attending the Sino-US Investment Expo arranged a donation. Li Lin, a businessman from Inner Mongolia who donated $160,000, expressed hope that donations would multiply, conveying hope for those in quakehit parts of Sichuan.
Chinese students in the US also did their part.
The Association of Chinese Students and Scholars at Stanford University will host a charity walk on Tuesday to raise money for quake survivors. Organizers of a seminar on USChina business innovation at Pittsburgh's Carnegie Mellon University decided to donate $2 to quake relief from each ticket sold.
Wang Muhua, a PhD student at the University of Arizona's Department of Plant Sciences, said that although he couldn't take part in disaster relief on the ground, he hoped his financial donation would help those affected by the quake.
Wang chose the One Foundation to process his donation, explaining that several online payment systems set up for quake relief were limited to Chinese bank cards or Alipay, the Chinese equivalent of Pay-Pal, which weren't convenient for him. "The One Foundation offers PayPal, which is easy to access," he said.
The reputation among businesses and civic organizations of the One Foundation, founded by martial-arts actor and producer Jet Li, also gave Wang confidence that it would handle donations properly, he said.
Condolences also came from official quarters in the US.
Secretary of State John Kerry said on Saturday that the US is ready to provide help in rescue efforts.
"Together with the American people, we are expressing our sincere condolences for the serious casualties and loss of properties by the earthquake in Sichuan," Kerry said.
United Nations Secretary General Ban Ki-moon said through a spokesman that he was "deeply saddened by the loss of life, injuries and destruction caused by the earthquake and aftershocks that struck yesterday in Sichuan province of China".
"The United Nations stands ready to provide assistance and to mobilize any international support that may be needed," Ban said
Wu Hongbo, UN undersecretary general for economic and social affairs and a Chinese national, also conveyed deep condolences to victims of the quake and their families.