Smart: more individuality than ever with Jeremy Scott edition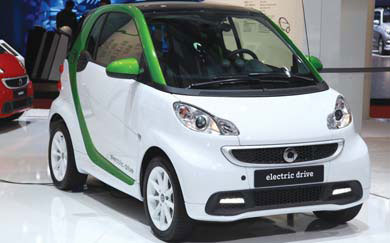 The third generation smart fortwo electric drive at Auto Shanghai 2013.
It's a small car, but with a big heart.
The smart brand, the youngest in Mercedes-Benz family, has been winning hearts of consumers since entering the China market in 2009.
Not only has smart achieved astonishing sales growth, but the brand has also become a style icon for urban mobility among China's avant-garde.
"Our Chinese customers and people around the world love the smart for its wealth of creativity, but also because we are more than simply a small car. smart is and will always be a big idea, a likable statement. All smart fans always come - like our car - with a smile," said Annette Winkler, vice-president of Daimler AG and global head of smart.
That's why, at the 15th Shanghai International Auto Show, smart came out in full force. In addition to showcasing several concept cars and a glamorous world premiere, smart also held an independent press conference for the first time at a Chinese auto show to better showcase the extraordinary individuality and innovative technologies that make smart a pioneer.
"A new milestone for smart here is that this year we are bringing the third generation smart fortwo electric drive to the streets of China!" said Winkler. "That means the 'green light' for 'living electric' with smart in China."
The all-electric smart fortwo will be the first imported electric vehicle approved for entry into the Chinese market, with a very attractive price of less than 225,000 yuan ($36,290). It stands at the forefront of the industry with mature technology.
"It has the state-of-the-art engineering and is incredibly fun to drive. That makes it the perfect car for urban forward-thinkers," said Winkler.
While small in size, the smart fortwo electric drive offers exceptional safety standards. This car was developed for alternative drivers from the very beginning of smart in the mid-1990s. The battery is safely stored underneath the driver in the floor between the car's axles.
Another huge move for the iconic brand in China is the launch of the long-awaited smart BRABUS tailor made program, which smart hopes to fulfill every single one of its customers' desires for individual design.
"smart is the car in China for successful, creative people who also want to express their individuality and their personality with their car," said Winkler.
In order to meet Chinese consumers' increasing passion for individuality, smart brought its exclusive smart BRABUS tailor made service to the Chinese market, giving consumers an unprecedented level of personalization.
Based on the smart 75kW BRABUS model, smart BRABUS tailor made can turn the most colorful fantasies into reality by personalizing every detail to fit each customer's preferences and needs. Customers can choose from 30 different exterior colors options for the body, tridion safety cell, and a choice between metallic or matte paint finishes. The interior is just as brilliant and colorful with 20 leather color choices, two types of seat designs, and a variety of stitching patterns. Over a billion of combinations are possible for customers to express their individual smart lifestyle.
"A 75 kW smart BRABUS in its very personal tailor made design here in China is less than 300,000 yuan," said Winkler.
With a design derived directly from the concept car, the smart Jeremy Scott edition, the result of collaboration with the famous US fashion designer, brings your dreams of flight to life as it held its world premiere in Shanghai. This exclusive and very limited edition BRABUS version is available for 388,000 yuan.
Additionally, with the Asia premiere of the smart forstars concept car, smart presented its strongest line-up in history - a total of 14 smart models gathered in Shanghai.
In just three years, China has become the brand's third-largest global market. "smart has achieved a truly impressive year-on-year increase in China market, 119 percent in 2010, an outstanding 179 percent in 2011, and another remarkable 45 percent in 2012 - in a year in which market growth in China dropped to 8 percent," said Nicholas Speeks, president & CEO of Beijing Mercedes-Benz Sale and Service Co Ltd.
And in March, with nearly 2,000 units sold, smart recorded the highest sales month ever in China. "That gives us confidence to present fascinating new products and ideas to make our attractive lifestyle icon even more desirable" said Speeks.
Moreover, "to ensure a long-term success for smart in China, another important step is the expansion of our dealer network" said Winkler.
Smart began in 2009 with 16 outlets and now has 88 showrooms in 66 cities.
"After the world-renowned mega-cities - like Beijing, Shanghai and Guangzhou - we have also brought smart to the people of China's 'smaller cities' like Kunming" said Winkler.
"To put it into perspective: If we had the same "smart density" per inhabitant in Shanghai as we do in Paris, we would have more than 160,000 smart fortwos - in this city alone! I see great potential here in China from the rapidly growing fan community" she added.