Cautious optimism as auto sales rise in March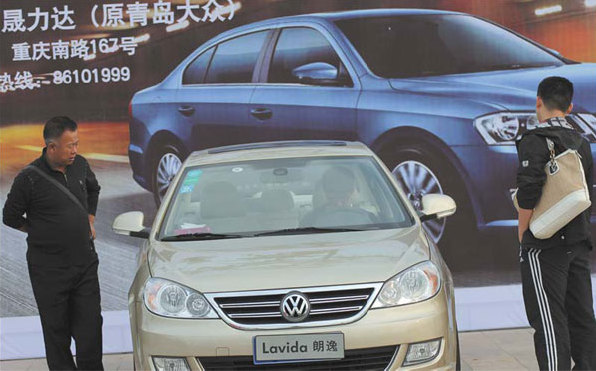 Visitors examine the Volkswagen Lavida at an auto show in Qingdao, Shandong province, last October. Passenger vehicle sales have been higher than expected in the first quarter, and the Lavida topped the list of best-selling passenger cars in March. Huang Jiexian / For China Daily
Slight jump over February, but yearly forecast stays the same
Following weak performance in February, China's light vehicle sales grew 11 percent month-on-month in March, to 2 million units. Year-to-date sales rose by 15 percent, to 5.44 million units.
Passenger vehicle sales were higher than expected in the first quarter, up 19.1 percent year-on-year, while light commercial vehicles faired relatively poorly, up only 4.7 percent in the first quarter to 1.42 million units.
The annual projection based on March figures increased moderately, up 2.6 percent from the previous month to 20.1 million units. The projection based on first-quarter figures reached 21.16 million units for 2013.
The best-performing segment, locally produced SUVs, surged by 43 percent in the first quarter thanks to a series of highly anticipated product launches.
Locally built luxury car sales jumped 38 percent in the first quarter, which was mainly attributed to incentives provided by dealers.
Sales of Japanese brands improved in March compared to the previous month, but as a whole, sales still declined 14.8 percent year-on-year.
The sales of some previously top-selling models - Toyota's Camry and Nissan's Teana, Livina and Tiida - have been sluggish due to generation shifts or new facelifts.
We have kept our short-term forecast at 21.13 million units in 2013, an increase of nearly 10 percent, for the following reasons:
First, dealers have continued to build up their inventories, increasing the whole sales volume.
According to the China Automobile Dealers Association, the dealer inventory index jumped to 2.01 in February from 1.10 in January. Dealers have already put an end to the process of trying to reduce their inventories.
Moreover, the vehicle inventory alert index in March 2013 reached 50.96 percent and remained higher than the alert level.
Second, booming sales as a whole were also attributed to fast growth in passenger vehicle exports, which surged by 29.5 percent in the first quarter.
However the exchange rate of the Chinese yuan against the US dollar recently reached a historic high level. This rapid appreciation of the Chinese currency is likely to harm China's vehicle exports.
Third, GDP growth in the first quarter reached only 7.7 percent, which was weaker than expected.
Industry production and private consumption were also lower than expected.
The producer price index declined by 1.7 percent, and private consumption only rose 12.4 percent, a growth rate lower than the same period last year.
Meanwhile, China's official purchasing managers' index turned upward to 50.9, while HSBC's PMI increased to 51.7, and fixed investment increased by 20.7 percent. These figures show that even with the government's attempts at restructuring, the economy remains driven by investment.
Finally, in a large number of metropolitan areas in China, air pollution has soared to hazardous levels.
Vehicle exhaust emissions are one of the most important factors contributing to serious air pollution. The government is likely to launch further regulations limiting car numbers in some big cities.
To summarize, though sales performance has exceeded our expectations in the first quarter, we have retained our short-term forecast due to various uncertainties.
The writer is an analyst at LMC Automotive.