Siemens pitches disaster systems
China would save billions of yuan by investing in "flexible" rail, traffic and building-management systems that could withstand disasters, an executive of German engineering giant Siemens AG said on Thursday.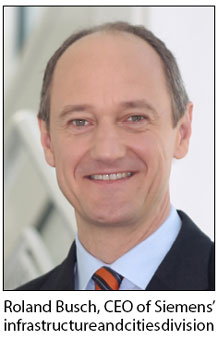 Roland Busch, CEO of Siemens' Infrastructure and Cities Sector, told a media gathering in New York that technology is crucial to "resilient and efficient" protection of infrastructure. By incorporating resiliency into planning, investment and maintenance of its infrastructure, Busch said, a city can reduce potential damage, enhance productivity and create a safe place to live.
"We can't prevent natural disasters", but with knowledge and technology "we can better protect our infrastructures", he told reporters on hand for the presentation of initial results from a report on resilient infrastructure. That concept envisions "a city that is better protected and at the same time more efficient and reliable".
Siemens, along with the Regional Plan Association, an urban-research group in the New York-New Jersey-Connecticut region, and UK-based engineering and consulting firm Arup, produced a report on how cities can "better protect themselves" against natural disasters like Hurricane Sandy.
Sandy, which ravaged parts of New Jersey's Atlantic shore and New York City in October, caused $50 billion in damage, nearly a third of the total worldwide damage related to natural disasters in 2012.
Siemens, which has 30,000 employees in China, has been working with the country's leadership to help safeguard national infrastructure against future disasters such as the 7.9-magnitude earthquake in Sichuan province in May 2008 that killed about 70,000 people.
In 2011, Siemens and the Chinese government renewed a memorandum of understanding, signed in 1985, with the goal of supporting China's sustainable development. Its activities in China include working with China Southern Power Grid to supply components for two high-voltage direct current lines - Nuozhadu-Guangdong (5,000 megawatts and Xiluodu-Guangdong (6,400 mW). It also has supplied advanced systems for subway lines in Shanghai, Wuhan, Xi'an, and other cities.
Siemens is "looking into particular technologies that are more suitable for the Chinese environment," Busch said. "Yet I have to say that the problems [for all countries] are almost the same." The findings of this study "can be transferred to any other city", he said.
The executive stressed that cities around the globe would minimize the impact of natural disasters by investing in software for rail automation and the management of traffic, buildings and evacuations, making these systems "more flexible and easier to control and coordinate" than the ones now in use.
michaelbarris@chinadailyusa.com