Boston bomb probe narrows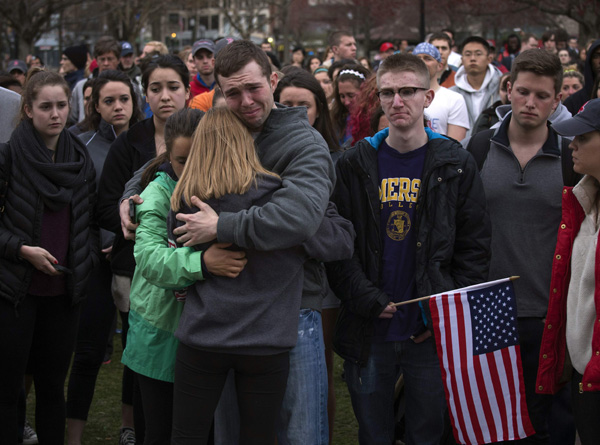 Scott Turner (center) is hugged by friends as he weeps at a vigil for bomb victims a day after two explosions hit the Boston Marathon, in Boston, on Tuesday. Adrees Latif / Reuters
Investigators look for suspects who carried heavy bags or backpacks
FBI agents zeroed in Wednesday on how the Boston Marathon bombing was carried out - with kitchen pressure cookers packed with explosives, nails and other lethal shrapnel - but said they still didn't know who did it or why.
Their hunt entered the third day with an emerging picture of the target: a suspect or suspects carrying heavy bags or backpacks made of dark nylon.
While still unable to conclude whether a group or individuals were responsible for the attacks that killed three people and wounded 176, and whether they were foreign or US citizens, investigators gathered enough evidence at the crime scene on Tuesday to slightly narrow their search.
The two blasts struck seconds apart on Monday at the finish line of the race, maiming victims with shrapnel-packed bombs that investigators suspect were contained in pressure cookers. Seventeen people remained in critical condition.
US President Barack Obama, who will travel to Boston on Thursday for a memorial service, has called the bombings an "act of terror". They were the worst bombings on US soil since security was stepped up following the attacks of Sept 11, 2001.
No suspects were in custody on Wednesday and there were no claims of responsibility.
Richard DesLauriers, FBI agent in charge in Boston, said, "The range of suspects and motives remains wide open." He vowed to "go to the ends of the Earth to identify the subject or subjects who are responsible for this despicable crime", adding that evidence collected at the scene is being reconstructed at the FBI laboratory in Quantico, Virginia.
Among the items recovered were pieces of black nylon that could be from a backpack, fragments of ball bearings and nails, and possibly the remains of a pressure cooker device, DesLauriers said.
Pressure-cooker explosives have been used in international terrorism, and have been recommended for lone-wolf operatives by al-Qaida's branch in Yemen.
Officials found that the bombs in Boston consisted of explosives put in ordinary, 1.6-gallon (6-liter) pressure cookers, one with shards of metal and ball bearings, the other with nails, according to a person close to the investigation who spoke on condition of anonymity because the probe was still ongoing.
Both bombs were stuffed into black duffel bags and left on the ground, the person said.
Several operations
Scores of victims remained in hospitals, many with grievous injuries, a day after the twin explosions. A 9-year-old girl and 10-year-old boy were among 17 victims listed in critical condition.
Doctors said some victims will have to endure several operations in coming days.
"When these kids came in they were just so badly hurt, just covered with singed hair and in so much pain, it was just gut-wrenching," said David Mooney, director of the trauma program at Boston Children's Hospital. "Pulling nails out of a little girl's flesh is just awful."
Another doctor said he was amazed by the resolve of the patients.
"Some of them woke up today with no leg and they told me that they are happy to be alive. They told me they thought they would die as they saw the blood spilling out," George Velmahos, chief of trauma surgery at Massachusetts General Hospital, said.
The decision to amputate was easy, he said. "We just completed the ugly job that the bomb did."
Youngest to die
The youngest to die was 8-year-old Martin Richard, who lived in the city's Dorchester neighborhood. Outside the family home, sympathizers created a makeshift memorial of flowers and the word "Peace" was written in chalk on the sidewalk.
Officials identified a second person killed as Krystle Campbell, 29, of Medford, Massachusetts. She was "the daughter that every father dreams to have", said Medford Mayor Michael McGlynn, who said he had confirmed the death with Campbell's father.
"She had a great sense of humor and freckles and red hair that brought her right to her Irish roots," McGlynn said.
The third fatality was a Chinese citizen whose identity was not being made public at the request of the victim's family, the Chinese Consulate in New York said.
Reuters-AP