Amazon in troubled water over third-party pirates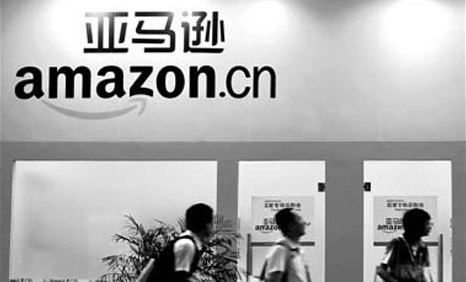 Pirated books from some outside suppliers have been sold through Amazon China's shopping portal. Jing Wei / For China Daily
When Amazon China first opened its online sales to third-party book suppliers in 2011, then-President Wang Hanhua warned the company should be very cautious in the selection of agents and bookstore owners to guarantee genuine, legal titles.
His fears have now become a reality, according to a report in the Oriental Morning Post that said many major publishers have filed complaints with Amazon over piracy.
Pirated books can be found on a host of online shopping sites, but for global giant Amazon the behavior is even less acceptable, said the publishers.
While they have agreements with the company for legitimate books, the profits of legitimate publishers could be damaged by unauthorized titles for sale on Amazon's third-party business portal.
They note that the same genuine book on dangdang.com and JD.com - two popular online shopping sites in China - often has much higher sales volume than on Amazon China, raising questions about whether cheaper counterfeit books are siphoning off sales.
They add that customers might not notice whether the books they ordered came from the Amazon storehouse or a third-party supplier.
Due to its international reputation, most consumers believe all books sold on the Amazon site are genuine, said the local publishers.
If consumers then receive pirated or poor-quality books, they blame legitimate publishers that might not have even printed the book.
Chen Ken, general manager of a Shanghai book publishing house affiliated with China South Publishing & Media Group, said one of its best sellers - the popular Japanese comic Shinya Shokudou - was put on the shelves by some third-party sellers connected to Amazon.
"They sold it at a very low price, so we placed several orders from different sellers and some turned out to be pirated," Chen said.
He also recalled discussions with senior executives at dangdang.com on whether to offer a third-party marketplace. Their answer was "no", he said, adding they thought that business model would be chaotic and hard to police.
Ranked at the top of Amazon China's best-seller list is a book written by famed anchorwoman Chai Jing. The legitimate publisher Guangxi Normal University Press sells the book for 28.8 yuan ($4.65).
Yet the same book is priced below 15 yuan by many third-party sellers on Amazon.
Sun Ruicen, marketing manager of the university press, told the newspaper he suspects the books are counterfeit, but "has no time to investigate because there are too many illegal copies on sale".
Some in the industry say ultra low-priced books may be products sold at clearance prices due to surplus inventories at brick-and-mortar bookstores.
But others counter that would not happen with best sellers.
To fight the practice, Amazon China suggests publishers buy suspect books and lodge a complaint.
But many publishers say it is a challenge for them to prove allegations. "Some third-party sellers do not provide receipts and the address and name are also blurry," said Chen.
haonan@chinadaily.com.cn