Orchestra ready for China encore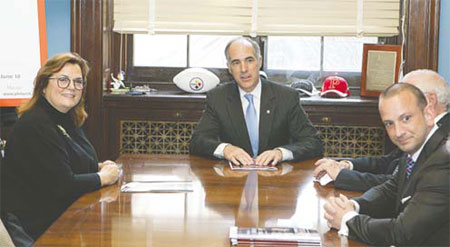 From left: Allison Vulgamore, president and CEO of the Philadelphia Orchestra; US Senator Robert P. Casey, Jr; and Craig Hamilton, Philadelphia Orchestra Vice-President for Global Initiatives, have a discussion after the announcement of the China visit in May. Thom Wolf / VIA The Philadelphia Orchestra
The Philadelphia Orchestra, one of the United States' first cultural ambassadors to China in 1973, is returning next month for a 40th-anniversary tour and its 2013 residency program.
"For us, for The Philadelphia Orchestra, there has been no greater relationship than the one we have with China," said Allison Vulgamore, president and CEO of the orchestra. "We come to China with a purpose. We come to play and stay."
A 20-year gap separated the orchestra's first visit to China with its second in 1993, followed by visits in 1996, 2001, 2008 and in 2010 to help open the World Expo in Shanghai.
"The Philadelphia Orchestra was one of the first groups to start people-to-people relationships through geopolitical diplomacy in 1973," Pratt said. "We couldn't have predicted back then the sort of impact this relationship would play in US-China diplomacy 40 years later."
In 2012, the orchestra launched its pilot residency program, which united orchestra members with Chinese musicians through master classes, lectures and other musical workshops aimed at deeper cultural engagement beyond the stage, which took place in an array of China's major cities and provinces.
"I see this as the beginning of a two-way street," said Ambassador Nicholas Platt, who helped welcome the orchestra to China in 1973. "This isn't just about cultural performances anymore, but the establishment of a working relationship that we hope will bring more Chinese musicians to the US."
The residency and tour announcement was made yesterday on Capitol Hill with US Democratic Senator Robert P. Casey Jr of Pennsylvania, who also is chairman of the Foreign Relations subcommittee on Near Eastern and South and Central Asian affairs.
From May 29 to June 10, the orchestra's residency program will run concurrently with its anniversary concert tour, conducted by a frequent partner of the orchestra, Donald Runnicles. The tour will include seven performances in Hangzhou, Shanghai, Tianjin, Beijing and Macao.
Highlights of the residency program will include coaching with members of the Hangzhou Philharmonic, Beijing Symphony Orchestra, China National Symphony Orchestra; a joint concert with the Shanghai Municipal Orchestra; a performance at Picun Migrant Worker's Village Elementary School in Beijing; and a lecture, "China: Then and Now," with Platt.
One commemorative event for the tour includes a benefit concert for the Soong Ching Ling Foundation and Pearl S. Buck Fund on China's National Children's Day on June 1. Both organizations focus on protecting and nurturing children worldwide while focusing on issues of equality, health and wellness, and education.
Another special event will bring 40 musicians from the China National Symphony Orchestra - formerly China's Central Philharmonic - and 40 musicians from the Philadelphia Orchestra together for a performance at the National Center for the Performing Arts in Beijing on June 6.
Seven musicians on the 1973 trip remain with the orchestra, including violinists Herbert Light, Davyd Booth and Booker Rowe; violist Renard Edwards; double bassist Michael Shahan; harpist Margarita Csonka Montanaro; and percussionist Anthony Orlando.
The residency program has received support from Coca-Cola China, Drexel University of Philadelphia, White and Williams, LLP and Sands China Ltd.
The Philadelphia Orchestra looks to its past to inform its future," Vulgamore said. "This is a very powerful relationship that is recurring and one that we're committed to continue to build upon."