Fossilized tracks show dinosaurs could swim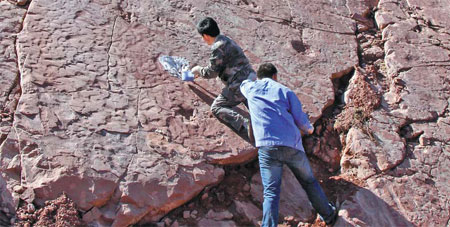 Paleontologists make a mold of claw marks that might have been left by a swimming dinosaur in Zhaojue county, Sichuan province. Xing Lida / for China Daily
One hundred million years ago, a fierce carnivorous dinosaur chased a smaller dinosaur all the way to the river bank. Because of its fear of water, the predator stopped, as its prey jumped into the water and swam away.
So the story would go in popular science literature, but a carnivorous dinosaur that lived somewhere in the mountainous area of southwestern Sichuan province did not stop. It jumped into the water and left a 15-meter track of claw marks.
On Monday, Chinese scientists announced that they found swim tracks of a carnivorous dinosaur, producing strong evidence that two-legged dinosaurs were good swimmers.
The swim tracks found on a mountain in Zhaojue county, Sichuan, are the first well-preserved example of a swimming carnivorous dinosaur in Asia, and an addition to the scant examples of such tracks being found anywhere.
The research was published in Chinese Science Bulletin on Monday.
"Dinosaur swim tracks have been found in Britain, Poland, the United States and Spain. Compared with earlier tracks, ours is special because it is well preserved and rather long," said Xing Lida, an author of the research.
"I suddenly had a flash when I saw the claw prints: every footprint was formed of three parallel claw marks, which extend all the way up along the rock ledge," Xing said.
"The dinosaur's claw marks show it was swimming along in this river and just its tiptoes were touching bottom," said Scott W. Persons IV, a co-author of the paper.
Based on the claw marks, which cover a distance of 15 meters, the researchers infer that the dinosaur swam with coordinated leg movements.
"The dinosaur swims by alternating movements of its hind legs, which push it forward like oars," said Martin Lockley, a co-author from the US.
"Swimming could be the born ability of dinosaurs, just like dogs'," he said.
Worldwide, the first compelling evidence of dinosaurs being able to swim was discovered in 2007, when 12 footprints were found in the bed of an ancient lake in northern Spain.
China could have found more dinosaur tracks of this kind though, the latest being found is just a lucky survival.
Some tracks in the same mountain region had been exposed during a mining operation in 2003, when a miner found hundreds of indentations on the surface of a slope where a charge had been detonated.
At least 12 tracks were clearly visible. But before anyone could look closely at them, another charge was detonated and the tracks were gone.
In 2006, paleontologists researched other indentations in nearby area and found they were fossil-footprints of Jurassic age dinosaurs.
With the hope of finding remaining dinosaur footprints, Xing and his team arrived at the mining site in 2012 and found the tracks.
"The protection of ancient remains of dinosaurs is not enough. Most people only care about the fossilized skeletons of dinosaurs, but the trace fossils, like footprints, should be protected too," Xing said.