Confucius Institute opens in DC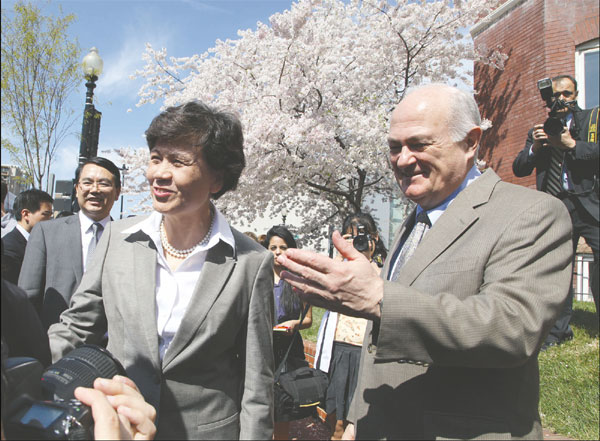 Steven Knapp (right), president of George Washington University, welcomes Xu Lin, director-general of Hanban and chief executive of Confucius Institute Headquarters in Beijing, to the campus for the opening of the university's Confucius Institute on Wednesday, which is the first in the US capital. Sun Chenbei / China Daily
On a day of unseasonable heat that ensured all of Washington's cherry blossoms had burst into full bloom, Chinese and American dignitaries opened the first Confucius Institute in the US capital, expressing hope for a flowering of cooperation in education.
George Washington University on Wednesday became the latest campus in the United States to host an outpost of China's primary project for spreading Chinese language and culture abroad. By the time oversized gold scissors sliced through a red ribbon - a traditional Chinese color scheme - administrators had been through a nearly two-year application process that grew out of a decade of discussions.
University President Steven Knapp said the mission of the first Confucius Institute in the District of Columbia will be to educate professionals from the many US government agencies, international organizations and nonprofit groups that surround the campus, while also providing "invaluable cultural and educational exchange and enlightenment of our students and faculty".
"Anyone who's interested in learning Chinese language and culture will have access to the structural resources of the Confucius Institute," Knapp told visiting dignitaries and others at an indoor luncheon following the ribbon-cutting under a sun that by 11 am was generating temperatures in the mid-80s.
The new institute, which will begin offering non-credit classes this fall, is the product of an alliance formed in recent years between George Washington University and Nanjing University in eastern China.
"This is not a new partnership. This is meant to be here," Peg Barratt, dean of GWU's Columbian College of Arts and Sciences, said on Wednesday.
Confucius Institutes are an initiative of China's central government that began in 2004 to promote Chinese language and culture in other countries. The program is administered by the Chinese National Office for Teaching Chinese as a Foreign Language, known by the Chinese acronym Hanban. With the opening at GWU, one at New York's Columbia University on Tuesday and others in Georgia and Colorado this week, the number of Confucius Institutes is nearing 100. In addition there are over 300 "Confucius classrooms" in the US, operating mainly as an extracurricular activity in schools.
Reinforcing the high-profile nature of its particular institute, the GWU opening featured the attendance of Hanban's top official, Director General Xu Lin.
Xu can't attend every grand opening - there are about 400 Confucius Institutes around the world - but she has a busy itinerary this week in the US. After the George Washington and Columbia ceremonies, she will preside at the formal dedication of Confucius Institutes on Thursday and Friday, respectively, at the all-women's Wesleyan College in Macon, Georgia, and Colorado State University. On Monday, Xu addressed the National Chinese Language Conference in Boston.
In Washington, she said Hanban and its university-level and other partners intend to focus as much on cultural exchanges as introductory language classes. Xu described Confucius Institutes as being "like a window, like a stage, like a bridge, to help people use their own eyes" in understanding China and its language, culture and history.
She also stressed that Hanban doesn't seek out particular locations or affiliations for Confucius Institutes but acts only on requests from potential foreign partners such as universities or colleges. "We will never say 'no' as to which activity you do or which program to use. You are free. Freedom in this location is most important," she told the GWU audience.
Another high-ranking attendee at Wednesday's opening was from the State Department, whose headquarters is just blocks from the GWU campus and whose staff members - along with those of the nearby World Bank, International Monetary Fund and others - are expected to use the new Confucius Institute's services.
"The State Department strongly supports the goal of Confucius Institutes, which is to expand awareness and the teaching of Mandarin among Americans in the United States," said Susan Stevenson, deputy assistant secretary of state for public diplomacy in the department's Bureau of East Asian and Pacific Affairs.
She said the institutes, and its newest location in particular, would be a domestic complement to President Barack Obama's 100,000 Strong Initiative, launched in 2010 to get 100,000 Americans studying in China by 2014. Many students aren't able to learn Chinese in its home country, Stevenson said, so Confucius Institutes can be a crucial resource.
Hong Yinxing, chancellor of Nanjing University, said Wednesday that the Confucian ideals of knowledge and teaching regardless of one's socioeconomic class are maintained at the institutes named for the ancient philosopher. Hong said their goal is "the pursuit of peace, development and harmony", and he said the new location would be a mechanism for enhancing his school's collaboration with GWU.
Nanjing University is a partner in seven other Confucius Institutes - in Europe, Asia and the Americas. Its first in the US was with Atlanta's Emory University, established in 2008.
Cheng Aiming, dean of international students at Nanjing, who has overseen the formation of all eight of the university's institutes, said of the institute at GWU: "We hope it will become the center for training top-level talent to master Chinese language and culture. We also hope the institute will establish itself as a focal point for exchanging ideas on US-China relations and promoting mutual understanding among the two countries."
One of China's oldest universities, Nanjing has long worked with US institutions. It hosts the Chinese Flagship Language Center, an extension of the US Defense Department's National Security Education Program, and is home to the Hopkins-Nanjing Center, an international campus of Johns Hopkins University's Paul H Nitze School of Advanced International Studies.
Cheng, who attended Wednesday's ceremony but spoke to China Daily beforehand, said Nanjing University enrolled more than 800 American students in 2012, the largest group of foreigners on campus and No 1 among all Chinese higher-education institutions.
GWU's China activities include providing faculty and resources as the "education partner" for Fortune magazine's three-day gathering of world leaders and business executives in June in Chengdu. In 2012, the university's business school formed a partnership with Suzhou Industrial Park in the eastern province of Jiangsu to offer local students US-style degrees.
Cai Chunying in Washington contributed to this story.