Kenyatta takes reins in Nairobi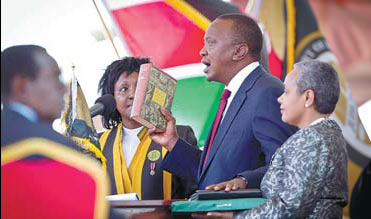 President-elect Uhuru Kenyatta holds the Bible as he takes the oath as the president of Kenya in Nairobi on Tuesday. Ben Curtis / Associated Press
Uhuru Kenyatta was sworn in as the Kenya's fourth president on Tuesday in a stadium filled with tens of thousands of Kenyans and a dozen African leaders.
"I do swear that I will be faithful and bear true allegiance to the Republic of Kenya," said Kenyatta, 51, the son of Kenya's first president.
Wearing a dark suit and red tie, he also pledged to "protect and uphold, the sovereignty, integrity and dignity of the people of Kenya".
He became the second sitting African president to face charges at the International Criminal Court over allegations he helped orchestrate the vicious tribe-on-tribe violence that marred Kenya's 2007 presidential election.
The ceremony stood in stark contrast to a rushed ceremony closed to the public five years ago to swear in then-president Mwai Kibaki, whom political opponents accused of stealing the 2007 vote. Those suspicions set off weeks of tribal violence that killed more than 1,000 people.
It is that violence that Kenyatta now faces charges for at The Hague in the Netherlands. Kenyatta denies the prosecutor's charges that he helped orchestrate the violence and has pledged to cooperate with the International Criminal Court. His trial is scheduled to begin in July. Kenyatta's deputy president, William Ruto, faces similar charges. His trial is set to begin in May.
Because of those charges, the top US official for Africa just days before the March 4 vote warned of "consequences" if Kenyatta was voted into office. European countries offered similar warnings.
Kenyatta - the son of Jomo Kenyatta - beat seven other presidential candidates with 50.07 percent of the vote. That slim win was challenged by outgoing Prime Minister Raila Odinga - who got 43 percent - and civil society groups that complained of myriad anomalies in the voting process. The Supreme Court upheld Kenyatta's win after nationally televised hearings.
That court process and requests by Odinga for peace helped Kenya avoid the bloody deaths the country saw for two months in late 2007 and early 2008.
AP-AFP