Raising the bar for Chinese food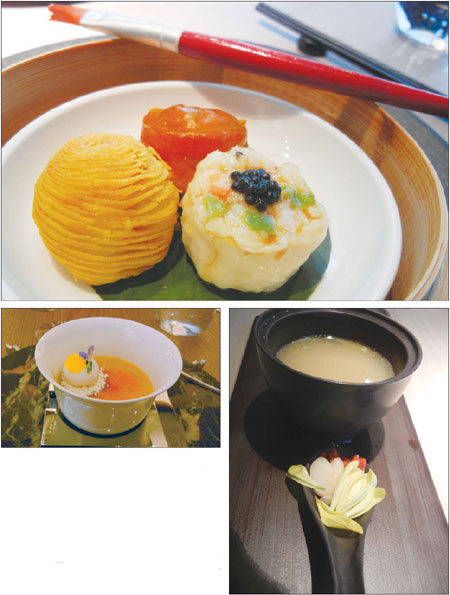 Dishes at HKK, a fine-dining restaurant presenting traditional Chinese banquets, are served small and individually. Provided to China Daily
It no longer has to be cantonese, or bland and cheap. dinners in london are getting special
To those who know where to look, a nice Chinese restaurant in London is nothing new, whether the turf is Chinatown or Canary Wharf. But the recent launch of three ultra-modern Chinese eateries is stretching the city's perception of just what nice means and even what Chinese food can be.
Opened in December, HKK is a fine-dining restaurant presenting the traditional Chinese banquet as a tasting menu, while similarly new Opium is a dim sum parlor serving up matching cocktails with inventive use of ingredients such as ginseng and gingko biloba. Most recent of all is Bo London, the restaurant from Hong Kong Michelin-starred chef Alvin Leung, where Cantonese staple ingredients like ginger and spring onion are given new, deconstructed life as a "winter's garden" made of bright green mousse sprinkled with dehydrated ginger snow and a soil of dried and shredded morel mushrooms.
"Londoners have a very open mind about food, and Chinese food has always had a very large presence in England," Leung says. "So far, it has been cheap food like noodles, but fine-dining has not been able to penetrate as quickly." With Bo London, he aims to change that.
Leung is known as the Demon Chef in Hong Kong for his Michelin-starred Bo Innovation restaurant, where traditional Chinese dishes are re-imagined as creations like a "molecular" xiao long bao (soup dumpling), an amber emulsion ball that bursts into the precise porky flavor of this Shanghainese classic. In January he opened Bo London off Regent Street, with a menu that has been updated to include references to British classics. For example, the Cloud course is diced hamachi served over a bed of rose scented dry ice, its aromatic vapor referring to Britain's proliferation of rose gardens and its sesame ponzu foam the color of an impending rain cloud.
"Though the menu is fundamentally different from the one in Hong Kong, there is always the Chinese element," Leung says. So his 14-course chef's degustation is built around elements of royal Canton cuisine such as scallop and lobster (accompanied by a flavorsome foam) as well as old-school dishes like san choy bow (this one containing pan fried foie gras).
It is beautifully balanced, fascinating cuisine on its own, but having the frame of reference for the original dish that inspired Leung adds a particular piquancy to the dining experience, and London with its long and loving exposure to Chinese food is a city where it makes sense.
On a less extreme level, HKK, a venture from the Hakkasan Group that also owns the Michelin-starred Chinese restaurants Hakkasan and Yauatcha, breaks down the traditional banquet into a delicate tasting menu, recreating modern versions of mainstays like Peking duck as a trio of crisped skin, juicy meat and the classic duck wrap. Diners may choose from five, eight or 12-course tasting menus, with a refined wine list to match. As in Bo London, waiters are careful to explain every aspect of every course, including the chef's preferred method of consuming it.
"I've spent 32 years as a chef, and most of that time has been handling banquets and restaurants in five-star hotels," says HKK executive head chef Tong Chee Hwee. "My inspiration for this menu was the Chinese restaurants of Taiwan, Hong Kong and Singapore, where portions are served small and individually. I wanted to create food that would really go with the service."
At HKK, this service means that every order of Peking duck involves the ceremonial carving of a new duck on the banquette table in the center of the dining room, though the chefs do adhere to the stereotype of waste-not-want-not Chinese cooking by stewing the uneaten parts of the body for a duck soup that comes later in the menu.
Chef Tong also designs the evolving tasting menu, which now includes a dim sum trio accompanied by a paintbrush for you to paint on your own soy sauce. Whether that is gimmicky or genius is up to the diner, but one thing's certain: it takes the view of Chinese food further away from the upfront old school Chinatown restaurants towards the playful, artistic field where fine-dining European cuisine already exists.
"HKK is a modern Chinese restaurant with French service," says general manger Mark Hastings. "To design the service, we looked at other tasting menu restaurants, from Gordon Ramsay to Heston Blumenthal."
Diners at HKK are treated to such touches as a nightly tea ceremony showcased at the long banquet table in the room's center.
"With Hakkasan and Yauatcha, we've always done something very different from Chinatown, and at HKK we offer this extra interaction where there's theater in the room," Hastings says.
At Opium, the theater is taken even more literally, with the ramble-friendly four-room space meticulously decorated in kitschy ode to the speakeasies of 1920s Shanghai. Customers have a choice of the so-called opium den, casual kitchen-styled bar, or the main cocktail bar otherwise known as the Apothecary. Here, unmarked bottles labeled only by number in Chinese characters make up the liquors on offer, while bar staff and toss myriad canisters and spouted bottles to create dozens of original cocktails.
"Chinese food is not traditionally about alcohol or service but the blending of our culture, and Western culture is increasing," Wu says. "Now when you go to the Far East, people are drinking wines with Chinese meals, so there is a rise in the adoption of cultures."
Cocktails may be uber-Western, but Wu has made sure his setting is extremely Chinese, from the black and white photographs of his parents as children on the Chinese mainland, to the wallpapered lounge strewn with authentic bric-a-brac.
"Londoners have always loved Chinese food," Wu says. "This is a new perception of Chinese food and Chinese restaurants. It's young, groovy, and it doesn't cost 4.50 pounds ($6.80; 5.30 euros)."
At Opium, a dim sum menu as small and tidily formed as the dumplings on offer can be ordered until 2am, and despite an average order going for around 11 pounds, nearly three times the price of the equivalent just outside in the thick of Chinatown, the clientele does not seem to be objecting.
"I see a lot of Chinese people coming here and they tend to be younger, modern Chinese," Wu says. "Even though as a price point they know and I know that they can find similar food venues within a stone's throw for much cheaper, they choose to come here because they feel that this place is more 'them' in decor and ambience."
Until now, the finer side of Chinese dining in London had been restricted to a handful of hotel restaurants - think China Tang at the Dorchester, or Min Jiang at the Royal Garden Hotel and the odd luxury option in West London. Hakkasan was a pioneer for refined Cantonese cuisine when it opened in 2001. Three years later, Hakkasan Group opened the Yauatcha dim sum restaurant in Soho, a similarly elegant ode to traditional Hong Kong teahouses. But few have followed in their footsteps for years. Chinese food in London has been about value for money, whether it is a Taiwanese street kitchen such as Leong's Legends, or Four Seasons, a Canton roast meat restaurant that serves a near-legendary roast duck.
"Chinatown isn't just Cantonese cuisine anymore; lots of different areas of China are now being represented. But what's not being represented is the gamut of pricing," Wu says. "We need to have the balance one or two places where you can eat quickly and cheaply, and some where you could, say, take your business friends and splurge on the company credit card."
Leung says: "One reason there haven't been many refined Chinese restaurants in London is that the Chinese themselves here may want to do it, but they don't know how.
"They just haven't been successful. The only one ever able to penetrate was Hakkasan, and that was because they had the right formula, took the right chance and stuck onto it. That has to be given some sort of commemoration, because I think really, it gave Chinese food a hip factor and even wow factor. "
In Chinatown where restaurants have a greater opportunity to attract diners out for a Chinese meal, increasing rents year on year have also prevented fine-dining eateries from setting up shop.
After all, these restaurants have much higher overheads on ingredients and labor, so the rent outlay must be comparatively small in order for owners to cover costs and draw profit.
"Usually if a cuisine is to penetrate a country, it would hit the low end," Leung says. "What's happened in the UK is that a lot of the Chinese places are trying to do Sichuan or street food. Sichuan is pretty low-price because it's very easy to cook and uses very inexpensive ingredients."
As a result, the expectation of Chinatown has been for Chinese food to come cheap but HKK and Bo London are going against the grain.
"Critics ask, 'how are you charging 95 quid for Chinese food when they can go to Chinatown and get a meal for half that price'?" Leung says. "Well yes, but you're not going to get the same experience. At the end of the day, this price is the only way I can get my message across."
A tasting menu at Bo London starts at 95 pounds for a 12-course dinner, while HKK charges 98 for its 15-course taster. It is a world away from the garish buffets that still litter Chinatown, or even the 30 pounds-for-two at savvier but still low-end restaurants like Leong's Legends. High-end restaurants such as the Michelin-starred Kai Mayfair get similar stick for being too expensive, yet they are like Bo's and HKK's: costs are on par with other fine-dining restaurants, regardless of the cuisine.
"I'm going in a different direction," Leung says. "And if we survive, it's going to be very positive."
This additional sensory indulgence at restaurants like Bo London, HKK and Opium, whether in the service, the presentation, or the sheer artistry and talent behind the food, is heralding a new direction and image for Chinese food in London, and perceptions are changing alongside expectations of what to eat and how much to pay.
"Londoners absolutely are changing in what they expect of Chinese food," Hastings says. "And HKK's service and high-quality ingredients up the game for Chinese restaurants because you have a restaurant where it's not just about what's on the plate, but the music, atmosphere, and ambience."
With three very different new and sophisticated Chinese restaurants now open to lead the way, the taste is there for more to follow.
For China Daily