2 die in Kenyan riots as court upholds vote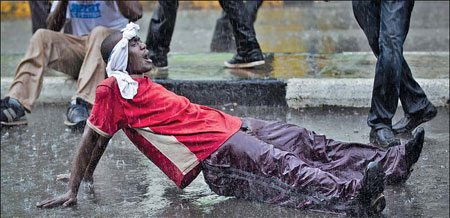 Supporters of losing presidential candidate Raila Odinga protest in the rain in front of riot police guarding the Supreme Court in Nairobi, Kenya, on Saturday. Kenya's Supreme Court upheld the election of Uhuru Kenyatta as the country's next president. Ben Curtis / Associated Press
Kenyan police beefed up security on Sunday after a court decision upholding Uhuru Kenyatta's victory in the presidential election drew his rival's supporters into the streets, sparking riots that left two dead.
Prime Minister Raila Odinga had challenged the result of the March 4 poll hoping for a rerun but while he accepted the Supreme Court's decision on Saturday, youths in his strongholds were enraged.
Riots broke out immediately after the ruling, leaving two dead and seven wounded in Kisumu, a city in the west of Kenya where there is strong backing for Odinga, who lost the presidential election.
Many shops remained boarded up on Sunday, their owners fearing looting. There were few cars on the roads with residents preferring to walk to church after several vehicles were damaged on Saturday by stone-throwing youths.
"In Kisumu ... the situation has been contained and business is resuming to normal," Kenya's police chief David Kimaiyo told AFP.
"We have an adequate number of police officers in all parts of the country including in those troubled areas," he said.
Calmer atmosphere
There was little sign of violence beyond Kisumu. Kisumu and other regions were devastated by deadly riots after the vote in 2007.
Many Kenyans had said they were determined to avoid a repeat of the violence five years ago that killed more than 1,200 people and hammered east Africa's biggest economy.
Kenyans said the calmer atmosphere this time was in part because of far greater trust in the reformed judiciary that ruled on the disputed vote and also because Odinga was swift to fully accept the verdict despite his disappointment.
"Our leader has conceded defeat. Who are we to take to the streets?" asked Elijah Onyango, 27, a delivery man in Kisumu.
"Life has to continue with or without Raila. We are just poor citizens who must struggle to put food on the table."
The peaceful voting and an orderly legal challenge has helped restore Kenya's image as one of Africa's most stable democracies. Western states were anxious that cool heads prevail in their ally in the regional fight against militant Islam.
As in past ballots, tribal loyalties tended to trump political ideology at the ballot box. Odinga, a Luo, and Kenyatta, from the largest Kikuyu tribe, relied heavily on their ethnic supporters. But tensions between rival groups have not so far boiled over as they did after the 2007 vote.
Kenyatta's indictment in the International Criminal Court in The Hague for crimes against humanity, based on charges that he helped organize violent gangs after the last election, may have swollen the turnout for him and running mate William Ruto.
"It certainly helped Kenyatta and Ruto," said one European diplomat in Nairobi.
Reuters-AFP