Ensuring, insuring safety of valuables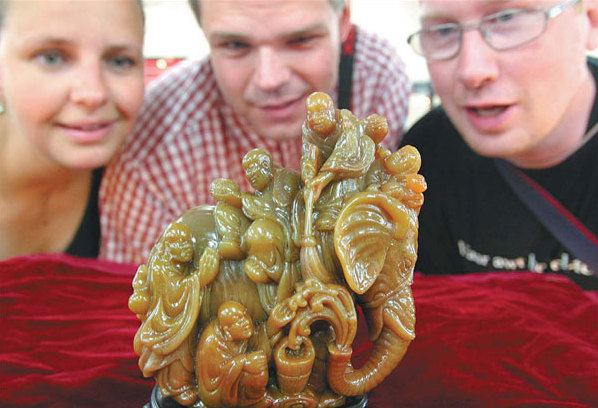 Overseas people at a Beijing antiques show examining Arhats Washing Elephant, carved from a precious Tianhuang stone. The art insurance market in China is still in its infancy and needs to mature. Many demands cannot be satisfied at the moment, analysts said. Policies for insuring artworks are not complete at the current stage and it will take time for the market to grow. Chen Xiaogeng / For China Daily
Specialist insurance market has room for improvement: Experts
It's always thrilling to collect a treasure but no one likes to see it damaged or lost.
In China, an increasing number of collectors are investing in valuable items from old books to antique porcelain and looking at ways to hedge any possible risk that may damage their valuable assets and beloved works.
Owners' worries are reasonable given the risks involved in transporting a work from place to place, said Jennifer Scally, regional manager of AXA Art Asia who has handled several cases of damaged goods.
Experts said increasing importance is being attached to safety control but it is never enough.
Theft, damage from fire or water, accidents during shipping - all these can damage fine art works, said Scally.
One of the biggest risks is moving items by air, said Scally. When works are to be cleared through customs, they may be put into general cargo storage before they are loaded on to the plane. Unless a reliable fine art carrier has got a representative airside, no control will be taken over how these works are handled and there is no certainty they will be put into reliable hands.
Supervision of the movement of the items should occur every second of their journey.
An insurance policy is one of the conventional ways to mitigate risks that may occur to valuable collections in many countries but, in China, it has not been widely utilized until recent years.
However, unlike European countries where there are AXA art, Equitable, Chubb Group among hundreds of market players, only a handful of insurers exist in China that offer services for insuring artworks.
"Galleries or private owners of artworks are reluctant to lend their collections for public shows because of basic concerns for the safety of their works. But if a mechanism exists that can help to cover the concerns, artworks will have more opportunities to be exposed to the public instead of being locked in a safe," said a source with a gallery in Shanghai.
Museums are making great efforts to secure the safety of borrowed or lent works from packaging to installation. However, unfortunate stories continue to emerge in the world of high-value goods and high-risk.
In 2012, a Dutch museum became the victim of one of the biggest art heists in history with seven paintings worth around $150 million including works by Picasso and Monet being stolen.
In 2010, five paintings were stolen from the Musee d'Art Moderne in Paris including a Picasso and Matisse estimated to be worth a combined $124 million.
Although there is hope for a swift recovery of the stolen pieces because experts believe it would be almost impossible for the thieves to sell the world-famous works on the open market, such cases have upset people who respect and cherish the heritage of history's deftest hands.
Analysts say China's art insurance market is still in its infancy and needs to mature and many demands cannot be satisfied at the moment. Policies for insuring artworks are not complete at the current stage and it will take time for the market to grow.
"Insurance is not a cure-all. It can reduce losses. Prevention of danger is critical and there needs to be more training for people involved in this field," said Scally.
There is never too much caution when handling valuable items, said Gong Zhengrong, general manager of Crown Logistic China Operation.
Much damage is caused through lack of circumspection. Water dripping from the air-conditioner in a truck installed to maintain temperature and humidity when transporting antique books can ruin a 100-year-old tome's pages. Bugs that survive fumigation may eat a hole in a painting in just a couple of days.
"A professional team with expertise is essential for the preservation of valuable and rare items," said Gong.
Requirements may involve details such as the packaging used to wrap valuables, she added.
"Acid-free paper is used to pack paintings to make sure no erosion occurs to the work, something ordinary paper cannot achieve," said Gong.
A wooden carton to transport oil paintings may take a specialist a couple of weeks to construct, from the woodwork to the defumigation to kill any bugs hiding in the timber.
It is costly to secure the safety of treasures when you put the task into professional hands so it is important to get the budget right, said Gong.
Internationally recognized shipping service providers have better credit when handling fine works of art. They may be members of Art International Meeting, the American Alliance of Museums and the International Convention of Exhibition and Fine Art Transporters, she added.
wuyiyao@chinadaily.com.cn
(China Daily 04/01/2013 page15)