Children show their Chinese talents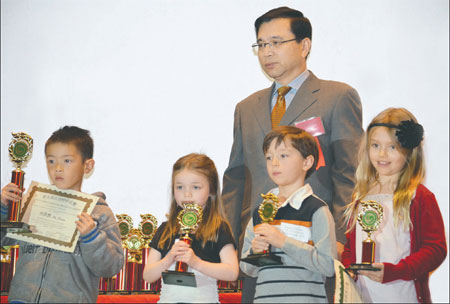 Bi Gang, deputy consul general of China to San Francisco, presents awards to winners of a Chinese-language contest in the city. Chen Jia / China Daily
Angie Defabio, who speaks English and Spanish, might soon hear her 5-year-old twins communicating in a language she doesn't understand.
But the boy and girl made their mother proud at Friday's award ceremony for the annual Chinese-language Bridge Cup contest sponsored by the Confucius Institute at San Francisco State University and Marina Middle School.
"Chinese is not hard to learn," said Valentina Defabio, who won honorable mention in the painting category of the contest. Her twin brother, Constantine, won first prize for reciting Chinese poetry. Both children began studying Mandarin in school last year.
"I think China is a very important part of the world, and I need to get them ready for that next chapter of their lives," Angie Defabio said. "Learning Mandarin is very important for American children."
The contest, now in its ninth year, drew about 1,400 students from 166 schools in the San Francisco Bay Area and other parts of northern California, organizers said.
The Confucius Institute at San Francisco State set up six categories covering five age groups for children in kindergarten through 12th grade. They competed to show their proficiency with Chinese language and skill in Chinese arts including painting, brush and pen calligraphy, and poetry recital in Mandarin and Cantonese.
Friday's ceremony recognized 265 winners from the contest's two final segments on March 2 and 9.
"These contests showcase the talent, skill, achievement and excellence in Chinese of students in the San Francisco Bay Area," said Richard Carranza, superintendent of the city's public school system.
"Being bilingual has been an important asset in my life," he said. "In an increasingly interdependent world, providing students with opportunities to learn a new language and to have educational experiences that increase the understanding of diversity will give them critical tools for future success."
The local Confucius Institute - its oversight body, Hanban, is affiliated with China's Ministry of Education - aims to meet growing demand for Chinese-language instruction in northern California at all education levels, said director Xie Jiaxin.
"Through this competition, we recognize the fact that education must include and value what everyone brings to the classroom, including language and culture that students and parents bring to our school," he said.
"Schools in California began teaching Chinese years ago, but the interesting trend is today we see many more Mandarin speakers in the Bay Area," said Liu Aiwen, a Chinese-language teacher in San Francisco.
Officials in the United States and China have raised the profile of people-to-people exchanges in education and culture.
President Barack Obama has set a goal of sending 100,000 US college students to study in China by 2014. China's government has backed Obama's plan and its own initiatives through scholarships and other financing.
In the US, more than 80 Confucius Institutes have been established since the first opened in Maryland in 2005. Over 2,100 teachers have been dispatched to the US by China, whose formal name is the China National Office for Teaching Chinese as a Foreign Language.
Since 2002, about 150,000 foreign students from 70 countries have participated in Chinese Bridge contests.
"Chinese-language learning and cultural understanding by Americans will greatly help in forming effective partnerships between the two countries," said Wu Yenbo, director of international programs at San Francisco State.
chenjia@chinadailyusa.com