Oysters make spring sing for diners in Beijing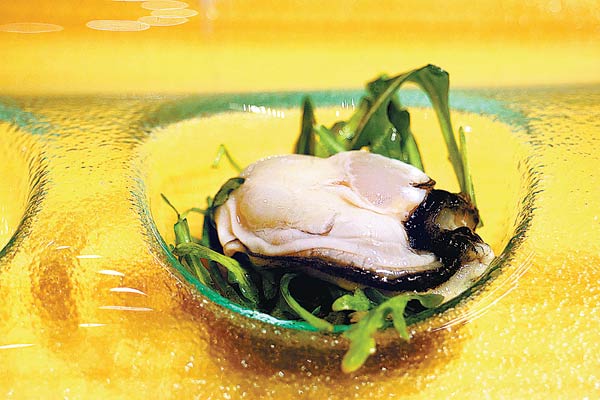 Fine de Claire with arugula and chipotle salsa.
It is spring, and time to give yourself a boost of energy. That's why Grange Grill at The Westin Beijing Chaoyang offers a special oyster menu for the months of March and April, according to executive chef Liu Wei.
One other apparent reason is that the Chinese believe a lot in natural aphrodisiacs - and the oyster is a famous one. The Chinese often say oyster is "a man's gas station", and "a woman's beauty station".
The restaurant serves oyster in nine different dishes, three cold, two soups, and four hot. There are five kinds of oysters: French belon, French fine de Claire, Japanese kumamoto, Canadian Fanny Bay and Australian Pacific gigas.
Asians are likely to prefer the silky, milky texture of the Japanese kumamoto oyster. But the French belon has a metallic smell of the shell, which some people will consider a fresh sea smell. The Canadian Fanny Bay and Australian Pacific gigas are somewhere in-between.
So customers can order all the oysters and taste the difference. Or they can just order what they like.
Chef Liu says he tries to pair the oysters with ingredients of the same region. For example, kumamoto is paired with tobiko salad and ginger ponzu. Belon is served with lemon frisse and Champagne vinegar.
The side ingredients are designed not to taste stronger than the main ingredient of oysters. Moreover, many alcoholic drinks are used in the dishes, to enhance the flavor, and to help with digestion.
Vodka is used for a gazpacho of lime-marinated fine de Claire. Fanny Bay is paired with chardonnay bearnaise and garlic spinach. Brandy and beer are served with hot oyster dishes.
The vodka gazpacho is outstanding, and the fragrance of chilled tomato helps to make the oyster taste even better, while the celery works to limit the sea smell.
In the hot dishes, the oysters are baked with cheese, grilled, poached and deep-fried with batter. The chef uses stronger tasting ingredients such as garlic and cheese to cover up any possible sea smell caused by heating.
"The best oysters should still be enjoyed fresh," says the chef.
He admits the hot oyster dishes are tailored for those who cannot deal with the sea smell. Some Chinese customers prefer not to eat seafood raw, for health reasons.
Grange Grill Restaurant is an American-style place designed for family gatherings. Meats here are grilled to make the most of their intrinsic flavor. Oysters at the restaurant are imported and prepared fresh, within a week's time.
Because it's springtime, the restaurant has paired some vegetables for the oyster dishes. Eating light is suitable for the season.
yejun@chinadaily.com.cn