Flamenco, rejuvenated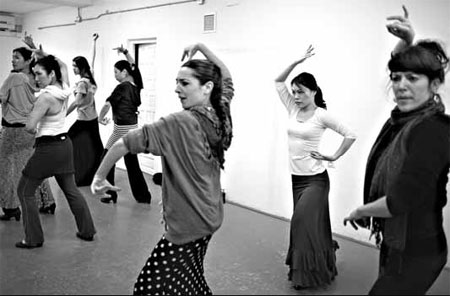 In Spain, the country where flamenco was born, tuition from foreign students is keeping the art form alive. Laura Leon for the International Herald Tribune
SEVILLE, Spain - Alicia Marquez raises her arms high above her head to get her students to look up while they stamp their feet. She claps her hands hard to keep them in rhythm. To teach flamenco here in the epicenter of the dance, she finds she must rely more on showing than telling: Though the 10 women in her class are all accomplished dancers in their 20s and 30s, only one is Spanish.
Flamenco remains a quintessential component of Spanish culture, embedded in the Gypsy community of the Andalusia region. But economically, it depends more on foreigners, who come to Spain to learn the stamping and clapping of the dance and to recruit Spaniards to teach and perform abroad. Meanwhile, difficult economic times are stemming the flow of prospects from the country where flamenco was born.
"Most of my Spanish students simply had to drop out," Ms. Marquez said. Some could no longer afford the tuition; others could not spare the time away from low-wage jobs they have taken to make ends meet.
"I was lucky to have parents who paid for my training," she said, "but fewer and fewer Spanish families are now able to afford such support."
The dancers in Ms. Marquez's class are German, English, Danish, Israeli, Japanese and Chinese, a more recent addition to the mix. "I'm sure that in a few years we will have as many Chinese as Japanese here," Gao Weiquian said after the class. Ms. Gao started learning flamenco last year, after moving to Seville from China to complete a doctorate in Hispanic literature. She now spends 210 euros a month ($275) on tuition at two flamenco schools.
Macarena Martin Villanueva, the one Spaniard in Ms. Marquez's class, says it is enriching to study alongside foreigners like Ms. Gao, but she laments the limited interest in flamenco among her Spanish friends.
"I used to consider flamenco to be purely Andalusian, but I've come to realize that an Australian or a Japanese can show more enthusiasm for flamenco than most people here," she said. "For a foreigner, flamenco is exciting in part because it feels exotic, while most of my childhood friends have grown up surrounded by flamenco music and don't particularly want to dance it."
At bottom, though, "money is a real problem, because once you get hooked on flamenco, it quickly gets expensive." Her flamenco shoes, a gift, cost $235.
Jose Ruiz Navarro, a professor of entrepreneurship at Cadiz University and co-author of a study on the economics of flamenco, estimates foreigners coming to Andalusia to learn the dance injected $980 million into Andalusia's economy in 2011, and the figure is growing rapidly.
Meanwhile, more of Spain's flamenco artists and teachers are going abroad. Blanca Perdiguer has been spending about five months a year abroad since 2008, when the financial crisis hit Spain. In Moscow or Prague, she said, she makes nearly $4,000 a month, plus travel and lodging expenses - three times what she can earn teaching in Seville - and she works with "highly motivated" students. "I now believe that a Russian can learn just as well as an Andalusian, because although flamenco isn't part of Russian culture, music and dancing certainly are," she said.
Yinka Graves, a British dancer of Ghanaian and Jamaican descent who has performed in Britain and Spain and who has been living in Seville since January, said flamenco is a fusion of cultural influences, so there is no reason foreign artists could not take center stage.
"Flamenco is about feelings," Ms. Graves said, "not about blood."
The New York Times