Newborn Pandas: the size of a stick of butter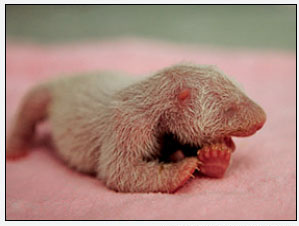 She Yi/ For China Daily
The panda is the rarest member of the bear family and lives mainly in bamboo forests high in the mountains of western China, where they subsist almost entirely on bamboo. Newborn pandas are about the size of a stick of butter but can grow to up to 330 pounds as adults, according to the World Wildlife Foundation (WWF).
Pandas are endangered because they are threatened by poaching, human encroachment, habitat loss and trouble breeding in captivity. The number of pandas living in the wild is estimated at about 1,600 by the WWF. When it became apparent that pandas were endangered in the wild, China created the Chengdu Research Base of Giant Panda Breeding. Da Mao is from Chengdu and Er Shun is from Chongqing, a sister city to Toronto.
The Chinese government has established more than 50 panda reserves, covering more than 3.8 million acres of forest, but only about 61 percent of the country's panda population is protected by the reserves, according to the WWF, which adopted the panda as its logo. The inspiration for the logo came from Chi-Chi: a giant panda that arrived at the London Zoo in 1961, the same year WWF was created.