Netanyahu signs coalition deal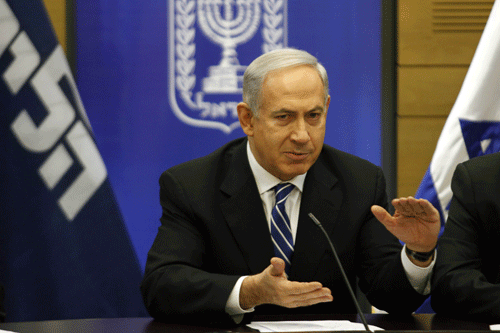 Israeli Prime Minister Benjamin Netanyahu chairs the Likud-Beiteinu faction meeting at the Knesset, Israel's parliament, on Thursday in Jerusalem. Gali Tibbon / for China Daily
Agreement comes as Obama prepares to visit
Israeli Prime Minister Benjamin Netanyahu on Friday inked a long-awaited coalition deal that will see a new government sworn in just days before a visit by US President Barack Obama.
A last-minute dispute over who will serve as Netanyahu's deputies had thrown a wrench in the works on Thursday, delaying an agreement which had been due to be signed earlier in the day, news reports said.
Netanyahu had been under huge pressure to present a line-up with a working majority of at least 61 members of parliament within the 120-seat Knesset before Saturday's deadline.
After 40 days of intensive negotiations with potential partners, Netanyahu announced a deal between his Likud-Beitenu alliance, the centrist Yesh Atid and the far-right Jewish Home.
He had already signed an agreement with the small centrist HaTnuah party.
Party heads had been expected to ink the coalition contract at around midday on Thursday, but negotiators told public radio there had been a delay for last-minute fine-tuning.
Netanyahu has said he expects the new government to be sworn in on Monday, just two days before Obama arrives for his first visit since becoming president.
Obama said his forthcoming trip to Israel and the Palestinian territories will be to listen to both sides and hear their views on how to move forward after over two years without peace talks.
During the visit, starting on March 20, Obama will meet Netanyahu in Jerusalem and Palestinian President Mahmud Abbas and Premier Salam Fayyad in Ramallah to hear their perspective on how to resolve the decades-long conflict.
"I think we're past the point where we should be even talking about preconditions and steps and sequences. Everybody knows what's going to be involved here in setting up two states, side by side, living in peace and security," he told Israel's Channel 2 television.
The 11th-hour deal was widely seen as a victory for political newcomer Lapid, who wrested the influential education portfolio for his party's number two and who will himself become finance minister.
Although Likud-Beitenu will have a majority in the cabinet, Netanyahu's authority will be less than it was in the outgoing government, which included the more malleable ultra-Orthodox parties, who are absent from the new line-up for the first time since 1984.
"The clash of the Titans over the education portfolio ended with a victory for Lapid," wrote Haaretz's political commentator Yossi Verter.
"It was yet another victory, after he had forced Netanyahu to part from his ultra-Orthodox partners and imposed a painful reduction in the number of government ministers."
But Netanyahu played up the importance of Likud's retained portfolios, including defense and foreign affairs.
During the negotiations, Lapid pushed for a coalition without the ultra-Orthodox, a reduction in the cabinet size and for his party to take the prestigious education portfolio - all of which he got.