Bangor University keeps its focus on the future of education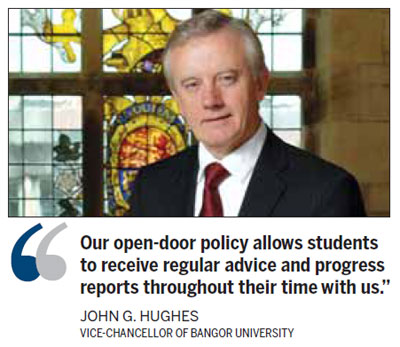 Bangor University in North Wales offers excellence in teaching, world-class research and the highest level of student support.
"Since 1884, Bangor University has developed a highly respected reputation. We are taking our proactive approach to learning into the future," said John G. Hughes, vice-chancellor of the university.
"We are ranked first in the UK in accounting and finance, and second in electronic engineering in the last UK RAE (Research Assessment Exercise)."
Bangor has established strong academic programs that combine lectures with practical sessions, and the school prioritizes support for students, Hughes said.
"Our open-door policy allows students to receive regular advice and progress reports throughout their time with us," he said. The Times Higher Educational Supplement recently ranked Bangor University the number one in the UK for the support provided to its students.
Bangor University is among the top 20 universities in the UK in psychology, sports science, healthcare, economics, agriculture and forestry, chemistry, as well as earth and marine sciences.
The university's successful strategy in China has been to partner with prestigious Chinese universities, such as the China University of Political Science and Law, Beijing Normal University, Beijing Foreign Studies University, Communication University of China, Shanghai University, Shanghai University of Finance and Economics, and Southwest University of Finance and Economics.
"The Chinese education landscape is changing, and we understand the growing importance of partnerships," said Wu Xinyu, director of International Development at Bangor.
"Our academic exchange programs and research collaborations have a positive impact on our students."
The university's recent developments include the opening of its office in Beijing in 2011.
It has also founded a Confucius Institute and started the 2012 MBA program in partnership with the Research Institute of Tsinghua University in Shenzhen and Shanghai.
Meanwhile, Bangor is working with China Central South University of Forestry and Technology to establish an international school in Changsha, which is set to open in 2014.
Furthermore, the university is investing $108.17 million for its future, which includes Pontio, an innovation centre for advanced software technology and state-of-the-art student accommodations.
As a leading UK university with a focus on China, Bangor University is well positioned to build on its international reputation as a highly respected institution.
www.bangor.ac.uk