Pushed out by the desert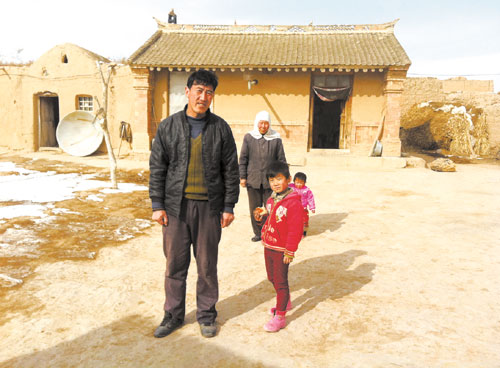 Clockwise from left: A family in Tongxin county waits for their turn to be resettled. Ma Jinxue at his new home in Tongxing village. Tongxing residents play basketball in the new resettlement village. Drought-plagued Ningxia is one of the most impoverished regions in China. Photos by Mu Qian / China Daily
The lack of water in one of China's poorest regions has prompted a massive resettlement in the Northwest. Mu Qian reports.
Ma Jinhai, a 44-year-old farmer from Ningxia Hui autonomous region, says his recent resettlement has brought his family "from the Stone Age to the 21st century".
Although Ma's new home is just some 200 km from his old abode in Tongxin, a county in drought-plagued southern-central Ningxia, his family now enjoys tap water, convenient transportation and easy access to schooling, all of which were denied to them at their old mountainside home.
Electricity arrived a few years ago in Jiefang Xinzhuang village, where they lived. Ma's mother, who passed away 10 years ago, had never used electricity.
The biggest problem southern-central Ningxia faces is the severe shortage of water. The area's annual precipitation is between 200 to 650 mm, while annual evaporation amounts to 1,000 to 2,400 mm.
"Water was more expensive than oil in where we lived," Ma says. "Our life depended on heaven. If heaven sent some rain, we could grow crops. If not, we couldn't."
Southern-central Ningxia, more popularly known as the Xihaigu area, is composed of desertified soil and loess hills. Many years of opening new land to cultivation has exhausted the growing capacity of the natural environment and caused serious damage to vegetation. In 1972, Xihaigu was listed as one of the world's most uninhabitable zones by the United Nations World Food Programme.
Local people use cellars to store rain and snowmelt for their livelihood. When water in the cellar runs out, they have to buy water transported from other areas, which could cost 100 yuan ($16) or more per cubic meter.
Many place names in the area refer to the situation. For example, Hanjiaoshui, a township in Zhongning county, literally means "crying for water". The lack of water makes Xihaigu one of the most impoverished regions in China.
Xihaigu is also China's largest settlement of the Hui Muslim ethnic group. Ancestors of many of today's inhabitants moved here in the Qing Dynasty (1644-1911) after failed Muslim rebellions.
Since 2011, 120,000 people from the arid mountains in southern-central Ningxia have resettled in areas with better environments. Ningxia's government plans to resettle 350,000 people during the 12th Five-Year Plan (2011-15).
So far, 76 resettlement areas have been built for these "ecological immigrants". Tongxing village in Qingtongxia, where Ma lives, is one such location. In April 2012, farmers from three remote villages in Tongxin moved here.
Ma Jinxue, a 40-year-old who relocated to Tongxing, says the resettlement makes life much easier for his family. He doesn't have to toil as a migrant worker far from home to earn the family's living as he did in the past because he has a job at Qingtongxia Aluminium Co, which is just 20 minutes away by bike.
Middle school students from the village also go to classes near the company. In their old villages, they had to walk for hours on mountainous roads. Ma Jinhai's 3-year-old grandson is now in kindergarten, which would have been unthinkable in his old village.
However, with the resettlement comes a new lifestyle, which takes an adjustment.
In the past, although the environment made farming difficult, the farmers enjoyed an easier pace of life. When there was rain, the harvest could feed them for several years.
In Tongxing, every immigrant is allocated one mu (0.07 hectare) of land, which is collectively managed by a company to plant grapes suited to the sandy soil. Apart from collecting rents on their lands, the farmers earn daily salaries by working in the fields as casual laborers.
"In the past, we felt no pressure as there was little to spend, but now we have to buy our food," Ma Jinhai says.
Living spaces are also considerably smaller. Ma Jinxue's old home consisted of five courtyards, but now he lives with his wife and two of their three children in a standard 54-square-meter apartment the government built for every resettled household.
Urbanites might view the new apartment with washrooms as progress for the farmers, who used to answer the call of nature outdoors. But it is a problem for some immigrants, especially the elderly. Many can't bear the idea that the toilet is under the same roof as the kitchen.
Ma Xifeng, director of the Resettlement Office of Tongxin county, says he intends to propose a layout that would place toilets outside the apartments in the future to accord with immigrants' customs.
"Resettlement is a necessary measure for the betterment of people's lives and for the protection of the environment of Xihaigu, ," he says.
Every day, Ma Xifeng visits remote villages in the mountains to survey the families in Tongxin that are going to move. He knows most of the families well.
Ma Xifeng also writes a blog on www.66txw.com, the biggest website of Tongxin county. So far, he has posted more than 2 million Chinese characters about the resettlement of Tongxin inhabitants. Many would-be immigrants ask him about the resettlement, and he answers their questions online.
For people who have already moved to new homes, it is not easy to cut off their connections with their old dwellings. Many go back to visit relatives, and most return to sweep their ancestors' tombs.
For Ma Jinhai, the most important thing is to earn the family's living. He has opened a stall selling malatang - skewers of meat and vegetables cooked in spicy broth - but business is not good because few people in the village eat out. He is considering moving the stall to the city of Qingtongxia, some 30 km away.
"Although our old home is poor, I miss it because I lived there all my life," he says. "But now, the new life is more important. We are not going back."
Contact the writer at muqian@chinadaily.com.cn.