Kobe, Lebron: Who ya got?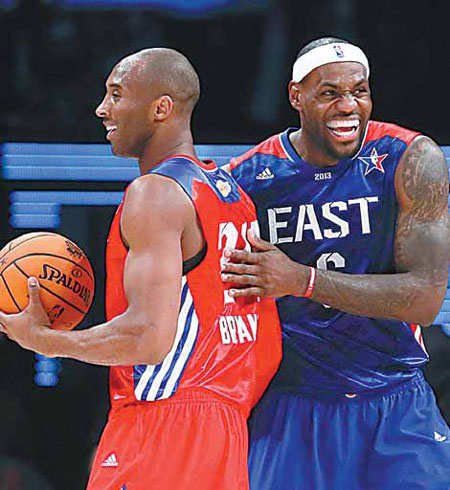 Kobe Bryant of the Los Angeles Lakers (left) and LeBron James of the Miami Heat share a laugh during the All-Star Game in Houston on Feb 17. James is trying to match Bryant's five NBA titles, while Bryant's trying to add more. Lucy Nicholson / Reuters
Kobe Bryant and LeBron James are chasing Michael Jordan for title of best player of all time. Tym Glaser asks if either can do it.
Every great sportsman or sportswoman in this modern era of the games people play chases a ghost. In baseball, it's the ancient chubby specter of the greatest slugger of 'em all, Babe Ruth, who only got juiced on large amounts of alcohol, food and women - in no particular order. In cricket, it's Don Bradman, whose ridiculous Test average of 99.94 hovers above every man who straps on the pads and strides out onto the hallowed grounds of Lord's, the MCG, Eden Park, or wherever else in the Commonwealth to bat for his country.
Golf has the Golden Bear, Jack Nicklaus, and his 18 major titles that spur on modern master Tiger Woods, who is still four in arrears of that living icon's benchmark.
Before Roger Federer became widely regarded as the greatest male tennis player of all-time, he had to track down contemporary Pete Sampras' Grand Slam record of 14 titles and continue an Open era lineage back to "Rocket" Rod Laver, the red-headed, left-handed Aussie who completed two calendar year Grand Slams and in most antipodean eyes is regarded as the king of the courts.
Ditto for Serena Williams who, when all is said and done, will most likely be the best ever female "racketeer". However, she still resides in the superior Slam title shadows of Martina Navratilova, Chris Evert, Steffi Graf and Margaret Court.
Despite Lionel Messi's brilliance, does any soccer fan yet rate him ahead of soccer icons Pele and Maradona?
Then we have basketball. Bill Russell won more championships (11) and Wilt Chamberlain put up some numbers so gaudy they still sting the eyes, but Michael Jeffrey Jordan is the bouncing ball game's king.
Fittingly, he turned 50 during last weekend's NBA All-Star celebrations in Houston and looked down from his throne to assess the two men that may - repeat may - usurp him some day.
Coming from the West was the original "Next Jordan", Kobe Bean Bryant. From the East, LeBron James, who has already been dubbed "King".
Both have deferentially but firmly opted out of the chance to "Be Like Mike" and much prefer to be known as the first Kobe and first LeBron.
Comparing the three statistically over the first nine years of their careers (as long as James has been in the league) sees the young pretender (chart at the bottom) clearly ahead in two of the three major basketball categories.
However, everyone knows there are lies, damn lies and statistics.
Kobe started only seven times in his first two seasons with the perennially powerful LA Lakers, while rookies MJ and LBJ were the primary focuses of their sorry teams, Chicago and Cleveland, from the get-go.
If you don't like playing with numbers, give them the eye test and, team biases aside, they come about even in the highlight-reel stakes while Jordan and Kobe have proven to be, to date, more clutch down the stretch.
LeBron is also behind in the title race - after that first nine-year period - with one NBA title compared to three apiece for Jordan and the Kobester. However, LeBron wallowed in Cleveland for seven years before "taking his talents to South Beach" and the equally warm embrace of stars Dwyane Wade and Chris Bosh. Kobe had All-Star Shaq and Jordan All-Star Pippen.
Jordan won't win any more as a player, Kobe's Lakers are a mess and James' Heat are defending champions, so that discrepancy should narrow over the next few seasons.
When good king Jordan was asked during pre-All-Star Weekend proceedings to choose between the two princes, he, the lord of six championship rings, gave the royal nod to Kobe.
"If you had to pick between the two, that would be a tough choice ... but five beats one every time I look at it," Jordan said. "And not that (James) won't get five ... He may get more than that, but five is bigger than one."
Kobe has made no secret of the fact that he wants a sixth ring to tie Jordan, and perhaps the only man more competitive ever on the pines.
Can't you see it now? NBA Finals Game 7. Lakers vs Heat, Kobe gets the ball to take the game-winning shot, he coils, leaps and out of the stands comes MJ to swat it away and then taunt, "Six is better than five".