Geely posts sales and stock surge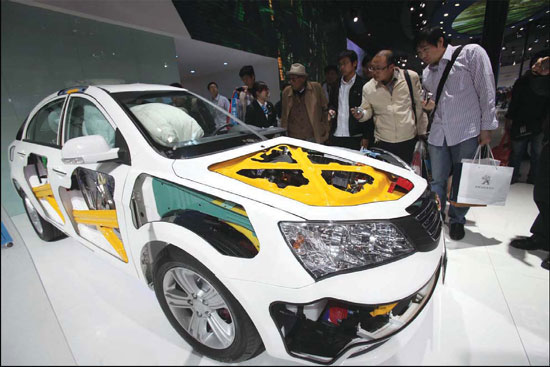 Geely's premium Emgrand brand sold 20,318 units in January, about a third of the carmaker's monthly total. Chen Xiaogen / For China Daily
After reporting a surge in sales for January, Hong Kong-listed carmaker Geely Automobile saw its stock price hit a 52-week record high last Friday.
Geely's stock price increased by 7.66 percent to close at HK$4.64 ($0.6) on Feb 15 after reaching a high point of HK$4.67 earlier in the day.
The sharp increase followed the company's January sales announcement made the day before.
Geely said on Feb 14 that its January sales reached an all-time record high of 63,532 vehicles, a 67 percent increase from a year earlier and 7 percent up from December.
The carmaker's domestic sales last month surpassed 55,000 units while its overseas deliveries reached more than 8,400 units, the company said.
Geely's high-end brand Emgrand sold 20,318 units, about a third of its total January sales, while its Gleagle brand sold 22,482 cars and its Englon nameplate sold 20,732.
Geely's January sales growth exceeded the industry average and its three sub-brands had well-balanced performance, said Simon Feng, an auto analyst with Menutor Consulting.
Last month China's overall passenger vehicle market increased 48.7 percent from a year ago to 1.73 million units, according to statistics from China Association of Automobile Manufacturers. The strong industry-wide growth was mainly the result of fewer working days in January last year because of the lunar Chinese New Year holidays were earlier.
Another high point in Geely's January report is that its SUVs surpassed expectations with combined sales of the Gleagle GX7 and Englon SX7 reaching more than 7,300 units, Feng said.
Yang Xueliang, Geely's spokesman, said that the company's SUV products will gain more momentum this year to achieve average monthly sales of over 10,000 units.
A Xinhua News Agency report on Feb 15 also helped prompt the surge in its stock price.
The report said Geely's economy cars assembled at its joint venture in Belarus will formally hit the market this month.
It said the Belarusian-Chinese venture also plans to sell its cars in Russia this spring and market them in Kazakhstan and the European Union in the future.
Geely's stock price has increased by more than 80 percent in the past six months, up from about HK$2.5 ($0.32) in September last year.
Its 2012 sales totaled more than 480,000 units, a 15 percent increase year-on-year. Previously the company said its target this year is to increase sales by 16 percent to 560,000 units.
Earlier this month, the carmaker's parent company Zhejiang Geely Holding Group finalized its $17 million acquisition of Manganese Bronze Holdings, manufacturer of the iconic London cabs.
It was already a shareholder in the UK company after buying a nearly 20 percent stake in 2006.
The company headquartered in East China's Zhejiang province became a familiar name in the global auto world with its unexpected takeover of Volvo in 2010.
Contact the writer at hantianyang@chinadaily.com.cn