US stores luxuriate in Chinese cash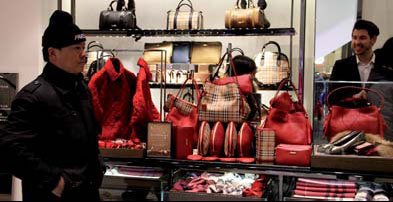 Chinese customers look over items at the Burberry boutique inside Macy's department store in Manhattan. Yu Wei / China Daily
Yu Yang, from the central China city of Wuhan, was laden with shopping bags and beaming, surprised at the ease of his retail excursion in New York State.
Although Yu doesn't speak English, Mandarin-speaking store clerks at some of the Woodbury Common outlet mall stores made him comfortable by explaining products and converting international sizing charts to US sizes.
"Our customer-service supervisor at Woodbury Common is Chinese. We have several designer stores that also employ sales personnel who speak various dialects of Chinese," said Jean Guinup, a marketing executive with Simon Property Group Inc, which operates the outlet mall, about an hour's drive south.
The mall, which opened in 1985 and is filled with more than 200 designer-label stores that sell clothing and housewares at reduced prices, has long attracted busloads of tourists visiting New York City. Now Woodbury Common and its retailers court Chinese shoppers with services in Mandarin and Cantonese, including currency exchange, public-address announcements and other information.
"Last year, we saw increases in the number of Chinese visitors who visited our centers, including during Chinese New Year," Guinup said.
Based on that experience and inquiries from potential shoppers, Simon is expecting greater numbers this Chinese New Year, to factory outlets such as Woodbury Common and the company's other properties, including the high-end Mills malls.
"We have been aware of the increased volume of Chinese visitors arriving to the United States over the past several years, as well as the projections for continued increased growth," Guinup said. "The relationship with our Chinese shoppers is very meaningful and we continue to develop programs to entice and excite this key audience."
According to a report by Bain & Co, an adviser to the global luxury-goods industry, Chinese consumers now make up half of all luxury purchases in Asia and nearly a third of those in Europe. Globally, one in four purchases of personal luxury goods is made by a Chinese consumer.
Although retailing of luxury brands isn't new to China, customers there still prefer to buy high-end goods during trips abroad. Research firm McKinsey & Co reports that two-thirds of luxury consumers on the Chinese mainland travel overseas to make purchases, thus avoiding China's high sales taxes.
Although rich Chinese tourists don't need to be told what to buy, they do benefit from having someone facilitate their purchases.
At the new Burberry boutique at the landmark Macy's department store in Manhattan, a sales clerk named Jeniffer, who declined to give her last name, said six or seven Mandarin-speaking assistants are on the staff.
The British brand has put its red-colored products on display in the shop's most prominent position and will hand out special red envelopes as a gift with purchases during the Chinese New Year.
Montblanc, which sells fine-quality fountain pens and writing accessories, has both red envelopes and window decorations done in a red floral motif with Chinese symbols at its US locations.
"We have a corporate policy to have at least one Chinese-speaking staff member in each of our boutiques," said Nicole Dabaghian, a spokeswoman for Montblanc North America.
The retailer saw an influx of Chinese shoppers during the last Chinese New Year and is expecting even more this month.
"We most definitely value the Chinese tourist - so far as to have created special products such as a currency holder or wallet specifically for Chinese currency," Dabaghian said.
China is one of the fastest-growing countries of origin for tourists in the US. A record number of Chinese - nearly 1.1 million - visited the country in 2011, and the US Commerce Department estimates that 1.54 million came in 2012.
"We have seen many Chinese visitors during last year's Chinese New Year celebration, and we expect to see even more visitors this year," said Matthew Bauer, president of the Madison Avenue Business Improvement District, a merchants association.
He said three-quarters of luxury stores on Madison Avenue between East 57th and East 86th streets accept China UnionPay, the most widely used card-payment system in the Asian country. Many of the association's member retailers have special promotions planned for the upcoming holiday.
"To accommodate clients from abroad, Madison Avenue retailers have long maintained sales associates familiar with a variety of languages, and certainly many of our retailers have sales associates who speak Mandarin," Bauer said.
Italian fashion line Emilio Pucci opened a store on Madison Avenue late last year and the boutique has a full-time Mandarin-speaking associate.
"This will be our first Chinese New Year in the location, and we very much look forward to welcoming Chinese tourists during the celebration," said Katie Antonucci, the company's retail director.
She said Pucci's spring collection has a strong "Indochina influence". "This collection will be in the store and large dragon tails - a theme used throughout the collection - will be on display in the window of the store," she said.
The surge of Chinese visitors gives luxury-goods companies a chance to gauge the impact of their business strategies in China itself.
"The luxury brands need to understand that for the future, the purchasing power and discerning taste of the Chinese consumer will be important not just in China, but around the world, in major capitals of tourism and culture, as these highly educated world travelers eagerly discover the world and bring their vast purchasing power along with them," said Milton Pedraza, CEO of the Luxury Institute, a New York-based research and consulting firm.
"The luxury brands must not only deliver great products," he said, "but also associates who speak the language and who have the personality and skills to build long-term, mutually beneficial relationships with individuals, not just groups, of Chinese consumers."
Chinese who travel and shop abroad have captured high-end retailers' attention because they know what they want, buy in large quantities and are less interested in bargains than high-quality design, craftsmanship, and service, Pedraza said.
yuwei12@chinadailyusa.com