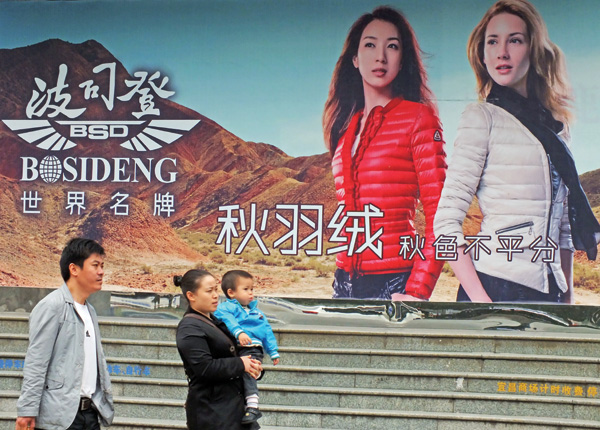 People walk in front of a billboard for the Bosideng clothing brand in Yichang, Hubei province. Liu Junfeng / For China Daily
Chinese clothing firm Bosideng International Holdings Ltd aims to accelerate its expansion in Europe after setting foot in Britain, reports Ding Qingfen in London
While all Western retail brands are talking about investing in emerging markets, led by China, Chinese down jacket maker, Bosideng, has its sights set in the opposite direction.
Last summer, the world's largest feather jacket manufacturer announced it was buying a six-story property near busy Oxford Street in London's West End for 21 million pounds ($33 million). Occupying the building's ground and second floors, Bosideng opened its men's wear flagship store in London in July, its first store in Europe and its first abroad.
But Bosideng's ambition doesn't stop there. It is accelerating its pace of expansion in Europe, which still leads the global fashion industry, although it is losing economic growth momentum.
"We are considering expanding our business and entering high-end shopping malls in London, probably early this year," Zhu Wei, CEO of Bosideng Corp UK, told China Daily.
And not just in London. Zhu said the down jacket producer is in talks with some European counterparts, probably from Italy, on acquisition deals.
"Through cooperation, we could help them enhance their presence in China, and they could assist Bosideng in making inroads into Italian and other European markets," Zhu said, declining to elaborate.
The company is also reportedly targeting expansion in the United States, where it has a sales presence, looking for a store property in New York.
Zhu said the six-story London building, at 28 South Molton Street, one of the city's most prestigious and expensive retail addresses, is "iconic".
Covering a floor area of 1,600 square meters and housing stores, offices and apartments, the building is opposite London's famous department store Selfridges, and near two subway stations.
The company will invest about 8 million pounds to reconstruct the three-story store, Zhu said.
"The building is the first foray that Bosideng has ever made abroad, and through the landmark building, we expect to enhance our brand popularity and reputation," he said.
Bosideng Chairman and CEO Gao Dekang once said: "The acquisition of the property is an important move by Bosideng in its expansion into the international market and development into a world-famous brand."
With about 12,000 stores at the end of September, Bosideng has been tapping the domestic market since its foundation in 1975.
Today its business includes not only down jackets, but also menswear, which accounts for a growing part of its sales revenue.
During the first half of the 2012 financial year, Bosideng's sales from down jackets rose by 3.8 percent from a year earlier to 1.84 billion yuan ($295 million), accounting for 60 percent of the company's total sales revenue during the same period.
The company has been an original equipment manufacturer for a range of famous foreign brands for many years, a topic on which Zhu refused to elaborate.
"Annually, the OEM production generates sales worth 140 million yuan," Zhu said.
"It's not a small business, but the problem is that the Bosideng brand is not known in international markets. It's quite new, especially in the European market," he added.
This is also why Bosideng is willing to invest a lot outside China.
"Everything is there. We have quality goods, long-term commitment and capital. Why not give it a try?" Zhu said.
But he added promoting the brand abroad is an arduous and time-consuming task.
About five years ago, Bosideng began market research and decided to launch operations in Europe, a market where consumption remains weak.
The ironic result is a Chinese fashion brand investing a lot to enter the debt-stricken European market, while Western retailers and luxury brands are seeking expansion and a firmer foothold in China.
Soon after Bosideng's move to open its London flagship store, Joyce Group, a major Chinese fashion brand, cooperated with Italian designer Romeo Gigli, opening a pop-up boutique in Venice, Italy, Joyce's first presence in Europe.
"We took London as the first step because it is a place that gathers the most well-known menswear brands. We hope to improve our design here and learn from them," Zhu said.
But looking ahead, the first such step for Bosideng is bold and not easy, considering the economic woes in Europe, Zhu said.
"But we are clear that we should go out and build Bosideng into a globally well-known menswear brand through standing firm in the UK and Europe. This is a long-term strategy," he said.
China's Hugo Boss
"Hugo Boss is a potential competitor," Zhu said, referring to the globally renowned menswear brand.
"It's a hard and long process to reach that level, say three to five years, but it's achievable," Zhe said.
What surprises Zhu and his team is that Bosideng has been so popular abroad.
"It is beyond our expectation that consumers here have shown an interest in Bosideng, and that sales have been better than expected," Zhu said.
Unlike domestic stores in which down jackets for men and women are mainly on display, the two-story store has all categories of Bosideng-branded men's clothing, including T-shirts, sweaters, coats, trousers and shoes. Most are priced from 85 pounds for a shirt to 375 pounds for a coat, and sometimes higher.
More than 500 customers visit the store every day. They are divided into two groups: one is made up of local British people, and the other comprises people from North America and the Middle East.
"We target male customers who are older than 30," Zhu said.
Compared with July, when Bosideng opened the store, sales revenue has risen 30 percent in November, said Zhu, who declined to disclose exact figures.
"We expect to recover the cost in two to three years," he said.
Bosideng's confidence in growing sales and establishing its reputation in the UK comes from its "complete localization".
"We implement localization into every detail of our business," Zhu said.
Bosideng's UK branch has more than 30 employees. Everyone except for Zhu is a local person.
Bosideng hired one of the most prestigious designers in the UK, Nick Holland, and also one of the top 15 tailors in the country, to make sure the clothes are tailored properly for Westerners. It also has an experienced menswear expert in the UK as the store manager.
Except for the down jackets, all the goods are made in the UK and elsewhere in Europe.
"It's a challenge to bring Bosideng into the UK and grow with the market," said Craig McKelvie, store manager of the Bosideng UK store, who worked for the famous department store Harvey Nichols as menswear manager before he joined Bosideng.
But "I know what the market wants," he said.
Besides the in-house management, McKelvie's job is also to make sure the goods are right for the market, working together with the designer on the research and development and design and promoting the brand image of the company.
"I have confidence in building Bosideng into a luxury brand, a brand that provides Western customers different choices than Hugo Boss," said McKelvie, who cited the local famous designer, the iconic building Bosideng owns in the UK and its long-term commitment.
It is estimated that every day, the population flow around the Bosideng building is more than 30 million people, thanks to the nearby subways.
Maria Maria is one of the nine sales employees in the store. "We all are local," said Maria, who has worked for Moss Bros, one of the oldest British menswear brands, for three years.
"We love being with Bosideng. We have the same quality of goods as Hugo Boss, but the prices here are much lower," she said.
It was suggested to Bosideng that it change its brand name to a Western one when it decided to enter the UK, but the company refused to do so.
"We are a Chinese brand, and we are proud of our Chinese name. We insist on using the name, and will never change it," Zhu said.
And more than that, Bosideng expects to make the Chinese factor appealing to Western customers.
"We add red into many of our pieces, and we are going to launch some other series into which Chinese facial paintings and shadow play themes are infused," Zhu said.
Rights of Light
"It's very difficult to do business in Europe. Besides promoting branding and sales, there are so many other things that we have to be cautious about," Zhu said.
He cited the English "Rights of Light" as an example. The UK property was a three-story building, and when Bosideng decided to add another three stories, the company ran into trouble.
Arguing that the new building would affect the way they get lighting, "our neighbors came to ask for compensation under the Rights of Light", which was in accordance with local law, Zhu said.
"But unfortunately, we didn't know anything about it."
Armando Branchini, executive director of Altagamma, Italy's luxury goods association, reportedly said it is likely a trend that Chinese companies will buy foreign brands and also try to create Chinese luxury brands worldwide.
But Chinese companies have had limited success buying well-known Western brands and expanding abroad.
Fosun Group, a conglomerate, failed to take a significant stake in Prada, when the Milanese group decided to raise funds by listing in Hong Kong instead.
In another case, in January 2010, Li Ning Co Ltd, China's major sportswear maker, opened a US flagship store in Oregon, but closed the store the following month.
"We have to be extremely careful," Zhu said.
Contact the writer at dingqingfen@chinadaily.com.cn