Wine and olive oil create recipe for success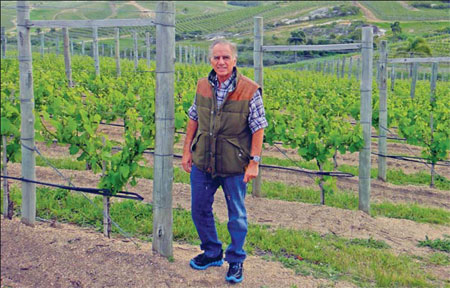 Alejandro Bulgheroni, president and owner of Agroland S.A. Provided to China Daily
Ambitious Agroland sets its sights on Chinese consumers after outstanding first decade
With roots stretching back to the turn of the millennium when the first seeds were sown in Punta del Este's fertile soil, Agroland S.A. has blossomed into an agricultural paradise where nature and farming expertise combine to produce fine wine, olive oil and nuts.
Undoubtedly one of Uruguay's most prolific success stories, Agroland has transformed mile after mile of rolling countryside into a self-sufficient wine and food producing region that has attracted the attention of upscale consumers in countries around the world, including China.
Often referred to as the "Tuscany of Uruguay" by Agroland's visionary creator and president, Alejandro Bulgheroni, the project's 4,000 hectares feature vineyards, olive groves, almond plantations and vast herds of livestock such as beef cattle.
In early 2013, a next-generation winery and several stylish restaurants will open, along with a visitor center that will showcase the exciting and innovative project to thousands of tourists who flock to the area each year to enjoy its warm climate, spectacular views and wonderful cuisine.
Blessed with a well-drained soil and cool Atlantic Ocean breeze, Agroland boasts an excellent climate for wine growing. With the average size of each vineyard less than one acre, the project features hundreds of small vineyards mixed with small woods, big rocks and natural palms.
"Agroland is the materialization of a dream that my wife, Bettina, and I shared," explained President Bulgheroni. "Back in 1999, we discovered Garzn, a really old part of Punta del Este which became the 'small Tuscany in Uruguay' for us.
"We have a combination of the flavors of Italian ancestry with the local air, in a really exquisite place and we produce food for the most demanding tastes.
"The area's geography combines hills, brooks and streams which fall over the flatland and stretch out towards the sea. This beautiful scenery inspired the growth of Agroland and offers an extraordinary environment for our plantations which complement the area's natural beauty."
According to the dynamic entrepreneur, Agroland has been able to evolve so quickly thanks to a series of ambitious agro-industrial projects in the Latin American nation, the United States and several countries in Europe.
"These projects use state-of-the-art technology and our values are based on taking care of the environment, including the development of vineyards, olive plantations, cultivation of berries, fine fruit and dried fruit, forestry, dairies, cattle-raising, organic fertilizers, biodiesel, wind energy and biomass," Bulgheroni added.
"We are able to place on the market excellent high quality products. Our main contribution is that we took the risk of investing in new productions in a new location. This success has encouraged investors to take risks as well 'on the basis of something sure' and cultivated lands are expanding across the region and the country."
Quality, not quantity
With a focus on the creation of premium brands, Agroland is a leading producer of high quality wines destined for international markets. The company's "quality, not quantity" approach is centered on the specific kind of soil that gives the wines such a rich and unique flavour.
The group's first vineyard was planted in 2007 and by the end of 2012 the firm had 180 hectares. Over the next two years this total will gradually increase to 240 hectares. "I would describe our wines as a blend of Tuscany, Burgundy and California," Bulgheroni commented.
"Our goal is to make premium wines with strong identity, personality, and a sense of place. Our message is Uruguay can make premium wines and we will see that it is acknowledged worldwide."
When it came to selecting varieties of wine, Agroland decided to focus on Tannat for the reds and Albario for the whites as "the Tannat really does well in this climate while the Albario is also developing well".
"We also thought other grapes could do well here, for instance, Merlot, Cabernet Franc, Pinot Noir, Marselan and Caladoc for reds, and Sauvignon Blanc, Pinot Grigio, Viognier and Petit Manseng, for the whites. All the grape varieties should do well in this environment. The idea is to make a distinctive Tannat, which could become what the Argentinian Malbec has become over the last decade."
Agroland also stands proudly at the forefront of Uruguay's olive oil industry. The pioneering firm has won many top international awards and was recently named the world's sixth best extra virgin oil production company by an industry body.
Uruguay will soon become a member of the International Olive Oil Council in a move that will guarantee the quality of olive oil through manufacturing and certification procedures that will be in accordance with international industry standards.
"At present, Agroland has a total of 550 hectares with olive trees planted, of which 450 hectares involve the production of extra virgin oil and are located in our exclusive 'boutique' factory Colinas de Garzn," Bulgheroni revealed.
"The remaining 100 hectares are for table olives; which is a project that we started recently - complementing a family of high quality products. We have 3,000 additional hectares of olive trees through our associated company Nuevo Manantial; 1,000 hectares of which are already producing olives.
"We have a unique high quality product and are developing highly demanding trade channels and our produce is reaching large-scale markets like the US, China, Russia and Brazil.
"We are also developing an off-season market for the most demanding European customers, which, thanks to our high quality extra virgin oil, would have new oil available throughout the year, having been produced only six months earlier. In 2012, Colinas de Garzn won more than 20 international awards, which meant that for the fifth consecutive year our extra virgin oil received more awards on an international level than any other Uruguayan company."
Tempting consumers
According to Agroland's comercial director, Nicols Kovalenko, China is an ideal market for the company's high-end products, although he acknowledges that it will take some time before the producer can conquer the lucrative Chinese market.
"Even the lowest grade of China's premium sector is much bigger than we can access in the US or Brazil; so that would be our goal and our next logical destination because it is next," Kovalenko stated. "China is bigger than all the other niche markets of the world. It's giant. I have done studies of gourmet shops in Shanghai and it's amazing how much demand there is for premium products like ours."
Agroland is not just focused on developing Uruguay's precious natural resources as it looks to add-value and make high-quality fine foods and forestry, with the development of the country's human resources regarded vital ingredients in its ongoing success.
"Agroland is going forward with front-line projects to promote industrial development, creating jobs for qualified personnel and improving their training," Bulgheroni explained.
"Our aim is to continue investing, innovating and fostering the best team of professionals, so we can offer healthy and natural products that reach a high degree of satisfaction in our consumers," he said.
Bulgheroni believes local agroindustrial developments should be complemented by real estate and tourism initiatives.
"Our products are refined, highend, gourmet, and incorporate many of the values you would find in the countryside of Uruguay," he stated. "In essence, our products and the landscape become one."
Given its strong focus on environmental responsibility, Agroland is also branching out into non-traditional areas through investment in renewable energies and has developed two wind farms to help power its extensive operations and, possibly, sell any excess energy.
In 2013, Agroland will partly open the industrial area of its winery in the Garzn hills and expand the installed capacity of the Colinas de Garzn oil mill and launch new production, packaging and bottling areas.
The company will soon debut another small plant for the processing of dry fruit, mainly almonds.