Swiss town laments a bank's fall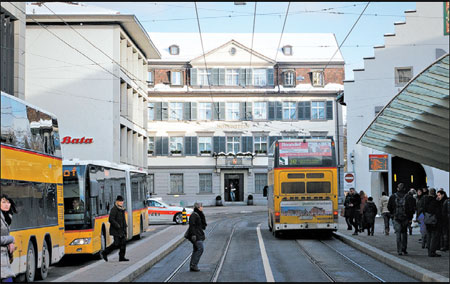 Before it was split up, Wegelin bank, center, sponsored concerts and architectural projects. daniel auf der mauer for The New York Times
ST. GALLEN, Switzerland - Given the modest size of its offices, it is easy to underestimate the imprint of the bank once called Wegelin on this compact Swiss city.
It is not just that it was the oldest bank in Switzerland, founded in 1741. Its senior managing partner, Konrad Hummler, was the son of a former mayor, chairman of the board of the Neue Zurcher Zeitung, the Zurich daily that is the country's leading newspaper, and the prolific author of columns in which he often denounced the business practices of bigger Swiss banks, like UBS.
But most important, Wegelin, which closed in January, was a significant sponsor of cultural institutions. Among its projects, in 2006 Mr. Hummler, a music lover and amateur violinist, established the Johann Sebastian Bach Foundation, with the goal of financing the performance and recording of the entire vocal works of the German composer, more than 200 cantatas, a task expected to last more than 20 years.
The bank also was dedicated to preserving the architectural substance of the town. In 2007, Wegelin paid almost $2 million for a significant part of the late Gothic convent of St. Catherine, a former nunnery with a soaring chapel and vaulted cloister that was in considerable disrepair. It then underwrote a restoration of the chapel with its 19th-century organ, and other portions of the buildings. The idea was to use them for performances of Bach's works and other music.
Now, all this is jeopardized. Last year, Wegelin was charged in the United States with illegally helping American citizens avoid taxes. Wegelin was split up and its valuable assets placed with another local bank, Raiffeisen. Its bad assets remained with Wegelin, though its name was changed to Notenstein Privatbank.
Wegelin executives eventually pleaded guilty before a court in New York to helping Americans avoid taxes on $1.2 billion of assets between 2002 and 2010, and agreed to pay restitution and fines of almost $60 million. Entering the plea, one of Mr. Hummler's closest associates, Otto Bruderer, told the court that Wegelin had always believed it was in compliance with Swiss law, adding that "such conduct was common in the Swiss banking industry."
For many in the town, Wegelin's disappearance brought disillusionment. "I am not astonished, I am rather disappointed, at how naive they could be, for a particularly serious institution," said Marcel Mayer, 58, a historian.
Business leaders have retained their respect for Mr. Hummler and the bank. Profit was "not the principal motivation" for Mr. Hummler's support of the arts, said Fredmund Malik, 58, an Austrian business consultant. "It was a genuine concern of his, very profound, and at a very high level."
He added: "There is general regret at what has happened, and even among private bankers, the reaction has been low key."
The New York Times