Azarenka dreams big after crazy victory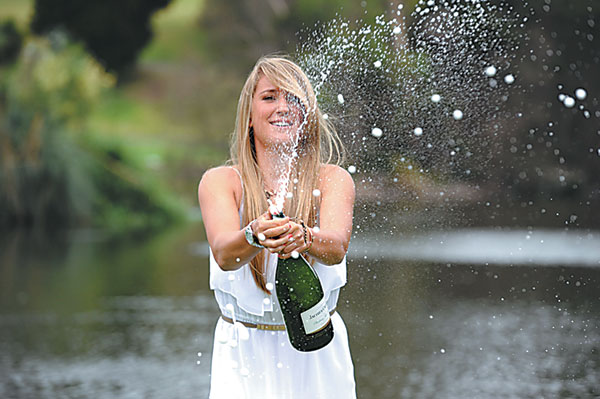 Belarus' Victoria Azarenka sprays champagne at a ceremony on Sunday celebrating her Australian Open title. Azarenka isn't shy about her Grand Slam goals this year. "Every one," she said. "I don't rate my chances. I just make it happen." Greg Wood / Agence France-Presse 
A glint of Belarusian steel and the support of her crazy entourage have given Victoria Azarenka hope she can win any Grand Slam title - and take on her nemesis, the great Serena Williams.
Celebrations were long and noisy for the world No 1 after her win over Li Na in Saturday's eventful final, when she overcame a hostile crowd and a host of distractions to successfully defend her title.
After a night on the town with her boyfriend, colorful LMFAO musician Redfoo, the world No 1 had just four hours' sleep before confidently telling the media she believes she can "make it happen" at any major.
"Every one," said the tall blonde, 23, when asked which Grand Slam tournament she would most like to win this year.
"I mean, you cannot prefer any because they are so different, so special.
"So it's really, really hard. I don't rate my chances. I just make it happen. I don't rate, I don't look at statistics. I just make it happen."
Saturday evening started bleakly for Azarenka when, extraordinarily for a Grand Slam final, she was subjected to jeers and occasional boos at Rod Laver Arena, and near-silence when she won important points.
Azarenka had raised suspicions of gamesmanship in her semifinal against Sloane Stephens, when she took a medical timeout after blowing five match points, and then returned and broke for victory.
But after Li fell twice, twisting her ankle and briefly blacking out, and the match was interrupted for fireworks, Azarenka was able to master the distractions and retain her only Grand Slam title.
Afterwards, as she strode through the stadium corridors with the Daphne Akhurst Memorial Cup, accompanied by the wild-haired Redfoo, she exuded the satisfaction of a woman who had faced her critics and won.
"It's been a roller coaster, definitely," she admitted. "I had to go through things. I have my team around me, and they're like my family. They're taking care of me and they're really strong."
Now comes the rest of the season, and high on the list is improving her lopsided 1-11 record against the mighty Williams, considered easily the best women's player when fit.
"I'm sure we're going to have a few matches," Azarenka said. "To predict, I never do that. I just try to work hard. I can always say Serena, Maria (Sharapova), Li Na, all these girls, they really push to improve.
"We elevate each other. That's what's great about women's tennis right now."
Azarenka won six titles in 2012, including the Australian Open, to become world number one, a position she has defended from Williams with Saturday's victory.
Now backed by Redfoo, unmissable in his leopard-skin and lime-green hoodie, and "Get Your Grunt On" T-shirt, Azarenka is not looking back.
"I want to top that," she said. "I have left all my memories in 2012. I've kind of cleared my head to make new memories."