More pep for interest rates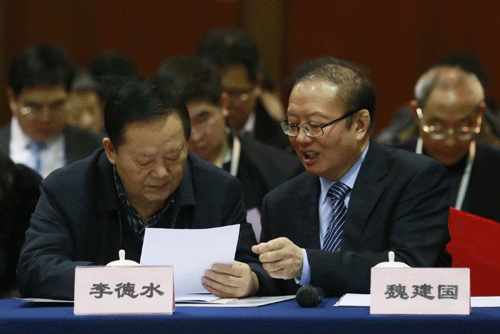 Wei Jianguo (right), general secretary of the China Center for International Economic Exchanges, talks with Li Deshui, deputy director of the economic committee of China's top political advisory body, at the annual meeting of the center in Beijing on Saturday. Feng Yongbin / China Daily
Greater liberalization can work only if monetary policy is more effective
The key to further liberalizing China's interest rates lies in how well the central bank can influence the financial system through open market operations, said a senior political adviser on Saturday.
"It's not difficult for the People's Bank of China to set the benchmark reference rates for commercial lenders, but it's not that easy to make those benchmark rates influential enough on the market as its Western counterparts do," said Li Deshui, deputy director of the economic committee of China's top political advisory body.
Li, who is also a former director of the National Bureau of Statistics, made the remarks while attending the annual meeting of the China Center for International Economic Exchanges held in Beijing.
"Adjustment of interest rates is a very significant, sensitive and efficient instrument among monetary policies. And liberalization of the rates absolutely doesn't mean free rates without central bank regulation."
He said the central bank should affect the financial system through open market operations such as buying or selling government bonds.
On Jan 18, the People's Bank of China announced the introduction of short-term liquidity operations focusing on maturities of less than seven days, as part of its open market operations to smooth interbank liquidity and money market interest rates, interpreted by analysts as a step toward a price-based modern monetary policy regime and freer rates.
Li said China's monetary market is still relatively small with limited participants and tradable products, which indicates that the establishment of a more market-based and efficient interest rate regulation system would be a tough task requiring time.
"When the rules of the People's Bank of China regarding interest rates through open market operations are still developing, the authorities must strengthen supervision over the credit market to hold to the bottom line of no systemic and regional risks."
He added the government should not set a specific timetable for liberalizing the rates to make sure the financial system develops steadily.
Pan Gongsheng, a deputy governor of the bank, said that the pace and timing of freeing the rates must consider banks' profitability and capability of replenishing capital, as the two factors affect credit supply to the whole economy.
The new tougher capital requirements for lenders would restrict extension of their balance sheet and limit credit growth, which is still the main financing channel that the economy depends on, Pan said.
Authorities' efforts to liberalize interest rates will take a toll on bank profits this year - as much as 79.6 billion yuan ($12.7 billion) - according to a report by Moody's Investors Service.
"Freeing the rates is a target but mostly a process. We cannot expect a timetable or a finish line for the reform," said Yang Kaisheng, president of Industrial and Commercial Bank of China.
wangxiaotian@chinadaily.com.cn