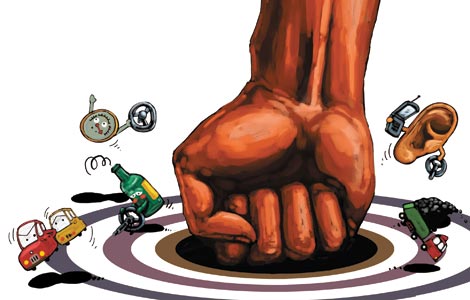 Revised rules set to impose much heavier penalties on drivers who run red lights, drive after drinking, or make phone calls while at the wheel, as Wang Xiaodong reports
Drivers in China will have to pay more attention to traffic rules or risk paying much higher penalties, according to a revised regulation that takes effect on Tuesday.
The regulation on the application and use of driving licenses, issued by the Ministry of Public Security in October, aims to bring drivers under greater oversight and prevent traffic violations, the ministry said.
The revised regulation imposes much heavier penalties on drivers who violate traffic rules. Under it, 52 different sorts of violations can result in punishment, up from 38 under the previous regulation.
The new regulation also makes the penalties for certain common traffic violations stricter. Running a red light can result in the deduction of six points from an offender's driving license, up from three points under the previous regulation. And people who purposely cover up a vehicle's license plate can lose 12 points, enough for their licenses to be suspended.
Some other common violations, such as speeding, making phone calls while driving, and drinking and driving, will also result in heavier penalties.
The deduction of 12 points from a driving license over the course of a year will lead to the suspension of that license. To get it back, a driver will have to undergo training and pass a test.
Eleven kinds of violations will result in the deduction of 12 points, up from six under the previous regulation. Such violations include driving and drinking, using fake plates and hitting something and driving off.
"The harsher penalties may force more drivers to follow traffic regulations," said Chen Yanyan, a professor at Beijing University of Technology's Transport Research Center.
"Compared with some other countries, the punishments for traffic violations in China are less severe, which has failed to do enough to deter potential offenders," she said.
Frequent violations
More than 68,000 road accidents, resulting in 794 deaths, occurred in China during the National Day holiday this year, which lasted from Sept 30 to Oct 7, according to the Ministry of Public Security.
In 2011, 62,000 people died from road accidents, ministry figures showed, and there were 27 accidents that caused at least 10 deaths each. All of them were the result of serious traffic violations such as speeding and overloading, according to the ministry.
In the latest large accident, 11 kindergarten students died after a school van carrying them overturned and plunged into a roadside pond in Guixi, Jiangxi province, on Dec 24.
The van, which had a mere seven seats, was transporting 17 children at the time of the accident. The person behind the wheel was also the headmaster at the kindergarten and had only been driving for a year, China Central Television reported.
The number of new vehicles on Chinese roads has been increasing by about 20 million annually in the past several years. By the end of 2011, more than 200 million automobiles were in use in the country.
"With the rapid increase in the number of motor vehicles and drivers, the number of accidents that have caused casualties has also increased in recent years," the ministry said in a press release.
"The harsher punishments called for by the new regulation are expected to increase the cost of committing traffic violations and help to improve road safety."
Traffic violations are common in many places in China.
A survey conducted by the ministry's traffic management bureau and China Youth Daily polled 10,682 people in November and found that two-thirds of them admitted to running red lights, even though more than 93 percent said that traffic signals should be followed. And more than 69 percent said they are in favor of seeing traffic violators subjected to harsher punishments.
"Traffic violations are quite common," said a marketing manager at an IT company in Beijing who would only provide her surname, Liang.
Liang has held a driving license for 10 years and drives to work every day.
"Traffic rules still don't seem to be followed very well, especially if you compare what's happening here with what you see in cities in certain other countries, such as the United States," said Liang, who often takes international business trips.
Liang also admitted that she had run red and yellow lights on several occasions.
"Sometimes when I've been hurrying to get to a place, I've sped up to get through a yellow light," Liang said.
"I know that's against the rules, but traffic in Beijing is so bad, I sometimes can't afford to wait."
Liang said she had also run red lights for no reason, either because she was "distracted" or because a larger vehicle in front of her had obstructed her vision. Fortunately, she said, the police have never noticed those last-minute bolts.
Despite her minor transgressions, Liang said she is in favor of the new regulation.
"I think the punishments imposed on violators of traffic rules should be heavier," she said. "Otherwise, people will simply ignore the rules."
Enforcement needed
Strict enforcement and more specific measures are needed so the new regulations can be carried out effectively, experts said.
"The regulation should be made more specific so it only targets purposeful offenders," said Chen from the Beijing University of Technology.
"Some drivers may resist paying fines if they are caught accidentally violating the rules, as sometimes happens when traffic signals are blocked by trees or a dense fog."
A shortage of police also makes it difficult to enforce traffic laws in many big cities, she said.
"Cameras can identify some violations, such as speeding and running red lights," said Zeng Wenliang, a traffic policeman in Kunming, capital of Yunnan province. "But we will still be required to be on duty at busy crossings, since the system can't detect certain offences such as drunken driving."
Zeng said cameras have been installed on many roads in Kunming, but traffic violations remain common in the city and police are still sent out to direct traffic.
They sometimes face obstacles to enforcing traffic regulations and even threats from offenders, he said.
"We normally don't issue fines for minor violations," Zeng said. "But offenders can sometimes be very aggressive."
Ma Huikun, another traffic policeman in Kunming, said the city's transport authority has gone to TV stations, newspapers and the Internet in the past several months to ensure the public is aware of the regulation. Even so, he expects to see the number of violations increase quickly in the first several months after the stricter regulation takes effect.
"Old habits don't die easily", he said.
"I think we will face some difficulties in enforcing the regulations."
Rather than stricter punishments, Chen called for instruction as the best way to improve driving behavior.
"Many schools in China don't pay enough attention to driving instruction," she said. "Most drivers actually begin to receive intensive instruction on traffic regulations at driver-training schools, and that's too late."
Wang Limei, deputy director of the China Road Transport Association, also said instruction offers the best means of battling traffic violations.
"Rather than punitive measures, I think we should adopt something that's more flexible," she said. "For example, those with minor violations should be able to be cleared of fines so long as they agree to undergo a specific period of training or instruction."
Not only cars
Compared with drivers, pedestrians are far more likely to cross roads in disregard of red lights.
In October, a Web user went to Sina Weibo, a popular micro-blogging service, to post photos of large groups of pedestrians crossing roads while red lights were showing. Alongside the images, he posted a comment about the "Chinese style of crossing the road", implying that people are perfectly comfortable disobeying traffic regulations so long as they do so in large groups.
The post prompted much discussion on the Internet.
Various experts said many Chinese people tend to blindly follow others' lead and noted traditional beliefs hold that the law will not punish a large group, even if it is in the wrong.
Chen from the Beijing University of Technology said ignoring traffic rules not only puts pedestrians and other non-motorists at risk but also contributes to traffic congestion.
"Vehicles have to slow down or stop near a crossing when pedestrians don't obey the lights when they cross the road," she said. "That disrupts traffic flow and leads to accidents that block traffic."
Jaywalkers can receive a warning or be fined up to 50 yuan ($7.9) for crossing roads in defiance of red lights, according to the Road Traffic Safety Law in China.
But the law is rarely enforced.
Wang from the China Road Transport Association said law enforcement measures targeting non-drivers were in place for a short time years ago in Beijing, but soon those measures were abandoned.
"The shortage of law enforcement staff is a big problem," she said.
With so many jaywalkers and a small number of police officers to catch them, it has proved extremely difficult to make sure that violators get the punishments they deserve, she said.
Jiang Jing, an official at the Beijing Public Security Bureau, said jaywalking still occurs in many places in China, and "it's impossible for traffic police to punish every violator".
"Some walkers and cyclists are a little too bold and don't even turn their heads to see if a car is coming at them," said Jiao Liang, a white-collar worker in Hefei, Anhui province, who drives to work every day.
"I have to be more cautious so I don't run them over."
Liu Fuli, an expert in traffic congestion, said drivers often come in for tough punishment under traffic rules, even if they are in accidents that were caused by pedestrians. Knowing that they are favored has made walkers in some cases to be more likely to commit violations, he said.
Traffic police have recognized this tendency and have started to adjust their methods accordingly.
In Shenzhen, Guangdong province, the penalty for crossing a road during a red light has gone up from 20 yuan to 100 yuan for each violation. And in Shijiazhuang, Hebei province, jaywalkers from the start of October had to pay up to 50 yuan for violations, media reported.
Some experts said better traffic planning could help to reduce the number of violations.
"Roads in many big cities are designed with motorists in mind, and pedestrians' needs are ignored," Chen said. "Roads are becoming wider, forcing pedestrians to cross them more quickly. Traffic signals can be improved so pedestrians won't have to wait at red lights longer than drivers."
Guo Anfei in Kunming and Zhao Lei in Beijing contributed to this story.