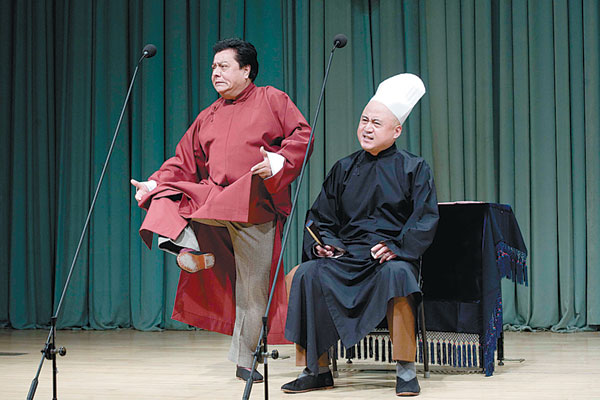 Li Jindou (left) performs with his student Fang Qingping. Wu Ping / For China Daily
Li Jindou habitually listens to cross-talk radio shows while eating dumplings and drinking Chinese white liquor.
Cross-talk (xiangsheng) is a Chinese form of verbal comedy, usually between two or more men.
"I acquired the habit from my (cross-talk) teacher and it's the happiest thing in my life," says the 64-year-old cross-talk artist who earned his stripes at the age of 13, under the tutelage of cross-talk master Zhao Zhenduo.
In recognition of this, the artistic director of an upcoming two-night cross-talk gala has decided to present original cross-talk works by young performers and offer white liquor and dumplings to audience members.
Cross-talk veterans, including Li, Jiang Kun and Feng Gong, will share the stage with young cross-talk performers from Beijing's popular Hip-Hop Cross-Talk Club.
Li hopes it will become an annual event.
He says cross-talk used to be a popular art form and he fell in love with it at the age of 7 or 8 when Beijingers referred to the radio as a "speaking box" (huaxiazi) and cross-talk masters performed live shows.
"Many cross-talk performers learned their craft from the radio and though you can see it on TV, I still prefer it on the radio," he says.
As the standing director of the China Cross-Talk Association, Li says he is glad to note that there has been a resurgence in the popularity of his art.
"Especially during weekends and on holidays, you can see that the cross-talk venues are totally packed," he says.
The tradition of apprentices learning from masters has been retained, while young performers such as Gao Xiaopan have provided fresh ideas and energy.
Gao, the founder and leader of Hip-Hop Cross-Talk Club, learned his skills from Feng Baohua at the age of 8 in his hometown of Hebei province.
"There is an old Chinese saying: 'To enjoy three minutes of glory in the spotlight, you need 10 years of work offstage,' which really applies to us," Li says.
"No matter how much young actors modernize cross-talk, the four basic skills have never changed: speaking, imitating, teasing and singing."
Contact the writer at chennan@chinadaily.com.cn.