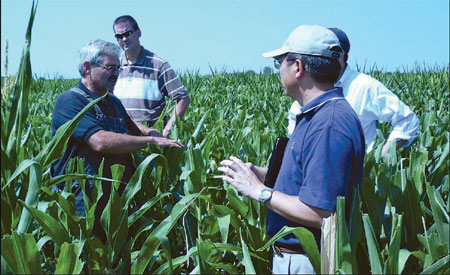 Liu Mengze (right), head of US operations for China's Cofco, talks to an Iowa farmer during a tour of corn and soybean fields across the Midwest this summer. Provided to China Daily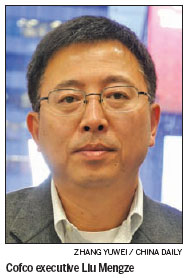 Liu Mengze, president of US operations for food conglomerate Cofco, gets animated when he talks about seeing several thousand tons of grain being loaded onto one of his company's China-bound cargo ships at the Port of New Orleans.
"It's the most amazing scene you could imagine," said Liu, a proud smile across his face.
He heads the US subsidiary of China's biggest trader of grains and edible oils, whose full name is China National Cereals, Oil and Foodstuffs Corp.
Established in 1982, the subsidiary is responsible for handling Chinese imports of US agricultural goods, chiefly high-demand crops such as soybeans and corn. Import volumes have soared in recent years due to China's urbanization and strong economic growth.
The United States is the world's biggest producer and exporter of both soybeans and corn. China is the No 1 importer of US soybeans and the No 2 importer (after Japan) of US corn.
According to Liu, Cofco's US business has diversified. Its main function since the early 2000s has been handling corn and soybean imports, after years of focusing on a single grain: wheat. Its parent company, a State-owned enterprise, is the largest trader of all types of grain in the Chinese market.
"The change in China's farming structure and growing urbanization contributed to this transition," Liu said. The structural change, he explained, has been a mix of increased population, reduction of arable land and greater production of grain-fed animals to satisfy meat-consumption demands of the growing Chinese middle class.
"In particular, China's fast-paced urbanization results in the growing need for oil and meat to which soybeans contribute greatly because soybean meal serves as an important ingredient in animal feed," said the 48-year-old Liu, who has been Cofco's top US executive since 2009.
The US Department of Agriculture's current forecast for Chinese imports of US soybeans in the 2012-2013 marketing year is 63 million metric tons, which would be a record. China's US soybean imports have increased every marketing year since 2005, according to the USDA.
Output of US corn has been harmed by this summer's historic drought in most major corn-producing states. The USDA estimates 2012-2013 corn production will be 10.73 billion bushels, far less than pre-drought projections of nearly 15 billion bushels.
Overall, US exports to China exceeded $100 billion in 2011, including $14.7 billion in agricultural commodities, according to the US-China Business Council in Washington.
Xi Jinping, who is now general secretary of the Central Committee of the Communist Party of China, visited Iowa as part of a US visit in February. During Xi's stay, China signed deals to buy $4.3 billion worth of US soybeans - a boon to Iowa, which is the top US state in production of the crop.
"Local farmers really appreciated our business and the closer agribusiness ties between the two countries," recalled Liu, who was part of a delegation that accompanied Xi.
"We produce more than we consume, so we have to rely on trade, and on China with its growing population and growing economy. It's great to be its trading partner," said Grant Kimberley, son of the Iowa man whose farm Xi visited.
Closer US-China cooperation in agricultural trade as well as general economic interdependence of the world's two biggest economies portend agribusiness deal-making, Liu suggested.
"When the time is right, eventually we're going to have some investment in the US," he said without elaborating.
In November, Cofco sold its entire 5 percent stake (7 million shares) in Smithfield Foods Inc back to the US meat producer. The Chinese company had bought the stake in 2008, saying it wanted to benefit from Smithfield's technology and management skill.
Cofco cited "commercial considerations" for its decision but said it would continue to work with the US company. Terms of the stock sale weren't disclosed.
Although its US arm remains focused on procurement of imported foodstuffs, Cofco - ranked No 393 on the most recent Fortune list of the world's biggest companies - has explored investment abroad, including Australia, South America and Europe.
Last year, the company acquired Tully Sugar Ltd of Australia for $142 million. It also paid nearly $16 million for a wine-making chateau in the French region of Bordeaux and began producing wines under a new label, Great Wall. Cofco isn't a newcomer to the wine business, having acquired a vineyard in Chile for $18 million in 2010.
Cofco in 2011 said it would invest $10 billion in foreign mergers and acquisitions. Chairman Ning Gaoning indicated the company's key interest was commodities such as sugar, wheat and soybeans.
According to Liu, there is no investment roadmap or timetable for Cofco's US arm, but priorities would likely match those pursued elsewhere by the parent company.
With a staff of just nine at its main office in Englewood Cliffs, New Jersey, Cofco runs a low-profile, efficient US business.
"The nine-person operation isn't merely to have a presence in the US; we do everything on our own, from our core business to other functions including commodity-price analysis," Liu said.
Another part of the subsidiary, Cofco Capital Corp, has an office in Chicago to be near the commodity-futures trading on the Chicago Board of Trade.
Liu and his team are busiest between July and August, when they tour farm fields in Midwest states such as Iowa, Illinois and Indiana to evaluate soybeans and corn.
"Knee-high by the Fourth of July, as they say here," he said with a smile.
yuweizhang@chinadailyusa.com