Wang Qishan attends JCCT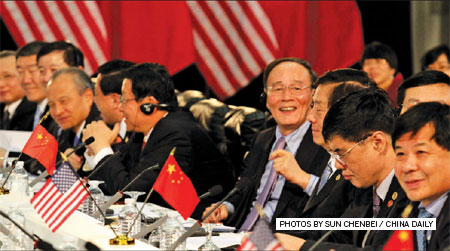 Senior Chinese and US offcials announced progress at the 23rd session of the China-US Joint Commission on Commerce and Trade, held in Washington on Wednesday. The JCCT is a major forum for the two sides to address issues in trade and investment.
While the United States has agreed to further relax controls on high-tech exports to China and address concerns over what China perceives as unfair treatment of its direct investment, the US has been assured by China that it will strengthen enforcement of intellectual-property laws and end the requirement that foreign companies transfer technology as a precondition for market access.
Vice-Premier Wang Qishan said the JCCT, since he first attended one of its gatherings in 2008, has focused on cooperation and joint problem-solving.
Wang said the latest JCCT sessions were "effective and fruitful, and have written a splendid page in the history of China-US economic and trade relations".
"The 23rd meeting of the JCCT demonstrated that the US and China will continue to work toward ensuring healthy and balanced growth in our commercial and economic relationship," acting Commerce Secretary Rebecca Blank said. "We made progress today, though we also recognized that there is still work to do."