Majoring in millionaires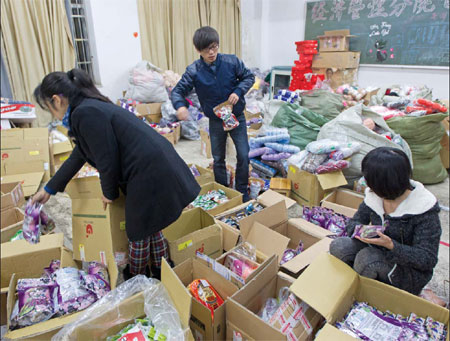 Students of Yiwu Industrial and Commercial College pack parcels in a classroom. Photo by Gao Erqiang / China Daily
Many students of a college's unusual e-commerce course are successful entrepreneurs by the time they graduate
Among the many business schools in the world imparting little secrets about how to make money, there's one in Zhejiang province that may lay claim to being the most practical one.
At Yiwu's Industrial and Commercial college, the first assignment for each of the 120 high school graduates it takes in every year majoring in e-commerce is to start their own online store.
Students are allowed to skip classes if they are out replenishing stock, meeting clients and partners, or carrying out other business-related tasks.
But for the next three years, the sales performance of their enterprises will determine their marks, and those who do not make enough money are failed.
Since the e-commerce course was established in 2009, the first 115 students have "fruitfully" graduated, as the school put it, with an online business that not only gives them a livelihood, but also employs graduates from other more prestigious universities. A dozen or so have already become millionaires.
"It's a task no Chinese college has achieved," says Jia Shaohua, the former vice-president of the college who initiated the course.
"I made a promise three years ago to have my students graduate with an average monthly income of 10,000 yuan (1,224 euros) by doing business online, which sounds insane for many, but now I am glad I didn't break my word."
As the financial crisis swept through China in 2009, depriving many graduates from the best universities of jobs, and while even the entrepreneurship of Jack Ma, the founder of China's now largest online marketplace, was still being questioned, few took Jia's sensational vow, made at a national educational forum, seriously.
But for Jia, who called himself "a born reformer" - even though he has never tried online shopping - it was a "last-ditch effort" to save the vocational college.
Despite Yiwu being a globally known center for small commodities, housing more than 70,000 wholesalers, the college, which supplied personnel such as translators, hotel receptionists and mechanics, was facing difficulties over poor attendance and results.
"Most of my students were underachievers, academically speaking, at high schools, abandoned by their teachers and parents," says Jia, a 52-year-old native of Yiwu. "They were the last ones to find a job, so that's why I pushed them to create one for themselves instead."
It was a daunting task. There were no textbooks and no professional teachers with experience in e-commerce. About 20 teachers were transferred from business management and marketing courses to become tutors, and together with the new intake they were in Jia's words, "like landlubbers pushed into a pool to learn to swim".
Jack Ma's Taobao, China's most famous online shopping platform, became the perfect proving ground for these green hands, as the cost to open a store then was low, and competition was not as intense as today.
Shi Haojie, one of the college's millionaire graduates, is held up as a "model student" by his alma mater.
When the Henan native came to the school three years ago, he could not afford the 6,000-yuan annual tuition fee. Now his company, which exports spectacles to a dozen countries, posts revenue of tens of millions of yuan each year.
The success of students like Shi, not surprisingly, has attracted thousands of applicants to the small college. It tried to run the "experimental major" on e-commerce on a small scale, but students and parents have been e-mailing, phoning and even visiting in person every day since the course became widely known as a "hotbed of millionaires", says Zhu Huabing, the course's dean.
He Ju, a second-year student from a neighboring town, said coming from a business family, he has always wanted to follow a similar path.
"After graduation, I may not work on the online store I run now, but it's a very good experience for me to start from scratch so I can take up my father's business more smoothly," says He, who began his scarf store with a laptop and a motorcycle, for transporting goods from wholesalers.
Although the business has its ups and downs, He says he can fully support himself on the profit earned, and can occasionally surprise his girlfriend with a gift of an iPhone or treat his grandfather to some fine Chinese tea.
Meanwhile, the course founder Jia, having retired as vice-president, is in demand by other vocational schools in China wanting him to share his experiences.
"Proper education is about getting students busy," he says. "Either busy reading in libraries or busy doing experiments in labs, while college students in China now are either busy playing games in dormitories or dating classmates in classrooms."
But while many have applauded Jia's unorthodox practical approach to teaching, some question whether the move has betrayed the "essence of education", taking away a vital opportunity for young people to learn and think about something other than making money.
Jia argues that there is no conflict between the two, as "it's a world with multiple needs".
"It's not possible to turn everyone into Albert Einstein or Plato," he says. "Likewise, not everyone should be Bill Gates or Steve Jobs. The problem is that most schools nowadays are designed for, but not good at, training Einsteins, while leaving little space for talents like Bill Gates.
"The reason I am yelling and yearning for entrepreneurship is not because I want everyone to start a business of his own, but because nobody is doing so."
Contact the writer at xujunqian@chinadaily.com.cn.