Mo Yan honors the writers he calls his teachers
The night before Nobel laureate author Mo Yan picked up his award, he spoke to Swedish students in a cinema prior to the screening of the 1987 film Red Sorghum based on his namesake novel.
He says watching the old movie, which hoisted him to international fame, reminds him of his youth.
"I'd give up all my awards to return to my youth," he says.
A photo of Mo Yan and the film crew quickly spread on China's Internet after his Nobel win.
The picture shows Mo Yan, director Zhang Yimou and actor Jiang Wen standing shirtless next to actress Gong Li.
Mo Yan says the photo was taken 25 years ago in the courtyard of his house in Gaomi, Shandong province.
They were all young. Zhang was the oldest at 35. Gong was a 21-year-old college student.
"We weren't famous then," he says.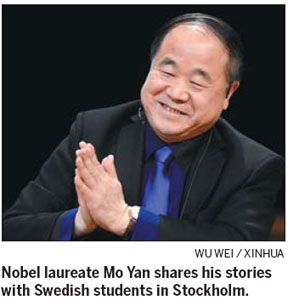 "Now we all are - but we're also old. I can't write another fiction work like Red Sorghum, and Zhang can't make such a film again."
Mo Yan remembers feeling rich when Zhang paid him 800 yuan ($130) for the novel's copyright.
"It was enough to buy a cow in my hometown," the author recalls.
"I was very happy that I could trade a story for a cow."
Mo Yan believes the film's success hails from the characters' fearlessness in their pursuit of freedom, which matched China's spiritual zeitgeist in the 1980s.
"I can proudly say the film did well because I wrote the fiction well," Mo Yan says.
Hokan Friberg, a Swedish teacher of the Chinese language, recalls being surprised when he saw the film in 1988.
"Before that, I thought all Chinese movies were boring, and this movie changed that impression," Friberg says.
He believes the film stands out for Mo Yan's story, and its cinematography and directing.
Hannes Snndin, a 16-year-old Swedish student, who started studying Chinese last semester, says: "Maybe I will read his book in the future."
But it's unclear if the film can keep pace with today's attention spans.
Swedish student Herman Hojsgaard, 16, says: "It's a bit slow."
While talking to the Swedish students, Mo Yan paid homage to Chinese authors from whom he'd learned. He gave special praise to two-time Nobel nominee Shen Congwen.
"Lu Xun, Lao She and Shen Congwen - they deserve the Nobel more than me," Mo Yan says.
He says he feels a special affinity with Shen Congwen, because they shared similar life experiences.
Both left school early and never received formal educations. Shen Congwen quit after high school, and Mo Yan finished only the fifth grade. They both joined the army after school.
Their plotlines are also similar. Both set their stories in their hometowns.
Mo Yan says he also learned how to deal with fictional characters from Shen Cong-wen, who gives all characters a humanistic touch.
"His works don't have purely good or bad people," Mo Yan says.
"Even gangsters and prostitutes have humane sides. I try to adopt the same approach. Showing every character as a human being demonstrates a novelist's ability."
Mo Yan says he also learned Lu Xun's depth and Lao She's humor.
"They are my teachers," he says.
"I feel ashamed the student, rather than the teachers, got the Nobel."
diaoying@chinadaily.com.cn