Boxer is fiery as a fighter, and debonair as a delegate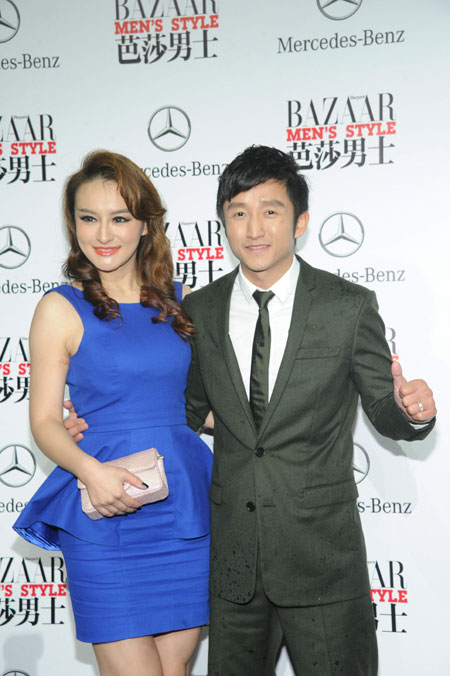 Two-time Olympic boxing champion Zou Shiming and his wife Ran Yingying attend a fashion event in Beijing. China Photo Press
Zou Shiming is ferocious in the ring and urbane outside of it.
The two-time Olympic boxing champion stepped into a different arena in 2007 and 2012 when he was twice elected as a Communist Party of China National Congress delegate.
The limelight followed him during November's 18th Party Congress because he's a sports star and one of the youngest representatives.
Clad in a black suit, the 31-year-old told media at his congress news conference that he was nervous. He has been interviewed regularly as a boxer but never before as a Party delegate.
But the tension melted when he was asked about his signature rat-tail hairdo.
He explains that it's not a fashion statement but rather a testament to his family commitment.
"The rat tail represents a connection between my son and me," Zou says.
The fighter and his son have been sporting the hairstyle since they celebrated the baby's 100th day - an important event in Chinese tradition - in 2011.
"I'm so busy that I barely have time to be with my son or wife," Zou explains.
"The rat tail makes me feel as if we're always together."
The Zunyi, Guizhou province, native started boxing at age 15.
He has changed the landscape and perception of boxing in China over the past 10 years.
The country's male boxers used to be criticized for "wasting a lot of money abroad and back home after a good beating".
He was the first Chinese medalist at the World Amateur Boxing Championships' 48-kg level in 2003, when he brought home the silver. Two years later, he became the event's first Chinese champion.
Zou attributes his success to his imitations of martial arts on TV since he was a young boy.
"I'm able to freely combine the flexibility of martial arts with the force required for boxing," he says.
"It has finally helped us, as Asians, find our place in the boxing world."
His popularity surged after he won China's first Olympic boxing gold in Beijing in 2008. He took his second gold at the London Games this year.
But he was a delegate even before he was an Olympic champion.
"I see myself as an ordinary delegate from the sports circle and will use my position to call for more attention to sports," he says.
Zou has entered the Great Hall of the People many times for celebrations or rally meetings before matches but says he feels proudest to walk in as a delegate.
"I prepare well before going in," he says.
"I usually read the documents and Party policies beforehand."
He shares his thoughts on the congress plenary on his micro blog.
But boxing, rather than government, will remain his focus for a while longer, Zou says.
"I want to fight for a few more years," he says.
"It's my dream to win professional titles. I'm a man of dreams."
He's negotiating with US professional boxing organizations and expects to make great progress next year.
His long-term goal is to earn a seat in the World Boxing Union or the Olympic Organizing Committee, to give Chinese boxers a voice in the international arena.
Zou also hopes to expand China's boxing market to give more of his peers a place to realize their dreams.
"I used to think more about my personal achievements," he says.
"But now I believe I can only call my experience true success if China's boxing succeeds internationally."
Contact the writer at liuxiangrui@chinadaily.com.cn.