China offers example in anti-poverty campaign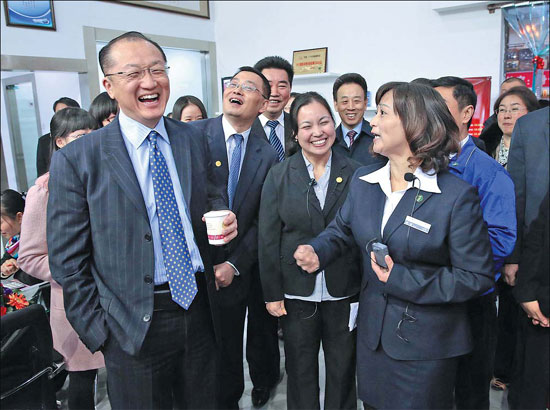 World Bank President Jim Yong Kim (left) speaks with the members of business community in Sichuan province about business development and charity. Wu Zhiyi / China Daily
On his first official visit to China, World Bank President Jim Yong Kim talks about the launch of a development knowledge hub, as Ding Qingfen reports.
Jim Yong Kim has a strong affinity and affection for China.
On what is his first official visit to the country as the newly appointed president of the World Bank Group, the South Korean physician and anthropologist says he has a passion for the country, which he remembers starting as early as his childhood.
His mother was a philosopher and studied Chinese, traveling in the country often while writing on Chu Hsi - the Confucian scholar of the Song Dynasty (960-1279) and China's most influential rationalist Neo-Confucian.
And now his own 12-yearold son is also studying Chinese.
"The Korean people, in many ways, feel so close to China as there are many fundamental Chinese cultures that are similar to those in Korea. In South Korea, we still use Chinese characters," said Kim.
"I really think this closeness with China, and (my) family's enthusiasm for China, will be helpful in drawing the World Bank and China closer," he added.
Kim became the 12th president of the World Bank in July this year, after serving as president of Dartmouth College, a pre-eminent center of higher education that consistently ranks among the top academic institutions in the United States.
During four busy days in Beijing, Kim met officials from various government departments and organizations, aiming to cement the World Bank's relationship with China.
"China is very, very important for us. My meetings in Beijing and my travels during the past few days have demonstrated that we share a common passion - to do our very best to work toward ending poverty and building shared prosperity," he said.
China is the second major emerging market that Kim has visited in his six months in charge of the bank, following a trip to South Africa.
Topping his agenda while here was announcing the formation of the World Bank-China Knowledge Hub for Development, which will facilitate cooperation between Chinese and international experts aimed at spreading practical knowledge from China's successes in reducing poverty both within China as well as to other countries.
"The hub will play an important role, by making China's lessons available to the world," said Kim.
Kicking off that cooperation, he and Vice-Premier Li Keqiang have agreed to carry out a special report on China's rapid urbanization process, in a bid to help the country better implement and advance the process, as well as using the experiences to educate other economies going through similar processes.
Managing urbanization is a priority for China, with about 75 percent of its GDP generated in the largest 120 cities, and 350 million rural residents expected to move into cities over the next 20 years. That means about 14 million more urban residents each year.
Kim said China's urbanization strategy is clearly very well advanced.
But "what we would like to do is to simply help China to collect the experiences. At the same time, from all over the world, we are going to collect the experiences of urbanization that we think have been successful".
He added the planned document will not just be for China, but also for other countries.
The report, however, is far from the first time the two sides have worked together.
The bank has been supporting projects - through loans and knowledge transfer - in China for many years, and the "partnership has remained strong", added Kim.
A previous jointly produced report, the China 2030 Report, concluded that the country was likely to become both the largest, and a high-income economy before 2030.
However, it also warned that for China to fulfill that destiny, reforms and a new development strategy are needed.
The planned knowledge hub and the joint urbanization study form an important early part of Kim's overall strategy for the World Bank, which he said will see it become more of a "solutions bank".
Kim said he expects to build the organization into an entity that reduces poverty by applying "evidence-based, non-ideological solutions to development challenges".
"I am a development practitioner. For me, knowledge is something very specific; it's data experience, and the result of experimentation," he said.
"The strength of the World Bank is both knowledge creation and taking knowledge and helping countries like China use that knowledge by putting it into action."
The shift in the bank's thinking comes at a time when the outlook for the global economy remains blurred amid the eurozone debt crisis, and the looming US "fiscal cliff".
The Organization for Economic Co-operation and Development, or OECD, recently slashed its global growth forecasts for this year and the next to 2.9 and 3.4 percent, warning that "OECD member countries as a whole would move into recession".
It also comes at a time when China has seen its economy slow for seven successive quarters, although economists expect the fourth quarter of this year to show the start of a growth momentum.
"China will play a major role" in the World Bank's transformation, said Kim, and "we can help China find its own solutions, shape its future, and provide services and infrastructure", in ways outlined within the planned knowledge hub.
In the 68 years since its creation, the World Bank has "continuously evolved with a changing world", he added.
It was originally a "reconstruction bank", then a "lending bank", extending funding for poverty reduction in developing economies.
Under former president James Wolfensohn, the bank transformed into a "knowledge bank", and under its most recent head Robert Zoellick, it became "more open and transparent", Kim said.
The Harvard-trained medical doctor and anthropologist succeeded Zoellick in July to become the first scientist to head the Washington DC-headquartered institution, which has more than 9,000 employees in 100 offices worldwide.
In the run-up to his taking over, some had doubted that such a background was suited to an organization that primarily commits itself to providing financial and technical assistance to get developing economies to stand on their own feet.
But Kim is wholly confident his "solutions-led" strategy for the bank will prove successful.
"The World Bank is a bank - but it is also a development bank. It's special," he said.
"The fact that I have been in so many developing countries working on development gives me very high-level familiarity with my current position.
"I feel very comfortable in the role."
Contact the writer at dingqingfen@chinadaily.com.cn.