AIDS control for detainees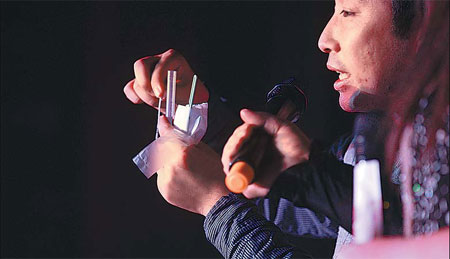 On Nov 23, a worker from the Chinese Center for Disease Control and Prevention shows how to use a device for rapid HIV testing to people in a gay bar in Xicheng district, Beijing. Photo by Cui Meng / China Daily
Some 70,000 people have tested positive for HIV while in detention in China, a top AIDS specialist has revealed.
Around 30,000 were detected at compulsory drug rehabilitation centers, with the rest being discovered at detention centers and prisons, according to Wu Zunyou, director of the National Center for AIDS and Sexually Transmitted Diseases Control and Prevention, after revealing the figures to coincide with World AIDS Day.
"Detainees, particularly those at compulsory drug rehabilitation centers, are at high risk of HIV/AIDS.
"Wide HIV screening and timely detection of sufferers can help avert secondary infections and provide early treatment for those in need.
"Further expansion of HIV testing among all vulnerable groups, including detainees, is the key for effective AIDS control," he said.
According to Wu, about half of the regions on the Chinese mainland keep such detainees separate from others.
But "that's actually not necessary, as daily contact does not pass on the virus," he pointed out.
People arriving at detention facilities in China have been given HIV tests since 2006, according to regulations jointly introduced by the ministries of health, public security, and justice, with appropriate antiviral treatments being offered to sufferers.
The number of positive cases detected has been increasing steadily, with an average of 5,000 to 10,000 being recorded annually since 2004, according to official figures. Up until then, the average was around 1,000 cases each year.
The latest figures show Yunnan province, in Southwest China, reporting most cases at about 18,000, followed by Guangdong and Sichuan provinces.
A large majority of HIV-positive detainees were male.
However, Wu conceded the testing initiative was not yet fully implemented, due to staff shortages and limited testing capability in some detention centers, and urged the government to make more resources available to ensure HIV screening could take place for everyone.
"That would help facilitate early treatment, and ease the health concerns of potential sufferers under detention," he explained.
At an AIDS policy meeting presided by Vice-Premier Li Keqiang on Monday, Li asked relevant government agencies to improve their collaboration, with the aim of expanding the country's HIV testing services, and the availability of antiviral drug treatment.
Statistics from the national center show nearly 2,000 sufferers have so far received AIDS treatment while in detention.
According to Zhao Yan, deputy director of the center's AIDS treatment and care division, of more than 3,000 antiretroviral treatment outlets on the Chinese mainland, approximately 60 are located in detention facilities.
"Most of these outlets opened after 2005 and are usually smaller than others," she noted, adding that staff receive specialist training.
Figures show that on average 200 detainees have been put on free antiretroviral therapy each year since 2007.
Zhao said that patients in detention responded better to treatment, given the close level of supervision given by doctors.
"However, some might not continue with their treatment after being released," she pointed out, urging better levels of care for such people.
In some cases, she said, former detainee sufferers faced difficulty seeking medical treatment at ordinary hospitals compared to detention places.
"Hospitals should be more cooperative to help treat such patients," she urged.
shanjuan@chinadaily.com.cn