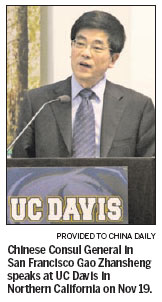 Students and faculty at the University of California, Davis heard a tale about a town in China with links to a now-deceased professor and the new Chinese leadership.
Milton Gardner, who taught at UC Davis for 30 years and was instrumental in the early development of its physics department, lived in Guling, China, for the first nine years of his life, until 1911.
Guling, a mountain resort about 13 kilometers from Fuzhou, capital of southeastern China's Fujian province, is known for the throngs of Western diplomats, missionaries and merchants it attracted beginning in the late 1880s.
As relayed to the UC Davis audience at an International Education Week event on Nov 19, Gao Zhansheng, China's consul general in San Francisco, explained that in 1992, Elizabeth Gardner wanted to fulfill her husband's wish to revisit his boyhood home. Assisting her in this quest was Xi Jinping, the new general secretary of the Communist Party of China, who at the time was Party secretary in Fuzhou.
To express her gratitude, the 76-year-old widow sent Xi a pair of traditional Chinese vases kept by her husband for years. In return, she received a pair of vases from Xi during the trip.
During her two-day stay in Guling, she met with nine elderly villagers, who recalled the days when Guling was a popular place for Westerners to avoid the summer heat.
"The most touching part of it is that the spirit of good will and genuine affection lies in the hearts of hundreds of millions of Chinese and Americans," Gao told the assembled students and faculty.
"It's always there, no matter how much our two countries have been evolving and changing; it binds our countries close together despite cultural and ideological differences. It gives our bilateral relationship a strong foundation for the future," the diplomat said.
The story involving Guling and the Gardner family was mentioned by Xi himself when, as China's vice-president, he visited the United States in February this year.
UC Davis Chancellor Linda Katehi was in the audience for the speech in which Xi brought up the story. She later wrote to the Chinese leader, describing his account about Guling as "heartwarming and wonderful".
In her letter, Katehi praised Xi's efforts 20 years ago to help Gardner's widow prepare for the visit she hoped to make. Professor Gardner had fond memories of his early years in Guling, the chancellor wrote.
It was "a powerful example of how relations between China and the United States can be advanced by one-to-one acts of kindness and generosity such as those you displayed toward this American family," Katehi told Xi.
The vice-president wrote back: "Amity between people is what underpins good relations between countries. I hope UC Davis will continue to support and promote China-US cultural and people-to-people ties, especially exchanges and cooperation in education, science and technology, and play an active role in building Sino-US friendship."
"It's the first time I have heard this story; I never knew there was such a dramatic and interesting connection between China's new Party chief and an American professor who used to teach here," said a UC Davis student with the surname Zhang.
In his speech, Gao also cited "the unexpected and dramatic encounter" between Chinese and US table tennis players in the early 1970s - an exchange that was dubbed "ping-pong diplomacy".
The stories, he said, show the importance of personal interaction in diplomacy.
"No doubt our politicians are essential in developing our relationship, but the work to strengthen our ties shouldn't only happen at the White House or within the walls of Zhongnanhai," Gao said, referring to the respective seats of US and Chinese government power.
"It is also about relationships between our people. It is their convictions, talent, passion and hard work that make this relationship far deeper and more resilient, vigorous and durable."
He urged young Chinese and Americans to take part in people-to-people exchanges and other efforts to "build a new type of China-US relationship, defying skeptics who see only limitations and challenges, where opportunities are so much more abundant".
chenjia@chinadailyusa.com