Honorary KMT chairman seeks his Hakka roots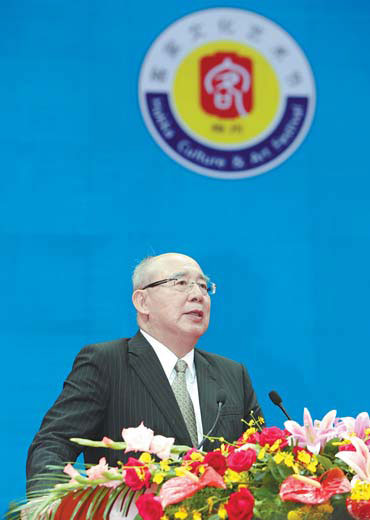 Wu Po-hsiung, honorary chairman of the Kuomintang in Taiwan, greets participants in fluent Hakka dialect at the opening ceremony of a Hakka culture and arts festival in Meizhou, Guangdong province, on Friday. Qiu Quanlin / China Daily
In a fluent Hakka dialect, Wu Po-hsiung greeted participants at the opening ceremony of a Hakka culture and arts festival in Meizhou in eastern Guangdong province on Friday.
The honorary chairman of the Kuomintang said the visit reminded him of the history of ups and downs between the Chinese mainland and Taiwan in the past decade.
"Some 12 years ago, when I first returned to my hometown in Fujian, I could not have imagined that the relationship between the mainland and Taiwan could be improved so much," he said.
Wu, whose family originated from Yongding county of East China's Fujian province, was on a one-week visit to the mainland for a series of cultural exchanges in Guangdong and Fujian.
The festival, the first of its kind in Meizhou, dubbed the Hakka capital, featured a series of Hakka cultural exchange activities between Taiwan and the mainland. And more than 300 Taiwan businesspeople, most from Hakka-populated areas, took a direct flight from Kaohsiung in Taiwan to Meizhou on Thursday afternoon.
"Today, the mainland and Taiwan have reached more common points than differences. And we, as Hakka people both on the mainland and in Taiwan, should join hands to help push forward development of peaceful and healthy ties across the Straits," Wu said.
Hakka people, who moved from central China more than 1,000 years ago, now live mainly in the mountainous regions of Guangdong, Jiangxi and Fujian provinces, and the Guangxi Zhuang autonomous region.
"We will take the greatest sincerity to further develop a peaceful relationship with the mainland and conduct more economic, social and cultural cooperation," Wu said.
Wu also said his trip includes meetings with some Taiwan investors in Guangdong to encourage them to better upgrade businesses on the mainland, as some have been struggling amid the global economic downturn.
Before the opening of the festival, Wu met with Zhu Xiaodan, governor of Guangdong. Zhu said Guangdong will import from Taiwan more advanced technology and equipment in the years ahead to help the province better upgrade its industries.
Wu said that enhanced economic and trade ties will help further develop a healthy relationship between the mainland and Taiwan.
Wu returned to his hometown in Yongding county, Fujian, on Thursday, to worship his ancestors.
"My family roots are on the mainland. When my father passed away several years ago, he told me and my children to come back to the hometown to seek the family roots," Wu said.
Wu is scheduled to pay his respects to the martyrs at the Huanghuagang Martyrs' Cemetery in Guangzhou on Saturday, which marks the 118th anniversary of the founding of the Kuomintang.
qiuquanlin@chinadaily.com.cn