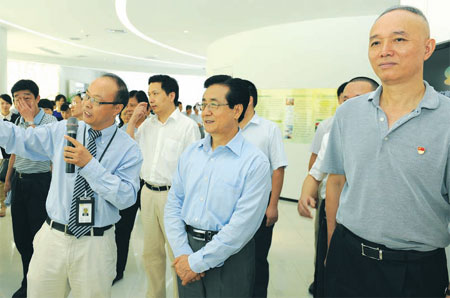 Zhao Hongzhu (center), Party chief of Zhejiang, on a visit to the Hangzhou Future Science City.
Foreign-trained R&D tied with local firms, academia
A high-tech park in Hangzhou, capital of Zhejiang province, is attracting increasing numbers of professionals from overseas with its unique development model, favorable policies and good infrastructure and services.
The Hangzhou Future Science City in the Yuhang district - also known as the Overseas Innovation Park - is now home to 131 high-tech innovation projects started by 316 overseas scholars and experts.
The unique approach at the park is the local government encouraging overseas expertise to integrate with the booming private businesses.
'Sustainable practice'
Li Yuanchao, a member of the Political Bureau of the Central Committee of the Communist Party of China, praised the model as a "sustainable practice" when he paid a visit to the park in April.
Hangzhou, as well as Zhejiang province, is known for its emphasis on private businesses to drive local economic development.
A total of 144 companies in Zhejiang were listed among the top 500 private companies in China in 2011, the 13th consecutive year for the province lead the nation in private enterprise.
"About 70 percent of the high-tech enterprises in the park have partnerships with local private companies," said Mou Wenjiang, CEO of Zhejiang Huineng Technology Co Ltd, a new energy enterprise in the park.
He said overseas professionals offer advanced technologies and expertise while local private companies help the professionals start their businesses and develop marketing networks.
Zhejiang's private companies have experience in many fields including manufacturing, domestic and international trade, and even capital operations, but their capability in research and development is relatively weak, said Mou.
The overseas professionals and local private businesses are cooperating in various forms.
Some private enterprises are launching joint research facilities with overseas talent to promote their own improvements in technologies and products.
Businesses started by overseas professionals are seeking partnerships with private enterprises to translate their technologies into production as well as help with raising funds and expanding marketing channels.
In Hangzhou, the local government's most recent effort to facilitate overseas-domestic cooperation is Hangzhou Future Science City.
The park, with a planned area of 113 sq km, was established in July 2010. Over the past two years, the park has forged a comprehensive industrial cluster of information technology, biomedicine, new energy, cultural creativity and financial services.
The park is now home to operations of such renowned tech companies as Alibaba, Hundsun and Synnex, and a range of businesses founded by returning overseas scientists and experts.
Ties with universities
In addition to encouraging cooperation with private companies, the government also helps overseas professionals strengthen ties with local universities, a practice authorities term "cooperation between the strong and strong".
"Overseas professionals have their specific fields of research, so if they want to expand their scope in research and business, it is necessary to have partnerships with local universities and research institutions," said an official of the park's administrative committee.
S-Evans Biosciences Co Ltd, a biotech company specializing in the study of DNA, recently established a strategic partnership with Zhejiang University.
While seeking technical support from the university, the company serves as a research and technology transfer hub for academics at the university.
In the first half of this year, its revenue hit 3 million yuan, a figure expected to triple to 9 million by the end of the year as a result of the partnership, according to a report from the company.
"We can fully use the resources of both the university and park to do business, and that is a key reason we started a business here," said Xiang Chunsheng, general manager of the company.
A direct benefit is that local universities and research institutions allow enterprises to share their research facilities.
More than 60 public technology centers and labs at the institutes are now open to the enterprises in the park, official statistics show.
There are equal benefits to universities too.
Zhejiang University is also eager to attract overseas talent to boost its research and teaching. Many overseas professionals at the park - both qualified researchers and businesspeople - now also serve at the university as visiting professors. Xiang of S-Evans Biosciences is one of them.
Encouraged by the successful partnership with S-Evans the university is planning more projects in the park including several medical research centers and university parks.
Huge investment
And authorities are continuing vigorous efforts to improve infrastructure and services for the businesses.
To date the district government of Yuhang has invested 7 billion yuan in building infrastructure and public service facilities.
The investments have gone into industrial developments such as office and research buildings, manufacturing plants, roads, telecommunications, electricity and water supplies, as well as public facilities such as an administrative service center, hospitals, schools and residential communities.
The park also has plans to build a number of advanced research facilities such as tissue engineering labs and a solar cell center for the Chinese Academy of Sciences.
Fixed investment in the park to date this year totaled 4.44 billion yuan.
The park's first phase, including 370,000 sq m of office buildings and plants, is expected to be completed this year.
The park has also expanded its network abroad by setting up seven global contact centers.
The park's development led to Hangzhou being named one of the nation's "Future High-Tech Cities" in April, together with Beijing, Tianjin and Wuhan.
zhuanti@chinadaily.com.cn