Multinationals chart course to Chengdu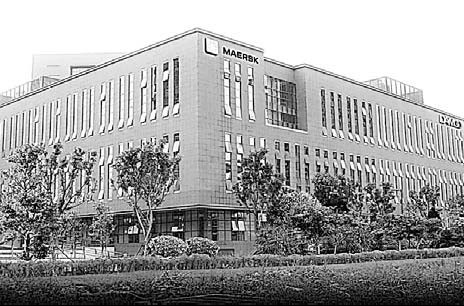 Shipping company Maersk's global logistics hub in Chengdu, capital city of Sichuan province. Provided to China Daily
City transforms itself into a global logistics center
Companies can be as different as chalk and cheese when it comes to their lines of business in China.
But take a closer look at shipping and oil conglomerate AP Moller-Maersk Group, consultancy firm Accenture Plc, logistics major DHL, e-commerce giant Amazon.com Inc and cement company Lafarge SA, and they all have one thing in common - a strong and continuing Chengdu connection for their global logistics operations.
For a city until recently known best for pandas and fiery cuisine, Chengdu has come a long way.
Logistics, financial services and high-end manufacturing have combined to make it a bellwether of the government's go-west economic roadmap.
The transformation seems to have more than paid off, as a combination of factors such as reduced pollution, investor-friendly policies, robust financing facilities and modern amenities are drawing hordes of multinationals to set up shop in Chengdu.
Copenhagen-based Maersk is a well-known player in the global logistics trade with extensive links to major ports and harbors. However, most of its daily operations are now coordinated from the company's global logistics hub in Chengdu, capital of Sichuan province.
Although the company was already present in China, it was only in 2009 that it stepped up its logistics activities by setting up the global service center and logistics-processing branch at the Tianfu Software Park in Chengdu, which has become the global hub for Maersk.
Alongside the Maersk facilities in Chengdu is a building housing Tencent Inc, China's biggest Internet company by sales.
Damco, the logistics arm of Maersk, employs about 1,000 people in its new customer service center that occupies the building's bottom three floors. The Maersk Global Service Center (GSC), which provides the back-office functions for its group companies, is in the same building on the top two floors.
Maersk has five GSCs, three in India, one in Chengdu and one in Manila. The Chengdu center is the fastest-growing, providing customer service documentation, online booking, online customer service with financing and accounting processes.
"Chengdu GSC has developed very fast over the past two years. We will continue to grow the Chengdu center, though it now already covers support for almost 40 percent of our exports globally," said Shao Wei, senior director of the Maersk GSC in Chengdu.
"We believe the Chengdu center will provide our global customers with better services and make our business more competitive," added Shao.
Apart from the impressive infrastructure it has lined up to attract global majors, Chengdu also provides multinational companies with an ideal opportunity to trim overall costs, and a footprint to the vastly untapped markets of western China.
Multinationals can also cash in on other factors such as a developed infrastructure, talented workforce and an open investment environment. But the main attraction for most logistics companies are the excellent transport links the city has with other major destinations in China.
Chengdu is the fourth major air hub in China, with seven direct international flight connections and 12 code-sharing global links. By 2015, there will be at least 30 direct passenger and freight flights from Chengdu to major cities in the world.
Another factor that has helped industrialization is the cluster approach, especially for shared service centers.
Those global majors like Accenture, DHL, Lafarge and Amazon rub shoulders with domestic companies like Alibaba Group and Tencent to set up a robust chain of delivery or service centers.
Wang Yuehua, director of the Damco Customer Service Center in Chengdu, said the site contributes about 80 percent of the group's logistics business in China.
"We completed the shift of our customer service function from coastal cities to Chengdu in June. Though it was a very complicated migration process, by having the centralized customer center in Chengdu we have gained a strategic advantage over other peers," she said.
Citing Nike Inc, one of Damco's major clients in China, she said the US company often reached out to Damco from its bases in eastern coastal cities of China to ship products to Europe, but had to speak to more than 10 Damco employees to complete the same process in different regions of China.
But after the centralization, customers need to make just one phone call, she said.
"Every client gets a specific contact person for their business. The centralized service not only makes our clients' work more convenient, but also improves our capability and efficiency," Wang said.
"In Chengdu, we are able to standardize our services, which makes our business much more professional. We are also capable of managing changing customer requirements and responding in a short time," she said.
Making inroads into the domestic market is another major mission for the Chengdu branch, as many of Maersk's clients are clinching business deals in central and western China.
"There is a trend that our clients are moving their manufacturing programs further inland or to Southeast Asia, such as Hewlett-Packard, which requires us to enhance the knowledge and business ties in the domestic market," Wang said, adding that providing overseas services is one of Maersk's biggest advantages.
The Chengdu site will also look to provide more value-added services, such as information and supply chain management solutions, along with transport services in China.
The Maersk facility, with an office area of 15,000 square meters, employs more than 2,000 people.
Wang said: "Many of our international clients had never heard about or seen Chengdu until they came here for inspection or for signing a contract. Most of them are impressed after a tour of our new facilities and are more than eager to work with us."