Film festival spotlights US-China co-productions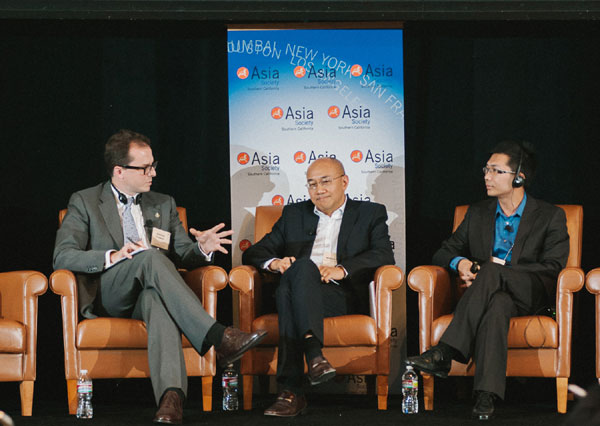 Moderator Jonathan Landreth (left), managing editor of ChinaFile.com, exchanges ideas with William Feng (center), general manager and chief representative of Motion Picture Association- China, and Leon Gao, president of Entgroup, at a panel of the 3rd Annual US-China Film Summit. MOLLY ANN / ASIA SOCIETY
Chinese films are in sharp focus on the west coast. Till Nov 24, around 150 Chinese films are being shown at venues in Hollywood, Los Angeles, and San Francisco, at the 8th Chinese American Film Festival, which opened last week in these cities.
On Oct 26, the Motion Picture Association of America (MPAA) held the second China International Co-production Film Screenings event in Los Angeles. Christopher Dodd, MPAA chairman and CEO, and Jim Gianopulos, chairman and CEO of 20th Century Fox Film co-hosted the co-production screening.
"These screenings represent another important step in the deepening of the relationship between the Chinese and international film industries. It builds successfully on the first ever US-China Co-Production Forum we held in Beijing in 2009, and the US-China Co-Production Film Screenings we held in Washington DC last year," said Dodd.
Tong Gang, director-general of the Film Bureau of China's State Administration of Radio, Film and Television, who heads the Chinese delegation currently attending the screenings, said: "We hope exchange programs and events such as this will allow American audiences to see more high quality co-production films. We also hope movies such as these will inspire more studios to participate in Sino-American film co-productions and in turn, continue to help elevate quality and standards."
On Oct 30, the 3rd Annual US-China Film Summit was held at the University of California, Los Angeles.
With a slightly different perspective, the summit, organized by the Asia Society, focuses on the trends and dynamics facing the US-China film industry relationship and recent advances in Hollywood-China partnerships and collaborations.
Thomas McLain, Chairman of Asia Society Southern California said: "Hollywood is always anxious to join the perfect partner, but it's not an easy marriage." He believes with US-China co-productions they might be able to make it happen.
Peter Shiao, CEO of Orb Media Group and Chairman of Entertainment / Media Asia (EMAsia) said: "America and China must come together in a profoundly important way, those of us who make movies, we make culture and we know culture influences people, and that's a conversation we could not have anywhere in the world today, but through movies."
Jonathan Lendreth, who had recently come back to the US after eight years of journalistic experience in China, said: "Each January annual box office growth made my eyes pop in china. They grew more than 25 percent every year when I was there." He added: "China is now on track to become Hollywood's largest export market of the box office by the end of this year, supplanting Japan. Some forecasts show China will be the world's number one movie market by 2020."
During Vice President Xi Jinping's visit to the US in February, US Vice President Joseph Biden announced that China would raise the number of imported films to 34 each year, up from the previous limit of 20. Additionally, China would raise the percentage of sales given to copyright holders to 25 percent, up from a previous average of around 15 percent. China would also welcome DreamWorks to Shanghai to build a studio with media investment funds, so Kong Fu Panda 3 would be co-produced in China utilizing the time-tested expertise of Hollywood executives.
Among the topics covered in the panels at the summit were talent and investment in co productions.
Stephen Saltzman, an entertainment lawyer based in Los Angeles, said: "In the past few years we've certainly seen a dramatic increase in the number of American actors both with and without Chinese heritage who were working in films produced in China both in English language films, Mandarin language films and even films that are mixed language such as Flowers of War and Inseparable."
Jeff Lin, managing director of Strategic Bang Group said: "Our objective should be creating synergy between creativity and capital; we should make this our business model."
China is currently one of the biggest movie markets globally, and one signifying the greatest potential. According to MPAA, the Chinese gross box office was up 41 percent (1.3 billion USD total) for the first half of 2012. New cinema screens continue to be added at an average rate of eight screens per day in 2012. The total number of cinema screens stands at more than 11,000, and is expected to more than double to 25,000 by 2012.
At the summit gala dinner, Dominic Ng, chairman and CEO of East West Bank said: "The best way for us to most effectively utilize the resources in China is to team up with Hollywood, because Chinese indeed have great, deep culture and have a lot of rich stories to tell; on the other hand Hollywood has the best story tellers."
He added: "The best way to build trust between China and US is through the film industry."
In 2008 Han Sanping, chairman of China Film Group Corporation, was named the Economic Individual of the Year by China Central Television.
In 2012 he was named the China Entertainment Visionary of the Year.
Director James Cameron commented: "There's more opportunity than ever before for our country's film industry to collaborate and become stronger and better together…
We see this new endeavor as an opportunity to learn from China. We look forward to supporting the great work that Han Sanping will continue to do and look forward to learning from him."
"America's movie industry needs China; they both need each other," Han said.