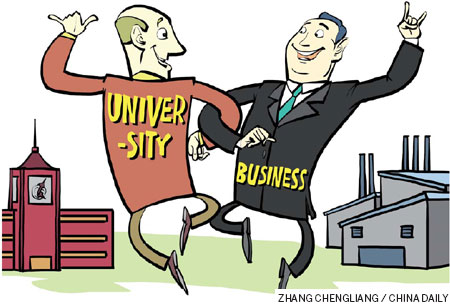 Western universities have a lot to gain by entering into partnerships with Chinese companies
That distinctive autumnal nip in the air and a sea of beautifully colored falling leaves signals the start of another academic year. Universities around the world will now be a hive of activity as they reach out to their local, national and international communities. But just how many universities, particularly Western ones, really reach out to the world of international business? How many universities venture inside specific companies to educate and train and contribute directly to increased company competitiveness?
Many Western universities provide corporate education and training, often delivered at a university's corporate or management training center. Many go further and provide bespoke courses for specific companies, but how many form long-term partnerships with specific companies and venture on to a company's premises from which most of the education and training takes place?
Most Western universities engage with local and even national business with a range of programs and knowledge transfer partnerships, but all too few step out into the wider international business environment.
One such pioneering example of real engagement between university and international business is a five-year agreement between Nottingham University and the Chinese food and drinks giant Wahaha signed in August.
Wahaha, based in the eastern city of Hangzhou, renowned for its beauty, has been the market leader in the country's beverage industry for the past 14 years but has failed to expand significantly overseas. Hence the five-year agreement.
In many ways Wahaha's position encapsulates many of the issues facing China's increasingly ambitious industrial base: dominant domestically, with determination to expand into overseas markets, but lacking experience and knowledge.
The university's agreement with Wahaha also represents a step forward for genuine, long-term engagement between Western universities and international business. Specifically, Nottingham and Wahaha will establish joint research centers to work in a number of areas, ranging from bio-energy technology to animal feed, food technologies, electrical motors and robotics.
The agreement's long-term aim is to empower and equip Wahaha with the knowledge and skills to achieve and sustain a far greater international competitive advantage. Other, mostly foreign, universities should be looking to follow Nottingham's example, and a full range of business and management education and training should be part of future agreements with Chinese organizations.
Nottingham's initiative is pioneering, but not unique. For example, in the 1980s Warwick University in UK teamed up with the car producer Rover, leading to the establishment of a full-size manufacturing plant on the university site, and as recently as last year Case Western Reserve University in the US and a Chinese oil company agreed to work together on research that they hope will lead to international breakthroughs in clean energy.
The international business environment is replete with a huge range of cross-border joint working relationships between companies, from joint ventures and strategic alliances to full-blown mergers and acquisitions. Western universities have followed this approach with their international expansion but almost always with other universities only. For example, most of the world's top 100 universities have partnerships or some form of agreement or alliance with Chinese universities and others around the world. However, few Western universities have even considered such a partnership with an international business.
This is particularly surprising given increasing financial pressures on universities and the need for them to generate more income independent of government funding. Western universities also continue to enjoy a vastly superior position when it comes to research and genuine innovation and creativity, which makes it all the more alarming that few have even considered, let alone ventured into, long-term ties with businesses.
Chinese business presents an extremely attractive market opportunity for Western universities. One reason for this is the yawning gap in both quality and quantity between Western and Chinese university research. Western academia also leads the world in international expansion, often the driving force behind links with universities from very different cultures. The teaching approach at Western universities, at all times participative with an extremely active and engaging learning environment, also lends itself naturally to partnership with international business.
Western universities also offer academics sabbatical opportunities that could be spent far more productively working in an international business with which a long-term tie-up is in place. Such a placement should not only lead to an extremely useful practical experience for those academics involved but should also provide an excellent opportunity for practically driven research data capture. More and more business and management research, and social science research generally, makes use of ethnography and qualitative research methods. In-company education and training, especially a sabbatical as an employee full-time, should provide an ideal opportunity to follow such an approach to academic research.
A criticism often leveled at Western academics is their focus on academic research to the extent that this becomes too theoretical and lacks practical application in the increasingly volatile international business world. Long-term tie-ups with international business would lead to a research culture within Western academia that is far more integrated with the needs of business and that does not result in research output that has no or little use for business and, therefore, which business ignores.
Long-term partnership between Western academic and international business should also alleviate research funding shortfalls that are now a concern. Chinese businesses such as Wahaha now offer the prospect of real financial reward to Western universities. Many of China's largest companies are far more cash rich than their US or European counterparts. The eurozone crisis and sluggish US economy compare poorly with growth across China that should still reach close to 8 percent this year, despite a definite slowdown.
Another reason for Western academia to look East and consider long-term partnerships with Chinese businesses is the Chinese government's publicly stated aim of overseas expansion for China's companies of all sizes and industrial sectors. Further, the Chinese government has placed growth of Chinese companies based outside China's first-tier cities at the heart of the country's continued economic emergence.
Western universities should therefore not only consider China's better-known, larger and often first-tier based companies such as Wahaha, Haier, Huawei, Li-Ning and Tsingtao. Even greater need for education and training, ranging from business and management to high-tech and engineering skills and knowledge, exists among companies based in the less developed regions and provinces.
Across China there are an estimated 10 million small and medium-sized enterprises, most of which are desperate for many forms of education and training that only Western academia can provide.
For partnerships between Western academic and international business to succeed and achieve maximum benefit to both parties, they need to be regarded as a marriage where emotional as well as rational concerns are vitally important. In the case of long-term ties with Chinese companies it is imperative that Western academia take the education and training inside the company. Only with Western universities present, permanently and highly visible as part of their business partner's day-to-day operations, will real engagement, trust and effective learning succeed.
Western academia and Chinese business offer a multitude of long-term partnership opportunities, but for any marriage to take place it is undoubtedly Western academia that has to make that crucially important first move.
The author is a researcher at Nottingham University's School of Contemporary Chinese Studies, specializing in Chinese consumer and organizational behavior. The views do not necessarily reflect those of China Daily. Contact the writer at mike211_2@hotmail.com