Birth of panda thrills the US capital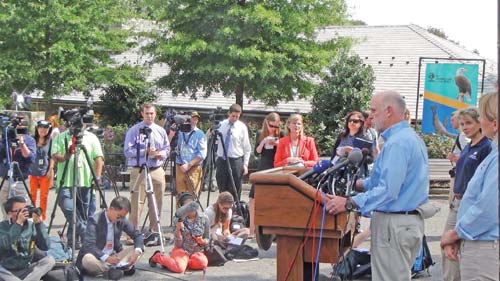 Dennis Kelly, director of the Smithsonian National Zoo, speaks to the media about the newborn panda cub at a news briefi ng at the zoo on Monday morning. Tan Yingzi / China Daily
Around 10:46 pm Sunday, a noise from inside Mei Xiang's den at the Smithsonian National Zoo in Washington gave those gathered in front of a video monitor a sense of disbelief and then joy: The giant panda had given birth to another cub, seven years after her first.
After many failed attempts, Mei Xiang provided locals with a big surprise. Determining whether the new baby is a boy or girl won't be possible until the zoo's panda keepers examine the cub in a week or two.
Many panda fans visited the zoo on Monday after the news broke late Sunday, but they found that the habitat was closed to the public so that Mei Xiang had a quiet place to rest and nurture her cub.
"Today is my birthday - what great birthday news for me," Helen Gonzales, 66, told China Daily outside the panda habitat. A longtime panda fan, she visits the National Zoo regularly and took the day off from work Monday in hopes of seeing the new addition.
"We are very excited and everybody is talking about the cub online," Gonzalez said.
The zoo's chief veterinarian, Suzan Murray, said in a news release published on the zoo's website, that "Mei Xiang is behaving exactly the same way she did when Tai Shan was born" in 2005. "She is cradling her cub closely, and she looks so tired, but every time she tries to lay down, the cub squawks and she sits right up and cradles the cub more closely.
"She is the poster child for a perfect panda mom."
So far, zoo staff have gotten only a brief look at the cub, which they variously described as hairless, about 4 ounces (113 grams), the size of a stick of butter, like a pink rat, very vocal and active.
"It's very small, very strange-looking - no hair, blind, pink," zoo director Dennis Kelly told reporters. "It doesn't look anything like a bear, but it will grow quickly. In only about five days, the black and white patches will come."
As a protective mom, Mei Xiang dragged two large bamboo stalks into her den before the birth and has been holding the baby tightly to her chest, making it hard for zoo officials to see the cub on their 24-hour camera feed from the habitat.
"For now, the only way animal-care staff will monitor the cub is using the webcams," zoo officials said in a statement. "Our goal is for Mei Xiang to raise this cub naturally. With Tai Shan, it wasn't until he was about two weeks old that Mei Xiang walked away from him briefly and our veterinary team was able to give him a brief well-cub exam."
Marty Dearie, one of the zoo's dozen panda keepers, said Mei Xiang hadn't been eating much recently and on Sunday barely ate anything, "which was a good sign" of a birth. It's expected that the 14-year-old female will have stopped eating for a week or more.
"In 2005 after she gave birth to Tai Shan, she didn't eat a solid meal until about 19 to 20 days after birth," Dearie said.
Though there is risk of pandas accidentally crushing their small cubs, Mei Xiang is likely to be a careful mom, said Nicole Meese, who has been a panda keeper at the zoo for 11 years.
"Mei Xiang is such a fantastic mother. She did a wonderful job with Tai Shan and we are confident she will do a great job this time," Meese said.
The first panda couple to live at the Washington zoo, Ling-Ling and Hsing-Hsing, had five cubs, but none survived more than a few days.
Tian Tian and Mei Xiang have resided at the zoo since December 2000. Their first offspring, and the zoo's first surviving panda cub, Tai Shan, was born on July 9, 2005.
Tai Shan was sent back to China in 2010 for the nation's panda breeding program.
The hope of another birth in Washington had been dashed time and again as Mei Xiang failed in five attempts at artificial inseminations since 2007.
Each time, she went through what's called a "pseudo-pregnancy," building a nest and experiencing high hormone levels. But there was no cub. It's believed there was a less than 10 percent chance of Mei Xiang getting pregnant again, said zoo officials.
According to Chinese tradition, newborn pandas are named 100 days after they're born, so the Washington cub would be named on Dec 24.
"To follow the tradition, we will consult Chinese colleagues as well as the people in Washington and all over the world, but first we have to tell if it's boy or girl," Kelly said. "The name should carry the wonderfulness of a panda and have a little bit to do with Washington."
Under an agreement with the Chinese government, zoo officials can keep the cub for four years before it has to be returned to China.
tanyingzi@chinadailyusa.com