Romney, reinvented after defeat in 2008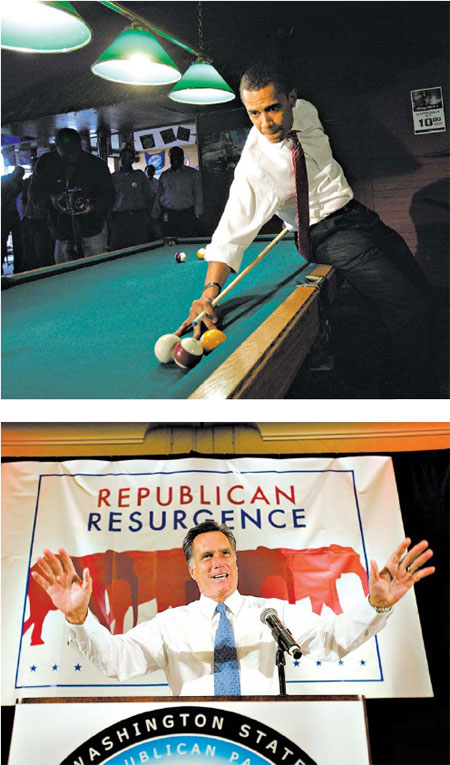 A cool assessment of his failings in 2008 led Mitt Romney to try for the presidency again. Steven Lane / The Columbian, Via Associated Press; His opponent, Barack Obama, is uncomfortable with failure even in a casual game of pool. Jae C. Hong / Associated Press
BOSTON - From the moment Mitt Romney ended his first bid for the Republican nomination in 2008, he complained that he had felt cheated out of a chance to explain himself to the country. He had emerged from his national political debut, he said, as a caricature he did not recognize: emotionally uncaring, intellectually inauthentic, ideologically malleable.
Over the next three years, he sought to reclaim his public identity with the self-critical eye, marketing savvy and systematic rigor of the corporate consultant that he once was.
When Willard Mitt Romney, 65, delivered his acceptance speech on August 30 at the Republican convention in Tampa, Florida, he owed the moment in no small measure to his efforts to persuade voters to see him as he saw himself: a man of deep convictions and big ideas, a credible party leader and inevitable presidential nominee.
He coolly assessed the failings of his 2008 campaign and undertook a yearlong tutorial on everything from the tax code to global jihadism. He wrote a book laying out his vision and values to answer doubters and counter charges of flip-flopping on positions. He crisscrossed the country to raise money for hundreds of candidates.
Mr. Romney returned as a far stronger candidate - a crisper debater, a more decisive manager, a better strategist and a stick-to-his-message campaigner whose chief selling point, his business expertise, was well suited to the political moment. But he also ran up against the limits of his own overhaul.
"This is who I am," he told a publisher while pitching his book. "And I want the book to reveal it." But averse to exposing his private life, he offered no personal narrative for people to feel they really knew him.
His exhaustive campaigning between presidential races did little to diminish his awkwardness with voters. And for all his preparedness on foreign policy, he offended his hosts on his first overseas trip as his party's presumptive nominee.
Mr. Romney's quick reimmersion into politics shows much of what still animates him: an abiding belief that corporate methods can be applied to the political sphere, a longing to be accepted by the world beyond his close-knit community, and a relentless drive for self-improvement.
"He felt he had been - he knew that he had been - unable to connect with the voters," said Peter Matson, Mr. Romney's book agent. "In his mind, he had to do better."
'The Message Was Not There'
Mitt Romney was unsparing on Valentine's Day in 2008 when he summoned a dozen top aides to Boston.
What had worked: his strategy for raising money and collecting delegates. What had not: his relative lack of foreign policy experience and muddled positions on social issues.
Participants recalled the self-analysis as both eerie and impressive, saying it seemed as if Mr. Romney were talking about someone other than himself. His diagnosis: "The message was not there," according to several aides, who said he accepted much of the blame.
With a book, Mr. Romney reasoned, he could avoid any ambiguity. "I can write what I want to write. I can say what I want to say," his son Tagg recalled his father explaining.
After a failed collaboration with a ghost writer, Mr. Romney typed out every chapter himself.
A voracious reader and avid student of history, he relished what he began to treat as a crash course on the United States military, Russian-American relations, public education reform and federal regulation.
His book, "No Apology," published in 2010, was a forceful conservative argument for preserving America's military supremacy, free-market economic edge and energy independence.
His book agent, ghost writer and editor had urged him to apply his personal experience to his policy prescriptions, with their dense passages about "purchase power parity exchange rates" and "dynamic regulation."
In the end, though, he offered only glimpses of himself in the book.
Constructing a Leader
In December 2008, the phone rang in Mr. Romney's house in Utah. It was the president-elect, Barack Obama.
Mr. Romney's wife, Ann, had just been given a diagnosis of early-stage breast cancer. Mr. Obama wished her a speedy recovery, saying he and his wife would pray for the family.
"Ann and I have you in our prayers," Mr. Romney replied, according to aides to both men. But less than 90 days into the new presidency, Mr. Romney assailed Mr. Obama in an op-ed article, accusing him of "deepening and lengthening this recession" and warning that his policies risked "wiping out the middle class."
It was the start of a careful plan intended to build momentum for a second presidential campaign.
The Romney strategy remained unchanged from his days at Harvard University, at Bain Capital, as the head of Utah's Olympic committee for the 2002 Games and in the Massachusetts governor's office: he out-hustled those around him. In 2009 alone, he attended 53 events for Republican candidates and causes, made 44 television appearances, gave 11 newspaper interviews and held eight news conferences.
He kept in close contact with his 2008 campaign staff, and perhaps most crucially, he raised hundreds of thousands of dollars from friends, which he used to saturate state and federal candidates with campaign donations. From 2008 through 2011, he gave nearly $600,000 to more than 200 officials and party organizations in at least 27 states.
"He was nonstop," Senator John McCain, the Republican nominee in 2008, said. He called the aggressive outreach essential to Mr. Romney's success.
In the summer of 2010, at his house in Wolfeboro, New Hampshire, Mr. Romney told his biggest campaign fund-raisers that this time around he wanted to rely on donors, not himself.
His 2008 primary race had cost $107 million, a figure widely mocked as excessive.He remained phenomenally well off. But after spending almost $45 million of his own money on his first presidential run, then $12 million on a beach house in San Diego, California - the stock market crashed in 2008.
On paper, Mr. Romney lost tens of millions of dollars on investments, according to a person close to him.
Last-Minute Jitters
At the beach house in December 2010, Mr. Romney's top advisers sketched out a possible 2012 campaign. They envisioned a focus on the economy, an issue they believed would transcend intramural Republican squabbling. But he did not share their optimism.
A few weeks later, the Romneys convened for a family vote on a presidential run. The decision had been unanimous in 2006, but this time around, the enthusiasm was gone. "Why go through the process just to lose again?" Mr. Romney asked, one relative recalled.
The vote was 10 to 2, with only Ann and Tagg favoring a run.
Over the next few months, Mr. Romney told his family three times that he would not run. But in the spring of 2011, aides made their final pitch, asking Mr. Romney if he believed that he could fix the economy. He said that he did.
There was nothing left to discuss.
Julie Bosman and Jo Craven McGinty contributed reporting from New York.
The New York Times