Man detained for brutal stabbing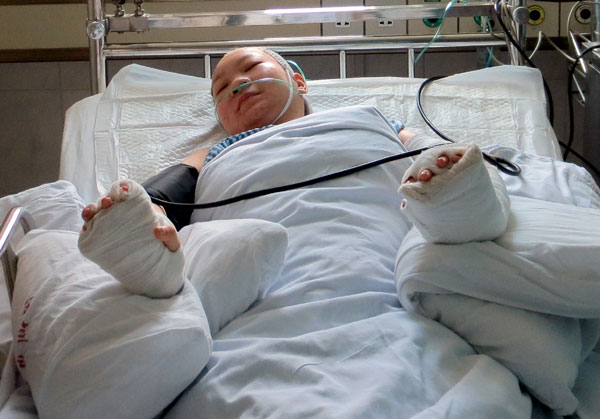 Ye Huan, a nurse who was seriously injured by a patient, lies in the intensive care unit of a Shenzhen hospital on Tuesday. Provided to China Daily
A nurse who was brutally attacked along with three other staff members at a Shenzhen hospital remained in intensive care on Tuesday.
Ye Huan suffered deep lacerations to her back, head, arm and fingers when a patient went on the rampage with a knife at Pengcheng Hospital.
A doctor, a security guard and a guide were also injured but are now recovering, Guo Bingli, director of the private hospital in the city's Luohu district, said at a news conference.
Luohu police said they have detained 43-year-old Ou Changjun in connection with the attack. In July, Ou spent more than 7,000 yuan ($1,100) at the hospital on a treatment for rhinitis.
According to hospital surveillance footage, the attack began in the ear, nose and throat department on the second floor of the hospital at 10:36 am on Monday. The attacker was wearing a blue mask and carrying a rucksack.
Minutes later, doctor Xiao Shilei came out of a consulting room as the attacker pulled a knife from the bag and rushed toward Xiao, stabbing him in the head and neck. Ou then stabbed a guide.
According to Guo, the attacker then took a nurse hostage in an operating room and stabbed her arm with another knife several times. He also stabbed a security guard who tried to stop him.
After about 10 minutes, police arrived and detained the suspect. They discovered four knives in his bag.
Guo said Ou had been diagnosed with allergic rhinitis and underwent surgery. Xiao was the attending physician. After the surgery Ou remained in the hospital for 16 days and spent 6,627 yuan for the treatment.
The attack is being seen as the latest case highlighting the tensions between patients and doctors in China.
Cui Xiaobo, a professor at Capital Medical University, urged the government to support hospitals to hire medical social workers who specialize in providing support for patients through follow-up visits.
"Most hospitals in China don't have these workers, who build a bridge of communication between the hospital and patients," he said. "Lots of the hospitals' work is social, rather than being merely scientific. The government should help hospitals hire them to deal with interpersonal affairs."
In April, the Ministry of Health and the Ministry of Public Security issued a statement to crack down on assaults on medical workers and behaviors that disrupt the working order of hospitals, a month after a 17-year-old boy stabbed an intern to death at a hospital in Harbin.
According to the statement, people who commit such assaults should be held accountable according to the Criminal Law.
Contact the writers at huangyuli@chinadaily.com.cn and wangqingyun@chinadaily.com.cn.