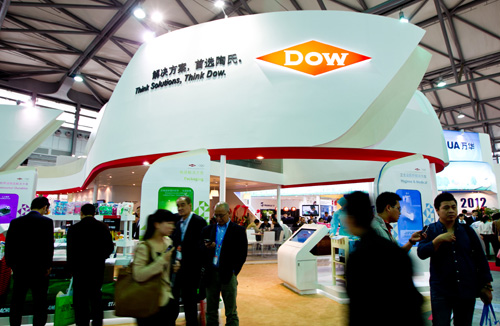 US-based Dow Chemical Co's booth at a trade show in Shanghai. China released guidelines in December that encourage foreign investment in sectors such as advanced manufacturing, research and development, and energy conservation. Wu Jun / For China Daily
Despite China's rising labor costs and an economic slowdown, the world's second-largest economy remains attractive to foreign investors, report Ding Qingfen and Liu Jie in Beijing
Don't talk to Kevin Thieneman about the economic slowdown and rising labor costs in China, Caterpillar Inc's head in China is mulling over the long-term development blueprint in China for the world's largest maker of construction equipment.
Although "the industry is slower this year than last, our long-term view for China is unchanged", said Thieneman in an interview with China Daily.
"We are as optimistic and bullish about China today as we were 24 to 36 months ago."
Hurt by eurozone debt woes and affected by property tightening policies, China's economic growth has been decelerating this year, with the expansion slowing to 7.6 percent in the second quarter, the slowest pace in more than three years.
To some extent, the disappointing economic figures seem to have dampened foreign investors' confidence in the world's second-largest economy, which has been the most attractive foreign direct investment destination among developing economies for over a decade. This July saw the eighth monthly drop in FDI in nine months.
But for the Chinese government, such a drop is a temporary phenomenon, and the Ministry of Commerce, the agency in charge of the nation's inbound and outbound investment, has repeatedly said "China is, in the long term, a most attractive market for foreign companies".
Multinationals including Caterpillar cannot agree more.
As infrastructure construction decelerates and demand for machinery equipment shrinks in China, industrial companies including Caterpillar are facing a difficult period. Caterpillar has even started exporting Chinese-made machinery to the Middle East and Africa to offset the slackening growth in China.
Still a key priority
But such a move will not last and is not part of the company's overall China strategy, it insists. It's true that "we are slowing down production and capacity expansion to address customer demand, but (we are) not stopping, halting or reversing our plans", Thieneman said.
"China is still a key priority for Caterpillar. We remain very positive on long-term industry growth in China and our strategy to grow our business here."
In July, Caterpillar and Guangxi Yuchai Machinery Co Ltd jointly announced the official opening of a new manufacturing facility in Suzhou, Jiangsu province.
And Thieneman will soon start preparing for, Bauma China 2012, a leading international trade fair for construction machinery and vehicles, due to take place in Shanghai in November, of which Caterpillar is expected to be a prominent participant.
Thanks to China's competitive labor costs and the policy of reform and opening-up, China grew into a hot spot for foreign investors before the financial crisis in 2008.
The United Nations Conference on Trade and Development has ranked the nation as the most appealing investment destination for over 10 years.
But as China adjusts its foreign investment policy toward targeting high-end manufacturing, services and green industry as it strives to transform its economic growth model, some foreign companies have started to complain about its business climate in the past two years. And as the nation's labor costs rise rapidly, some have even moved their factories out of China.
What is worse, the eurozone debt crisis has affected the global flow of capital.
But these complaints or examples of hesitation are isolated cases.
"The Chinese economy is going through a rapid evolution ... a huge amount of change at one time, so it is natural that it causes some dislocation and turbulence along the way," said Peter Sykes, Dow Chemical Co's president in China.
The US-based company is the world's largest specialty chemical company by sales.
"Huge new opportunities will present themselves as the economy becomes more sophisticated. At Dow we remain very excited and we believe China will continue to serve as an important engine of growth for Dow and others - but a different kind of engine. "
Although some foreign companies are delaying their investment plans in China, Dow is beefing up its operations in the nation.
In June, Dow said it would invest in a world-class manufacturing facility on water treatment technologies in Huzhou, Zhejiang province. The new facility will become operational in 2013.
The company is also planning to expand its electronics manufacturing facility in Zhangjiagang, Jiangsu province.
Sykes said that Dow will continue to invest to further expand its manufacturing, innovation and operational networks in China over the next few years.
For Dow, the Chinese market is certainly a good bet. "If China continues its impressive track record of economic success, it will eventually become Dow's largest global market, most likely sometime in the 2020-30 period," said Sykes.
After the figure expanded by more than 10 percent for years, China's GDP growth slowed to 7.6 percent from April to June, the slowest pace in three years, but some economists say it has yet to bottom out.
Bank of America, Deutsche Bank and HSBC recently reduced their forecasts for full-year economic expansion. Premier Wen Jiabao in March set a target of 7.5 percent for this year.
But many foreign companies are taking a long-term view. China's economic growth will probably recover late this year or early next year, as the Chinese government continues to stimulate growth, said Thieneman from Caterpillar.
Wang Zhile, a senior expert with the multinational company research institute under the Ministry of Commerce, said "it's unnecessary to be that concerned about the drop in the nation's FDI", as "the real estate sector is probably a key factor behind this".
As the realty sector grew speedily in China, the nation witnessed a huge influx of foreign funds into the sector over the past few years. But, with the central government's tightening measures in the property sector, China saw a sharp decline in the amount of foreign capital flowing into the industry.
Of the 5.08 trillion yuan ($800 billion) invested in property development in China between January and July, only 22.8 billion yuan was made by foreign investors, a 54.3 percent decrease year-on-year, according to the National Bureau of Statistics.
"We actually have not felt any big change with foreign companies and manufacturers in sectors excluding realty," Wang said.
"The confidence is there."
After years of double-digit annual growth, China's FDI reached a record high of $116 billion in 2011. "The annual figure is expected to surpass $100 billion in the future, and annual growth could remain around 10 percent on average in the next decade."
Moving out
But the Chinese government's concern is understandable, as a slew of foreign companies either transferred factories to neighboring nations, returned manufacturing activities to developed markets or suspended their expansion.
According to the Ministry of Commerce, from January to July, China's FDI dropped by 3.6 percent year-on-year to $66.7 billion.
"The severe economic situation at home and abroad affected China's FDI. We have to be alert toward this trend," said Ministry of Commerce spokesman Shen Danyang.
Slowing exports and economic expansion have cast a shadow over multinationals' investment plans.
In July, the nation's export growth slumped to 1 percent, the lowest since 2009. During his recent visit to Guangdong province, China's export hub, Premier Wen said the difficulties in stabilizing economic expansion are "still relatively large" and called for measures to promote export growth.
Rising labor costs in the mainland have also squeezed corporate profits and even forced some to move elsewhere.
"For years, foreign investors and manufacturers mainly sought cheap labor in China, but more and more are shifting their focus to the consumer market as China's growth model changes," said Wang.
"We have to accept that some have and would move out, ... but we should be encouraged to see that some others' confidence in China is unshaken and a lot are focused on long-term growth."
Last year, the Obama administration announced the setting-up of a national promotion agency to attract more foreign investment, especially from China, as part of its efforts to create jobs and grow the economy.
And some companies, including General Electric Co, are reportedly planning to move some of their production back to the United States.
But for GE, this move will not slow its investment in China.
"China's strategic importance to GE is supported not only by its manufacturing capability, but also its technology innovation," said a company statement.
And GE will continue to "look for investment opportunities" in the key industries it serves, "such as energy, healthcare and aviation", which is also well in line with China's commitment to developing the high-tech sector over the next five years.
New trend
The International Monetary Fund predicted that, based on the current trend, China will overtake the US to become the largest economy by 2017.
In its 12th Five-Year Plan (2011-15), China has vowed to shift to grow domestic consumption from largely relying on overseas shipments, and is committed to promoting urbanization.
President Hu Jintao said China's social retail consumption is expected to grow annually by 15 percent during the 2011-15 period, reaching 32 trillion yuan in 2015. From 2011 to 2015, China's imports would surpass $8 trillion.
"Consumption-related sectors will be hot, and sectors that go well with China's new direction of economic growth, including high-tech, services and new energy, will also see more foreign investment," said Wang.
In December, China launched a new version of its Foreign Direct Investment Industry Guidelines, in which the government encourages foreign investors to put money into advanced manufacturing, the service sector, research and development, and in energy-saving and strategic emerging industries.
In its 12th Five-Year FDI Guidelines, China said it is focusing on the "quality" of foreign investment.
"Given that three decades of high growth has resulted in severe environmental pollution and a huge waste of resources. China should be selective," Wang said.
As an innovative industrial group and also a leader in high-tech development and solutions, US-based Minnesota Mining and Manufacturing Co (3M) is cashing in on new business opportunities in China amid the transformation.
In June, 3M revealed a five-year, $50 million investment plan for China, a major part of its five-year strategy to increase annual sales in the emerging market by between 15 and 20 percent, according to Hu Fen, vice-president of 3M China Operations and Finance.
3M's China business accounts for 10 percent of its global operations.
The nation's efforts to grow consumption are proving very enticing for some companies. Sweden-based Ikea, which has so far displayed a prudent approach toward its development in China, said it would now experience a rapid expansion in the country, opening two to three stores annually.
The company plans to open its second store in Beijing in the suburbs of the city, the largest Ikea flagship store in Asia and the second-largest in the world.
And as the nation actively encourages the development of its central and western regions to stimulate the economy, many foreign companies are well on track to grow in the region, represented by Samsung, which announced its largest overseas investment in Xi'an, Shaanxi province, also the largest ever in western China.
3M is building a plant with an investment of $200 million in Hefei, Anhui province, which will be engaged in production for Central China's new energy, automotive and shipbuilding industries.
For foreign companies, investment translates into commercial benefits for both sides.
"The deals will help stimulate the culture and tourism industries in China, and they are also a good reflection of enhanced China-US economic and trade ties," said Zhang Zhizhong, executive vice-president of The Walt Disney Co.
The US entertainment company announced it will create a $3.7 billion theme park in Shanghai, which is scheduled to open in 2015.
Ted Dean, chairman of the American Chamber of Commerce in China, agreed.
"When a US firm expands in China, it brings capital, training, business practices, and technology that benefit China, and the company benefits from the new opportunities it's able to tap," said Dean.
Worries unnecessary
Dean attributed China's FDI decline to the global economic situation, saying worries are unnecessary. "The global economy affected Chinese FDI," said Dean.
And "surveys by AmCham China showed US companies are committed to the Chinese market, and big companies are already here in China, so there are not necessarily new FDI numbers," he said.
The US is a major investor in China. During the past seven months, China's FDI from the nation gained by 1 percent to $1.96 billion, while FDI from the EU dropped by 2.7 percent.
To help the economy rebound, some local governments, including Tianjin and Chongqing municipalities, and Changsha in Hunan province, have announced plans to boost industrial investment over the past few months.
China cut interest rates in June for the first time in three years, and again in July. The nation's central bank has also lowered the reserve requirement ratio for lenders three times starting in November to support growth.
"We are encouraged by the actions ... and we expect China will continue to ease policy and increase investment spending to help improve growth. Those actions will likely lead to better growth in the construction industry late in 2012 and into 2013," said Thieneman from Caterpillar.
Despite the preferential policies adopted by many countries worldwide, China remains an attractive market for foreign companies, due to the struggling economy in developed markets and the unfavorable business climate in many developing economies.
Doug Oberhelman, chief executive officer of Caterpillar, said in August that the global economic outlook is more uncertain now than at the start of the financial crisis in late 2008.
"It would take another five years before Europe's economy begins to see growth again," he said.
Contact the writers at dingqingfen@chinadaily.com.cn and liujie@chinadaily.com.cn