Hewitt offers a shoulder and an ear to teen Tomic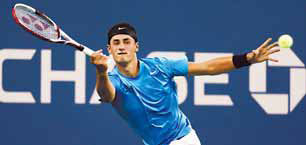 Australia's Bernard Tomic returns a shot to Andy Roddick of the United States in the third round at the US Open on Friday. Charles Krupa / Associate Press
Australian veteran Lleyton Hewitt, a two-time Grand Slam champion, has become a sounding board for rising Aussie teen star Bernard Tomic, who tries to learn all he can from Hewitt's experience.
Tomic made a second-round exit from the US Open at the hands of Andy Roddick in the American's first match after announcing he would retire after his final bow on the Flushing Meadows hardcourts in the year's last Grand Slam event.
"I think he does listen to me quite a bit, even when he has spoken about things, whether he was playing Roddick or his game a little bit during the Olympics when he was down on confidence a little bit," Hewitt said.
"That's what I'm there for. Been around a long time now."
Tomic was involved in an angry exchange with reporters after his loss to Roddick when he was asked to respond to allegations that he had not tried in the final set, which he lost 6-0.
Hewitt, 31, won the 2001 US Open and 2002 Wimble don titles and was a singles teammate of Tomic at the London Olympics last month. He plans to bend Tomic's ear before a Davis Cup World Group qualifying tie with Germany in a few weeks.
"I've gotten along well with Bernie for the last couple of years," Hewitt said. "We've practiced quite a bit together at most tournaments we've played the last couple years.
"He's a unique player. His ball striking is unique. Some of his shot selection is unique. There have been matches, probably more so at the Australian Open, that he has been able to turn around because of that."