Innovation key to Harbin's future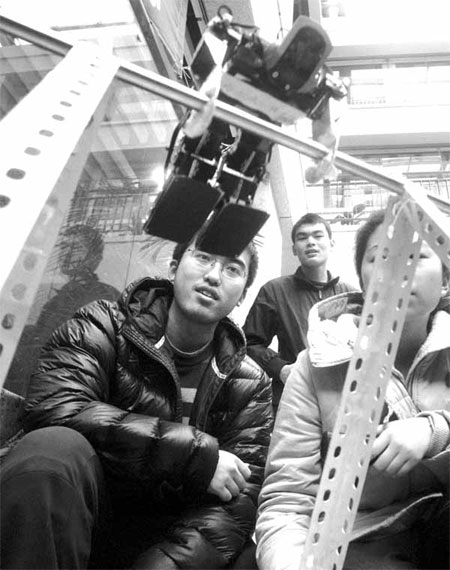 A robot developed by Harbin Engineering University performs a gymnastic exercise on the horizontal bar. With scores of universities and hundreds of research institutions, the city of Harbin has a strong capacity for innovation. Provided to China Daily
Making enterprises the drivers of innovation is crucial to increasing the commercialization of research results, said Song Xibin, mayor of Harbin, capital of Heilongjiang province in Northeast China.
"We need to create an innovation-friendly environment and encourage companies to upgrade their innovation mechanisms and set their sights on connecting their proprietary research and development with the world's frontier technologies," Song said.
"Neither the government or companies should be afraid of investing in innovation," he added.
The city government has initiated a program for patent analysis and released industry strategic research reports since 2005 to help improve the environment for the creation, use, management and protection of intellectual property.
The reports cover various fields, including biomedicine, environmental protection, aerospace and aviation, new materials, electronics and modern agriculture.
These efforts have been successful as more than 13,000 patent applications were filed in the city last year, very nearly double the number filed in 2010.
And patent filings from companies grew by 72.4 percent in 2011, compared with 2010.
Home to hundreds of research institutions and scores of universities and colleges with 37 academicians and more than 400,000 technological professionals, Harbin is at the forefront of the nation's research and development. They contributed about half of the city's total patent filings, said Li Wenyi, an official of the city's IP office.
How to turn the advantage in research into industrial strength is a pressing issue for the city, according to local officials.
The authorities have poured 10 billion yuan ($1.57 billion) to establish a platform for the commercialization of research achievements early this year.
To date, it has attracted 136 major research projects from many renowned universities, including Harbin Institute of Technology, Zhejiang University and the Chinese Academy of Sciences.
The city government's initiatives to commercialize patents have enabled Harbin to gain the leading position in the competition for the status of the first group of national IP model cities, said Lu Yi, deputy director of the State Intellectual Property Office's Coordination and Administration Department. SIPO unveiled the list in late April.
"Winning the honor shows that the city has entered a new stage that is characterized by innovation-driven industrial restructuring and a shift in development model," Song said.
"It will bring historic opportunities for our city's sustainable development," he added.
Home to a series of well-established industries, Harbin has contributed greatly to China's successful space and deep-sea missions, and as a traditional industrial center, Harbin boasts many "firsts", such as the nation's first tractors, transistor radios, analog computers, glass-fiber reinforced plastic and arc wielding robots. Yet at the same time, due to the accumulated industrial structure, the city is vulnerable to the domestic and international macro environments.
Song, who entered office this January, said despite the overall sound economic situation, the city's GDP growth in the first half of this year was only 6.1 percent, a record low in recent years, partially resulting from a drop in industrial growth and efficiency, a reflection of its unbalanced industrial structure.
"It is imperative that Harbin use new technologies and production procedures to upgrade its traditional sectors and improve their competitiveness. At the same time it must develop strategic emerging industries and modern services, as well as accelerating the construction of a modern industrial system," he said.
"We will continue our efforts to capitalize on our rich research resources, better our IP management system, and encourage companies' proprietary innovation," he said.
He said his government will further promote the cooperation between industry, academia and research institutions to conduct industrialization-oriented and interest-sharing research, with a focus on a range of sectors including aviation, bio-products, new materials, renewable-driven equipment and machinery, electronic information and green foods.
Exploring diversified models in trade and financing to facilitate IP commercialization is also on the agenda, he said, adding that the authorities' goal is to improve the city's core competitiveness and build it into a national IP leader.
Contact the writer at wangxin@chinadaily.com.cn